6 of the best sunscreens for dark skin to protect without a white cast
These are best sunscreens for dark skin that have an undetectable finish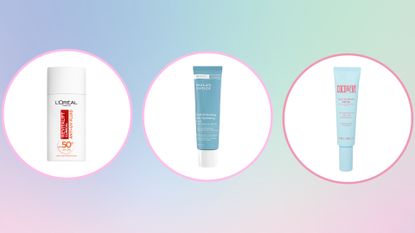 (Image credit: L'Oreal / Paula's Choice / Coco & Eve)
Being of Pakistani heritage, I know that finding the best sunscreens for dark skin has always been a challenge for many due to the dreaded white cast so many of them can leave. We know all too well the dangers of skipping SPF, but when so many of them can look gray on deeper skin tones, it's easy to fall into the habit of not incorporating sun protection into our skincare routines.
This is exacerbated by the myth that darker skin tones don't need to use SPF due to the melanin in their skin—but one of the best face sunscreens is still very much required. "The greater amount of melanin in darker skin tones provides some protection from sun, making them less susceptible to how it ages the skin," confirms Heather Wish, Skincare Education Manager at Paula's Choice. "This includes a significantly reduced risk of skin cancers.
"While this is indeed a big plus, it does not mean those with darker skin tones can skip sunscreen," she stresses. "The sun is still aging the skin, it just takes longer for this damage to become visible for those with darker skin tones than it does for those with lighter skin tones."
Thankfully, formulas are now more advanced than ever before, and there are options to suit every skin tone and type. To help you find your perfect match, we trialed and tested some of the top formulas on the market, below, and also spoke to experts about what makes for the best sunscreen for dark skin tones.
Meet the experts on sunscreen for dark skin
Dr Ifeoma Ejikeme is the founder & Medical Director of the award-winning Adonia Medical Clinic in London. She spoke to us about the importance of reapplying sunscreen, as well as some of the advances in sunscreen formulation.
Heather Wish is Skincare Education Manager for Paula's Choice and is an industry expert in formulas, ingredients and skincare myth-busting. She spoke to us about the importance of wearing SPF for all skins, including darker skin tones.
Meet the tester
Meet the tester
Sidra Imtiaz
I have mid to dark South Asian skin with a golden yellow undertone, so was specifically looking for sunscreens for brown skin. My skin is acne-prone but dehydrated, so I prefer formulas that don't feel too rich or heavy but still give me a boost of hydration. I also suffer from post-breakout inflammation and pigmentation, which using sunscreen can help to avoid. Above all, I like my sunscreens to be completely invisible and feel weightless, so that makeup can be applied over the top with ease. I usually use a serum beneath sunscreen but will often skip moisturizer if the sunscreen feels hydrating enough.
The best sunscreens for dark skin as reviewed by a beauty expert
1. Paula's Choice Resist Youth-Extending Daily Hydrating Fluid SPF 50
Best sunscreen for dark skin overall
Specifications
RRP : $37 for 60ml
Key ingredients: Oat extract, green tea
White cast: No
Reasons to buy
+
Weightless, doesn't clog pores
+
Antioxidants for extra skin protection
+
Full UVA/UVB protection
Reasons to avoid
-
Less hydrating than some other formulas
This is one of the only sunscreens that I've gone through multiple tubes of and will always go back to. Although marketed as helping to prevent the visible signs of aging, in my opinion, this is a general all-rounder that's suited to most skin types. It feels weightless on the skin and blends in completely, leaving a velvety soft, invisible finish that sits well under makeup. Paula's Choice is a brand is known for advanced formulas, and each of its ranges comes with a dedicated SPF. This one contains avobenzone, a synthetic sunscreen ingredient that provides broad-spectrum sun protection and is one of the most widely used UVA filters in the world.
As well as protecting against both UVA and UVB, this sunscreen contains antioxidants that soothe and protect the skin from pollution. As for the packaging, the thin tube dispenses the product easily and we find it as weightless as the product itself. I'm hard-pushed to find any flaws with this one!
2. L'Oréal Paris Revitalift Clinical SPF 50+ Invisible Fluid
Best sunscreen for dark skin with hyperpigmentation
Specifications
RRP : $25.99 for 50ml
Key ingredients : Vitamins C & E, glycerin, hyaluronic acid
White cast: No
Reasons to buy
+
High resistance to water and friction
+
Visibly reduces dark spots
+
Full UVA/UVB protection
Reasons to avoid
-
Thin, runny texture, can feel slightly oily on application
-
Active ingredients may not suit more sensitive skin types
I've seen many beauty editors raving about this product since its launch and was super excited to trial it for myself. Vitamin C is an ingredient I always try to maintain in my routine—such as with one of the best vitamin C serums—recommend to others with dark skin, as it brightens and protects skin, as well as reduces the appearance of hyperpigmentation. This sunscreen also boasts an impressive range of skincare ingredients, including hyaluronic acid, glycerin and vitamin E. Although I only trialed for a few days, meaning I can't speak to any changes to my own dark spots, L'Oréal's clinical testing showed 93% of their testers felt their dark spots were less visible, which, when looking at the ingredient list, makes complete sense.
I found the formula did feel slightly oily on initial application, with that familiar sunscreen-y texture, but this quickly fades upon blending. The formula is completely invisible and leaves no traces beyond its slight tackiness. I also liked the small bottle, which was easy to keep on hand for top-ups and found that a little went a long way.
3. Clinique Moisture Surge™ SPF 28 Sheer Hydrator
Best hydrating sunscreen for dark skin
Specifications
RRP : $48 for 50ml
Key ingredients: Hyaluronic acid, aloe bio-ferment, pro vitamin D
White cast: No
Reasons to buy
+
Hydrating, lightweight texture
+
Leaves a smooth texture for makeup application
+
Safe for sensitive skin
Reasons to avoid
-
SPF 28 rather than SPF 50
-
Slightly bulkier packaging
I've been a huge fan of Clinique's Moisture Surge since I worked on their counter in a department store while I was studying, so my love for the brand goes back years. The moisturizer has been celebrated for its deeply hydrating and weightless gel texture, so I was thrilled to hear it now comes with added SPF protection. For those familiar with the range, be prepared that the SPF formula is slightly thicker than the original, but it still gives the same quenching and plumping boost to dehydrated skin. There is absolutely no white cast left behind after application, and it leaves a smooth canvas for makeup, too.
I found that this one was less well-suited to travel, as round pots take up a larger amount of space, but it's perfect for my at-home makeup bag. I would say, however, that this doesn't have the benefit of SPF 50. Dr. Ejikeme told us that although she prefers SPF 50 as it gives wider protection, it is still super important to reapply any SPF every two hours (or more frequently if you are swimming or sweating) in order to maintain protection against UVA and UVB.
4. CeraVe Ultra-Light Moisturizing Lotion SPF 30
Best drugstore sunscreen for dark skin
Specifications
RRP : $15.99 for 50ml
Key ingredients : Niacinamide, ceramides
White cast: No
Reasons to buy
+
Oil-free but moisturizing
+
Non-comedogenic
+
Safe for sensitive skin
+
Developed with dermatologists
+
SPF 30 and 50 available
Reasons to avoid
-
SPF 50 version not widely available in the US
CeraVe is a well-loved affordable skincare brand and each product contains its patented blend of ceramides, which help restore and maintain the skin barrier. Because of this, I found the formula more moisturizing than some others I tried but, for me, it didn't exacerbate any acne breakouts. Niacinamide also works to improve skin tone and soothe, so I loved knowing that this sunscreen was working hard on the skincare side.
Not only that, but I found that it was completely undetectable on my skin and I didn't require an additional moisturizer—skin is left feeling nourished and ready for makeup. It spread easily and didn't pill, which is a problem I often find with more moisturizing suncare.
This formula also contains micro-fine zinc oxide, a mineral that often leaves a white cast on deeper skin, so I was really pleased to note that it didn't. As Dr Ejikeme told us: "Newer formulations of ingredients that usually leave a white cast have been developed to minimize this effect". I only realized after testing that it's also available with an SPF 50 in the UK, which I would have preferred to test, but it's still a good buy.
5. Caudalie Vinosun Very High Protection Water SPF 50
Best body sunscreen for dark skin
Specifications
RRP : $38.50 for 150ml
Key ingredients: Spruce extract, polyphenols, vitamin E
White cast : No
Reasons to buy
+
Vegan, ocean-friendly formula
+
Easy application
+
Dermatologically tested on sensitive skin
+
Suitable from children aged 3+
Reasons to avoid
-
Leaves a slightly oily residue and sunscreen scent
-
Too large for carry on
I tried a few different Caudalie sunscreens for this feature, but this is the one that stood out to me as the favorite. Applying and reapplying sunscreen to the body on holiday can be such a chore, and I hate the way it feels on my hands after I rub it in. This protection water was perfect as I could spritz it on and without worrying about any milky, grey residue on my darker skin. I loved how easy it was to use and the way that it dispensed a nice, fine mist.
For those who experience acne, I would note that this one does contain oil and therefore, though the formula is non-comedogenic, I would still fear it could lead to breakouts. Like most body sunscreens I have tried, it did have more of a scent to it than those I used on my face, but I found it faded after a little while. This versatile SPF can be used on the face, body and even hair, for those who are suited to oil in their sunscreen, as well as toddlers who refuse to sit still for sunscreen application.
6. Coco & Eve Daily Water Gel SPF 50
Best gel sunscreen for dark skin
Specifications
RRP : $31.80 for 60ml
Key ingredients : Hyaluronic acid, Aloe Vera, vitamin E
White cast : No
Reasons to buy
+
Hydrating formula
+
Imparts visible radiance
+
Cruelty-free
Reasons to avoid
-
Leaves slightly oily residue and sunscreen scent
-
Too large for carry on
-
Not yet available in the US
I've always loved Coco & Eve for their haircare and tanning ranges, and recently the brand ventured into skincare. Although I was initially skeptical, as I usually go for skincare from brands that specialize specifically in that area, I was enticed by the hyaluronic-acid gel formula, and was definitely won over.
I found the lightweight formula to be completely invisible and noticed that it feels very hydrating without being at all heavy. The product is silky, leaving skin feeling smooth and soft, something that also makes it ideal for make-up wearers. It comes in a thin tube with a pump and, as with all Coco & Eve products, is completely cruelty-free.