Iconic celebrities with pink hair to inspire your next hair makeover
We take a look back through the celebrity history books at all the times A-listers went pink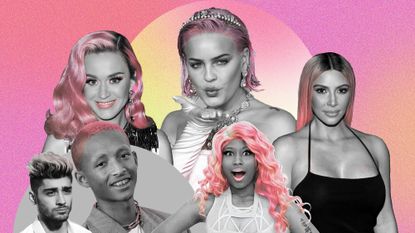 (Image credit: Getty Images / Stringer / Joe Maher / Isaac Brekken / Jerritt Clark / Allen Berezovsky / Michael Tran / Gregg DeGuire / FilmMagic)
We love having fun with our hair, from new cuts to curly hairstyles to experimentation with color. If you're looking for some ideas for your new look, let celebrities with pink hair inspire you.
Dying your hair pink is a bold move, but it can look super fun when pulled off well. Lots of celebrities and influencers have embraced this cool hue, from punk-inspired neons to softer, pastel shades.
For a little creative inspiration, we've curated some of the most iconic celebrities with pink hair. Find your favorite celebrity with pink hair, then bust out that Bleach London dye.
---
Paris Hilton
Paris Hilton is the latest celeb to join the 'Pink Hair Don't Care' club, trading her iconic long, icy blonde locks for a cute pink bob. She posted her new bubblegum pink hair to Instagram and while we suspect it may be a wig, she's still making a serious case for changing up your look—even if it's just a temporary one!
Jennifer Lopez
A trend piece is never complete without a Jenny from the Block inclusion, and the latest JLO pink hair transformation belongs in this one.
The superstar's hair stylist, Chris Appleton posted an image to his Instagram of Lopez with the pastel-hued 'do and understandably the Internet lost its mind.
Nicki Minaj
Nicki Minaj looks stunning with just about any hair color to match colorful eyeliner looks, but bubble gum pink might be Minaj's signature look. She showed up at the 2011 Billboard Music Awards with this great style, rocking pink waves with blonde roots. Minaj once told Ellen DeGeneres that her most creative moment in life was being obsessed with pink, including her now-famous pink hairstyles.
P!nk
Duh! No list of celebs with pink hair is complete without singer-songwriter, P!nk, aka Alecia Moore. Back when she exploded on the music scene, her iconic pixie hair was very meta. Now she keeps her short locks blonde, but we'll never forget her trendsetting style.
Jaden Smith
Male celebrities are also opting for the pink look, and for the Louis Vuitton X cocktail party in 2019, Jaden Smith was almost unrecognizable. Smith had dyed his hair pink as well as bleaching his eyebrows. For Smith's fans, the look wasn't too surprising, though, as the star regularly changes up his look (no capsule wardrobe here!), but the pink hair was bold and won't be forgotten any time soon.
Katy Perry
Katy Perry is all about the party and that often translates to her hair, too. We've seen her transform her tresses from black to red and blonde, but one of her most iconic colors is a pretty, delicate pink. Perry styled her pink hair in gorgeous Hollywood waves at the 28th Annual MTV Video Music Awards, and in 2018, her short pink bob hairstyle was inspired by her trip to Japan and the beautiful cherry blossoms.
Gigi Hadid
Supermodel and Maybelline New York spokesmodel Gigi Hadid is always turning heads with her trendy fashion sense and bold, unique style. In 2017 she opted for a beautiful pink ombre through her normal blonde locks, giving her ponytail a playful upgrade.
In 2018, Hadid shocked the audiences at New York Fashion Week with a short neon pink bob and blunt bangs. Even though the look was actually created with a wig and not her real hair, Hadid shows that she's a beauty chameleon who can pull off almost any look and has her color analysis nailed.
Anne-Marie
British Pop star Anne-Marie has had pink hair throughout the majority of her music career. Her pink locks are now iconic with her typical style, and she is a source of inspiration for anyone daring to try out this bright hue. If you decide to go pink and stay pink, change things up with fun hairstyles, cuts, and accessories while maintaining your locks with the best shampoo bars. Who knows, it might be your new signature look, too.
Zayn Malik
Former One Direction member Zayn is known for experimenting with his fashion and hair. Malik enjoyed many different hairstyles and colors, including soft bubblegum pink tips back in 2016 after a brief blonde phase. If your hair is dark like Malik's, keep in mind that you will likely have to bleach your hair first to get the shade of pink you want, and it's worth keeping the best Olaplex products to hand to maintain a good condition.
Lucy Hale
If you're looking for something less permanent or maybe want a preview of what real pink hair will look like, a temporary color spray might be worth checking out. In 2018, Lucy Hale added a rose gold ombre to her brown locks with the help of Kristin Ess Rose Gold Temporary Tint, $12. To get this look, spray liberally throughout your hair and brush through (with the best brushes for curly hair if you need it) to make sure hair is completely saturated. For a softer pink, you can spray on in the shower between shampoo and conditioner.
Kim Kardashian
After wearing a pink wig to the CR Fashion Book shoot, Kardashian was inspired to dye her hair pink at the hands of her go-to celebrity hairstylist, Chris Appleton. The Kardashian-Jenner family loved it, and so did her fans. Since her hair was already blonde at the time, this made it easier to transition to this fun new shade.
Even though hair color trends are always evolving, dying your hair pink is a cool way to reflect your personality. From rose gold to neon tresses, this shade keeps making a comeback over and over, making it one of the most popular non-traditional hair colors.
The My Imperfect Life team is all about helping you navigate your world. We bring you the latest on fashion, beauty, travel and wellness so you can live life on your terms.