5 matching tattoo ideas if you want to get inked with a BFF, partner or loved one
These matching tattoo ideas should provide some great inspiration, whether you're planning to get tatted with a family member or your husband/wife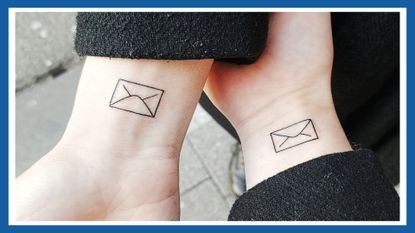 (Image credit: Future/Getty Images)
Whether you want to honor a friendship, romantic relationship, or family member, matching tattoo ideas are a great way to do so—and they've actually been a popular trend for a long time, so you can rest assured that the idea isn't going away any time soon.
Many celebrities have been getting matching tattoos over the years, from Kylie Jenner and Travis Scott, to former couple Gigi Hadid and Zayn Malik. And while many pairings opt for delicate micro tattoos, there are no rules against bigger matching tats! The question though, usually surrounds what type of design to get. Should you and your partner, BFF, mum, or sister get something moving and meaningful, or should it be something fun that represents your relationship?
If you're considering getting a matching tattoo with someone you care about, it can be tricky to find something that you both love. Luckily, we have a lot of creative and timeless matching tattoo ideas for you to consider...
The best matching tattoo ideas
1.GPS coordinates
You may remember Angelina Jolie getting GPS coordinate tattoos on her arm of the location from which she adopted each of her children. This is a really cute tattoo idea to visibly honor a meaningful location or event in your life in a way that is still private—only you and your loved one will understand its meaning.
Maybe you and your partner want to honor the location where you got married, or you and a sibling could use the coordinates of your childhood home? Since these tattoos are made up of a short number sequence, they can be pretty discrete and look good placed on many parts of your body.
2.Separate symbols that fit together
Your matching tattoo doesn't have to be absolutely identical. You could each get a separate image, that fits with each other's when you put them together. For example, you could get a lock and a key design, a sun and moon, or if you're happy to go for something a bit cheesy, a king and queen's crown. You could also choose to get designs that line up together, such as two halves of a heart, puzzle pieces, a flock of flying birds or butterfly tattoos.
There's nothing stopping you from choosing a more playful design too—perhaps you and your sibling loved SpongeBob SquarePants growing up, and one of you gets a drawing of SpongeBob, while the other gets Patrick? Because of the obvious connection, this matching tattoo option is one of the best tattoo ideas for couples, and one of the most fun tattoo ideas for best friends.
3.Numbers
Lots of people consider getting an important date as a tattoo, such as a birthday or wedding day. Or, you could choose a number that's especially symbolic to you and your loved one. For example, Jennifer Aniston and her friend got matching 11 11 tattoos, as the number represents good luck. Other people choose to get the number 13 as a tattoo, as part of an old superstition that bad luck will see the number and move on to someone else. Choose whatever resonates the most with you and your tattoo partner.
4.Tiny tattoos
This isn't strictly a matching tattoo idea, but if you're considering getting an inking with a loved one, a touching way to do so is to get something little you'd almost miss it—but you both know that it's there. With a tiny tattoo, the inking almost feels like a secret between just the two of you, further solidifying your bond.
The design could be anything—be it a name, a quote, or a symbol—and the best thing is is that they can be placed just about anywhere you like. They work great as hand tattoos or ankle tattoos but can also go really well on the wrist, finger or ear, where they can fit neatly and can be hidden away.
5. Matching weather or celestial symbols
One of the most popular matching tattoo ideas is to get different celestial or weather symbols, be it the rising sun, a crashing wave, the moon, stars, or perhaps a planet. There generally isn't a deeper meaning with this type of tattoo, but many people love the way these kinds of symbols look, and choosing different ones can provide a connection between you and your loved one, whilst still allowing the tattoo to stand on its own.
Celestial or weather symbols often look great as micro tattoos, but there's no reason you can't go bigger and bolder if you wanted to!
Lucy is a beauty journalist who has written for titles including Marie Claire, Cosmopolitan, OK!, woman&home and Women's Health, as well as regularly contributing to My Imperfect Life. Her work covers everything from skin and haircare tips to trying and testing the latest beauty launches, and interviewing celebrities and experts. A certified dog person, her other interests include mental wellbeing, books, piña coladas and not getting caught in the rain.

With contributions from