Four small home office ideas you'll love
Create a stylish set-up to suit your space with these small home office ideas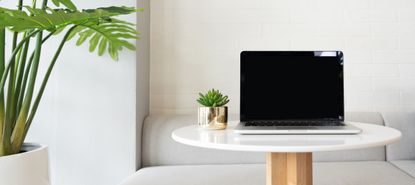 (Image credit: Getty)
Stuck for office ideas for a small space? You're not alone! With more of us working from home than ever before, our temporary makeshift work areas are quickly turning into necessary spaces that we need to make as comfortable as they are practical, from the best desk chairs to sit in to inspirational wall art to decorate those "office" walls.
If you're fed up of hunching over your laptop on the sofa or want to move away from the dining table, we've got clever small home office ideas to help you carve out a home office space and create a dedicated spot from which to work.
To start with, there's a few questions you'll need to ask yourself. Firstly, how much storage do you need—do you have lots of books and files that you need close by while you work? Secondly, do you find yourself working into the evening, in which case do you have adequate lighting?
Lastly, is your working zone in a much-used room where you're likely to get distracted by the TV or other members of your household? If so, a freestanding screen that you can pull across can help you focus—and also provides a better background for video meetings if you're working in an open-plan space.
Read on to find out our tips on how you can create a home office that works for you and your space, regardless of small it may be
Small home office ideas for maximizing less space
1. Choose a Compact Desk
Now, you may not have space for a full-sized desk or a whole room to dedicate to your office, but there are plenty of small home office ideas revolving around smaller-scale desks and wall-mounted designs, too. It's also worth thinking about whether you have any alcoves, under-stairs areas or cupboards that you could utilize as a bespoke office area. Floating desks are ideal for alcoves as you don't have to worry about the legs taking up space.
If your bedroom or spare room is doubling up as your office, half the battle will be finding a desk that doesn't look too much like a desk—one that can double up as a dressing table, too, for example. Horm & Casamania's Bureau Desk at Amara ($2,782) is suitably stylish and features a hinged lid with a pull-out desk that you can fold away when not in use.
Corners are often underutilized spaces as well, so think about installing a corner desk unit instead of a standard design, leaving more of your room free for other uses, whether it's extra storage or a sofa bed.
If you're really strapped for space, the Bo Concept Cupertino desk ($739) is wall-mounted and opens to reveal desk space and storage compartments, all of which can be hidden away in an instant.
2. Fit in a Fold-up Chair
Large, bulky chairs are a no-no if space is limited. Instead, think about a design that either folds up (so it can be popped in a cupboard when you want it out of the way), can be stacked or rolled out of the way like Ikea's Langfjall chair. Another Ikea design we like is the Terje Folding Chair ($25), as it has a handy hole in the back so you can hang it on the wall to free up space when needed.
Posture is important when you're sitting at a screen for hours each day, so if you do have the room, go for a design that's adjustable—too low and it can cause strain on your wrists, too high and you'll put pressure on your neck and shoulders.
Alternatively, invest in some seat cushions to support your bum and back, and lift you to the right height and position. There are various memory foam varieties on the market that offer you the support you need and it's well worth snapping one of these up if you want to avoid back pain.
3. Make your Walls Work
If space is tight and small home office ideas are what you're after, look at making the most of your room's height and use your walls for storage. From closed-in cupboards that hide unsightly papers and files, to shelves for accessories and pegboards that come with pen pots, mini chalkboards and letter holders, you can choose whichever option best suits your work needs.
We love this Birch Lane Kidwell 3 Piece Metal Tiered Shelf from Wayfair ($109.99), which is designed to look like a fire escape ladder. Made from epoxy-coated steel, it's super sturdy and turns your wall storage into a feature, rather than simply a functional piece. After all, when your office is in your home, who's to say you can't have fun with it?
You can also use your walls for lighting. Rather than having a table lamp that takes up space on your desk, opt for a design like this Zuiver Shady Wall Lamp from Cuckooland (£99), which can simply be attached to your wall and plugged in. It has a tilting shade and a long arm, so you can position it exactly how you want to get extra light when you need it.
4. Be Smart with Storage
Small work zones aren't always geared up for storage, but if you need a set of drawers or trays close to hand, then one of our favorite small home office ideas is to consider a set that come on castors. That way you can either roll them under your desk at the end of the day, or into a corner out of the way when not in use.
A rolling cart like this versatile Amazon Basics 3-Tier Rolling Utility or Kitchen Cart ($44.99) is perfect for stashing papers, books, pen pots and anything else you might need while you're at work. Simply wheel it out when you're working, and back again at the end of the day. Plus, it comes in a few different colors, so it doesn't look like a boring corporate set of filing drawers.
Laurie Davidson is a Surrey-based freelance interior stylist and writer, who also dabbles in travel, craft and lifestyle content. She has over a decade of publishing experience and spent five years as the Homes & Interiors Editor on Style at Home magazine.