The 2023 hair trends we'll be seeing everywhere this year—from 'bed hair' to 'champagne blonde'
Want a change this year? These are the 2023 hair trends to show your stylist...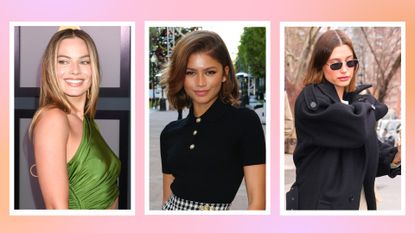 (Image credit: Getty Images/ (L) Gilbert Flores/Variety/ (M) Jeff Kravitz/FilmMagic for HBO/ (R)Gotham/GC Images)
Fancy changing up your hairstyle for the year ahead? Well, if you're in need of some inspo—we've got the lowdown on all the 2023 hair trends, tipped to dominate our Pinterest boards and Insta feeds.
From fringe hairstyles to a new twist on the copper hair trend, 2023 is already proving to be a hair-centric year, with beauty lovers prioritizing their scalps and hair health, while also dabbling in some 00s hair trends—yes, we're talking about the side fringe. We've even seen bob hairstyles entering the fold, with the likes of Emma Chamberlain and Hailey Bieber both rocking dramatic chops!
Much like with all the new 2023 makeup trends, a new year invites a whole lot of change. So, if you're planning a trip to the hairdresser, here's a definitive list of all the head-turning cuts, colors and haircare trends headed our way...
The 2023 hair trends to know
Ready for the 'butterfly cut' and 'curtain bangs'? What about 'Barbie blonde' and the bouncy blowout 2.0? We'll be covering it all and if you're unsure about which are the best hairstyles and shades to try this year—don't worry, there really is something to suit everyone.
But above all, like Hailey Bieber's 'Coachella braids' and Bella Hadid's 'Sachel hair' there's plenty of opportunity to get creative and have fun this year, plus a few low-maintenance styles for our fellow lazy gals. So here are the looks that will be a cut above in the coming months...
1. Champagne blonde
If you've been considering a new hair color, or want to spice up your current blonde locks—why not give 'Champagne Blonde' a whirl?
According to Francesca Dixon, the Creative Colour Director at Hari's Hairdressers, the shade is going to be the 'most prominent tone' for the spring and summer months.
Francesca notes: "It's the perfect in-between of gold meets ash. It's an expensive-looking blonde. It's excellent on dark blondes that would like to have some visually painted pieces, and we can scientifically bespoke the perfect champagne hue for each client."
2. Spotlight
Another style set to take 2023 by storm, especially in the summer, is Spotlight color—as Francesca explains: "Spotlight color is a whole new concept, rather than being darker on the roots blending into lighter ends. Or ombre or a balayage technique, this is having lighter on top! Hence the name spotlight.
"It gives it dimension and brightness as if the sun was shining on you from above. It enhances your base color by adding lighter dimensions from above."
So, if you're looking for a natural but glowing look, this could be a style for you!
3. Melted tips
Remember that classic 00s trend of dip-dying the tips of your hair? Well, the look is having something of a renaissance but in the most subtle and chic way!
This trend is perfect for all hair colors because it's all about lightening your base color, but just at the ends, creating a dreamy 'melted' effect—which also gives you the option of adding a fun pop of color on top!
As Francesca says: "This can be for any color, any base brunette, redhead or blonde it means taking the very ends of the hair out to either make them brighter blonde, brighter copper or lighter brunette, but for the tips only.
"Melted tips will be great for the summer as you can lighten the very tips of the hair, and you can put a creative color on top; for example, a lilac or a blush will be great for festival looks for the summer, and once you're finished, you can cut the tips off."
4. Butterfly cut
After a fresh chop for 2023? The 'butterfly cut'—as seen on influencer Matilda Djerf—will freshen up your look. "It has taken TikTok by storm," says Nicola Moulton, editorial director at Beauty Pie.
"It combines long and short layers, which add extra dimension and movement to the hairstyle and give some extra body. Meanwhile, the short and wispy layers provide your face shape with some extra TLC by directly hitting the chin and jawline to contour all the places you want."
5. Scalp 'vampire facial'
You've probably heard about the 'vampire facial' for your face—as beloved by celebrities including Victoria Beckham. Well, this year it's set to reach your scalp too. "It is a non-surgical method for addressing hair thinning and loss by harnessing the body's own natural potential for healing," explains Dr Furqan Raja, hair transplant surgeon at The Private Clinic.
"The process, properly known as Platelet Rich Plasma treatment for the scalp, involves taking a small amount of the patient's blood and separating this blood in a centrifuge. The platelet-rich plasma contains stem cells and growth factors that are separated from your blood. This is then injected into the scalp in order to target areas of hair thinning and hair loss."
6. Curtain bangs
If you want to hold onto your long locks, but want to make them feel more *now*, then 'curtain bangs' could be the answer. "This year fringes or bangs are not short or blunt but are long and soft, creating what we call a bottle or curtain shape," explains Neil Moodie, hairstylist at Neil Moodie Studio. "The great thing about these fringes is that they are more versatile than a shorter fringe typically is, so more people feel brave enough to dabble.
"Ideally, bottle or curtain fringes should be worn in a center parting, but this doesn't mean side-parting fans can't have a try too. Another thing that makes them wearable for so many people is that they work with multiple hairstyles, whether you're sporting a blunt cut or a softer, layered cut. They're pretty much designed for everybody."
How to style them? "Use a large round brush to blow-dry your hair back away from your face for soft, face-framing waves that look effortlessly cool and sexy," adds Jack Miles, hairstylist and founder of Wigporium.
7. Scalp serum
As previously mentioned, the scalp is set to become more prominent in 2023. "Many people make the mistake of only focusing on nourishing the ends of their hair, leaving their scalp in need of some much-needed love," says plastic surgeon Dr Marc Ronert. "But healthy hair starts with the scalp—and when you keep the scalp nourished, your hair doesn't just feel better, it also looks its best." This is why scalp serum is set to become a go-to product—alongside the best Olaplex products—in your bathroom.
"Just like a skincare serum, there are formulas for your scalp that can combat excessive oil production, dryness and even strand quality," explains Moulton. "We predict a lot more of a focus on ways to protect the wellbeing of our hair to ensure each strand can keep up with the ever-changing trends taking over social media."
How to apply it? Dr Ronert recommends: "Section your hair into thirds and apply a generous amount of serum on each area, then massage the product directly into the scalp."
8. Jaw-length bob
Bored of your long hair? Opt for a 'J-bob'—or jaw-length bob—which will be one of the hottest hair trends in the coming months. "Bobs never go out of fashion, but what changes each season is the length," notes Moodie. "The jaw-length bob comes in varying textures and shapes.
"This is great because it celebrates everybody's natural hair. On the autumn/ winter 2022-23 catwalks we saw it in many guises, with a center parting as well as slick, texturized, curly, tousled, wavy and even with a fringe. But either way, the length was the same." You'll likely need a pair of the best GHD hair straighteners for getting creative with different textures.
9. Strawberry blonde
A redder tone is in when it comes to hair color. "Instead of the typical 'blonde for summer, dark for winter', we're seeing a shift towards warmer hued blondes which can be tweaked with toning," reveals Moodie. "At our salon, we're taking some of our blonde clients deeper, with bespoke toning services, adding more dimension with autumn leave tints.
"The colors gaining popularity are natural light coppers, strawberry blondes, and 'chai latte'. These adjustments are less of a commitment for the client than completely changing your hair color, but an added benefit is that there is less damage, and we know how important hair health is to the overall look." Need some inspiration? See Kendall Jenner's copper hair look.
10. Barbie blonde
The #Barbiecore aesthetic has tipped over into hair, replacing 2022's expensive blonde. "'Barbie blonde' is in thanks to the Barbie movie which is set to be released in July," says Jason Collier, hairstylist and brand educator at Jerome Russell. "Although it will take maintenance, the shade gives a more relaxed feel to blonde hair that can be dressed up if the occasion permits.
"Roots showing will also be on trend as we all become a bit more mindful of our salon visits. If you're already blonde you can apply a lighter toner to achieve this gorgeous shade, or if you want to take the plunge start with bleach and follow through with a purple shampoo and a nourishing, strengthening hair treatment."
11. Double cleansing
Chances are you've been double cleansing your face for clear and glowy skin and it turns out that your scalp will benefit from the same treatment. "Similar to its skin counterpart, scalp double cleansing is the process of washing your hair twice," says Dr Ronert. It might seem like a faff, but it's worth it.
"The first cleanse works to lift and remove dead skin cells, excess natural oils and daily grime," he explains. "The second cleanse completely eliminates any traces left, leaving the scalp clean for ultimate hair health. A well-cleansed and exfoliated scalp sets the stage for healthier-looking hair with fewer flakes. It also reduces dryness, itchiness and irritation and creates the perfect environment for healthy hair growth."
12. Bouncy blow 2.0
We've spent several years basking in low-maintenance beach waves (hello heatless hair curlers) and the like, but 2023 will see the return of the voluminous 1980s style blowout to bring added glamour to even the most dressed-down of looks. "The big bouncy blow dry is back," notes Paul Percival, hairstylist and founder of Percy & Reed, who has christened it the 'bouncy blow 2.0'.
"Think luxe and the bigger the better. If you're not visiting the salon, try tools like the hot air styler Babyliss Big Hair to achieve the look at home." Prefer to style your locks using a hairdryer? We tried the Dyson Supersonic to see if it's worth the price tag.
13. Bed hair
A lazy gal's dream come true—it turns out 'Bed Hair' is very much in for 2023. The low-maintenance, effortless look involves a whole lot of texture and not a whole lot of time. In fact, the hairstyle is supposed to give "I woke up like this" vibes, but y'know...in a chic way.
Senior colorist at Live True London, Stéphane Ferraira says: "The natural bedhead texture will be everywhere soon! We've already started seeing a lot of slept-in blow dries and three-day-old waves, which can be enhanced with styling sprays and pomade. We're seeing a step away from pristinely-styled hair."
This wavy, beachy-style trend is the ideal look for those of us out there that occasionally (or not so occasionally) let our hair wash routines slip.
14. The Side Part
While the millennials groan in the back—it turns out the Y2K side parting is making a comeback.
Having been recently worn by the likes of Miley Cyrus and Kylie Jenner, Ferraira says: "As seen on the runway for SS23, we're expecting to see a side part rise in popularity again. It's no surprise with the recent return of Y2K and 90s fashion that we'd see it come back again soon.
"This is perfect for those wanting to try something new with their hair without reaching for the scissors or bleach."
The side fringe is also ideal if you're currently growing out a full fringe, or you want to change up your curtain bangs a little. And of course, anyone without a fringe looking to change up their look— without doing anything drastic—can certainly give the side part a spin.
15. Your color but better
While we've seen a lot of platinum blonde and copper hues rise in popularity in recent years, Ferraira predicts that we'll individuals going back to their natural shades, just slightly enhanced.
Ferraira says: "We're expecting to see natural colors ruling 2023, especially with a rise in brunettes. Whether that's a natural-looking balayage or a deep and dramatic tint, we're excited to see brunettes have more fun."
"As well as the resurgence of natural colors, we've already started to see a number of toned down, lowlighted blondes this winter, and we expect to see this trend well into next year."
16. 'Done but undone hair'
According to Mason Josh, Senior Stylist at Hari's, mullets and shag haircuts that give 'done but undone' vibes will continue to trend in the coming months.
Josh says: "The big trend I am increasingly seeing in the salon stems from the previous trend of 'done but undone' hair.
"A mullet at a basic level is a super layered haircut, with the layers really short and contrasting with a longer length. The cut works on most hair types and face shapes. I am seeing people want a real 'wash and go' type of style that they can dress up or dress down. The shag is the way forward."
Lauren is a freelance writer and editor with more than six years of digital and magazine experience. Most recently, she has been the Acting Commissioning Editor of Women's Health—where she co-produced the Going For Goal podcast—and has previously also written news and features for titles including The Telegraph, Grazia, Stylist, Dazed, The Sun's Fabulous, Yahoo Style UK and Get The Gloss. She covers all aspects of lifestyle, specializing in health, beauty, and travel. Can't live without: oat milk lattes, new podcast episodes, long walks, and great skincare.