This is Ariana Grande's workout routine—and it's certainly fit for a pop princess
If you're after some inspiration to exercise, this Ariana Grande workout routine will get you moving in no time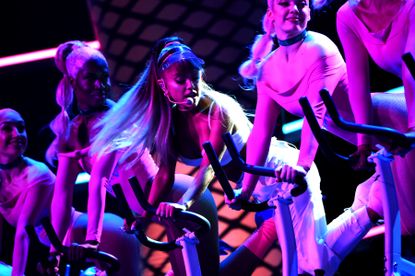 (Image credit: Larry Busacca / MTV1617 / Getty)
It would be a good guess that the Ariana Grande workout routine is a dedicated one. After all, the 28-year-old singer is a bundle of energy when she's performing her hits on stage, and she dropped a strong hint that she loves to stay fit after appearing on a spin bike in the music video for her song 'Side to Side'—although, in a pink leotard and trademark high ponytail, looking far more glamorous than your average SoulCycle attendee.
The pop princess has also opened up about the importance of exercise to her, and how she likes to find balance with movement (talking of which, check out our guide to the best yoga mats). "I try and live a healthy lifestyle; eating right, exercise and sleep are all so important," she told The Daily Mail, of how she prefers to stay active in some way much of the time.
But what exactly does the star—who also fuels herself with nourishing meals (read about all about Ariana Grande's vegan diet)—do to stay in shape? Here's what we know about her workout. While you're at it, you'll probably want to get ready with the best resistance bands for women and the best dumbbells for women, too.
Ariana Grande workout routine: how the star stays toned for the stage
Treadmill sessions
While we might picture Ariana doing cardio on a spin bike, it turns out the treadmill is actually her happy place. Indeed, the star revealed that it's where she gets the creative juices flowing for her music.
"I have a lot of ideas on the treadmill," she told Coveteur. "If I need help writing or being creative, or coming up with an idea, [I'll work out]. I came up with the idea for the 'Side to Side' video on the treadmill. Usually, I'll listen to throwback '90s hip-hop or stuff that makes me amped."
And she's bang on trend. Cult fitness brand Peloton has followed up its wildly popular home spin bike with a new treadmill.
Counting steps
Another form of cardio Ariana frequently turns to is a long walk, which challenges the body without the impact on the joints that can come with activities like running. She was instructed to start upping her daily step count by personal trainer Harley Pasternak, who has also worked with Lady Gaga, Rihanna, Halle Berry, Katy Perry, Jessica Simpson and Gwen Stefani. So, basically the entire female A-list.
Pasternak got Ariana aiming for 12,000 a day. "He is obsessed with the step situation—getting your steps in," she also told Coveteur. "For the longest time, I was like, 'How is that more effective than doing a full-fledged workout?' It really is. I feel better when I'm moving around a lot."
The trainer, speaking himself to PopSugar, explained: "I give [Ariana] a step goal every day, whether she be dancing to get that step goal or watching her favorite movies while walking down the treadmill really slowly. 12,000 steps a day and she hits it. I can't imagine her being still."
Key movements
Ariana has two go-to exercises for when she trains: lunges and glutes bridges.
Pasternak told SELF that he devised a two-move workout featuring them, that takes no more than 20 minutes, for when the star is on the road—ensuring that she gets results, but without taking things too far.
"There are a lot of times when we'll be at a concert venue with Grande, and we don't have a gym there," he explains. "So, we'll walk lunge the hallway. From a time perspective, an equipment perspective, and a safety perspective, it's all ideal. We're not jumping and risking hurting her. We're not doing explosive movements, no heavy weights involved. We want to work her and we want to do it in a safe way—this does it all."
So, what exactly is involved in this mini sweat session? Pasternak explains that you need to first do walking lunges for as many reps as possible within two minutes. Do the same with glute bridges. Then, repeat both sets three times. It may sound simple, but we think your lower body will be feeling it the next day.
Consistency is key
As mentioned before, Ariana likes to weave exercise into her lifestyle, so she stays pretty fit most of the time.
"I've had clients who would go all-out to prep for a performance or a role—but once they're done, they just let it all go because they feel like they don't need to stay in shape until another project comes up," notes Pasternak of how the singer has a different approach. "She's not about going to any extremes. She isn't worried about doing anything that's not sustainable. As long as she moves every day, eats well, and does some strength training, she's of the mindset that the rest will take care of itself."
This rather attainable approach to training is what Pasternak says is important to feel really good. "Your approach to health and fitness needs to start with movement and eating properly and better sleep," he told SELF. "When you hit those out of the park consistently, then and only then should you consider the resistance [training] part."

Want even more pop-princess fitness motivation? Check out Selena Gomez's workout routine!
Lauren is a freelance writer and editor with more than six years of digital and magazine experience. Most recently, she has been the Acting Commissioning Editor of Women's Health—where she co-produced the Going For Goal podcast—and has previously also written news and features for titles including The Telegraph, Grazia, Stylist, Dazed, The Sun's Fabulous, Yahoo Style UK and Get The Gloss. She covers all aspects of lifestyle, specializing in health, beauty, and travel. Can't live without: oat milk lattes, new podcast episodes, long walks, and great skincare.