Bella Hadid workout routine—the rules for achieving the supermodel's sculpted figure
The Bella Hadid workout routine is as disciplined as you'd imagine—here's how to replicate it yourself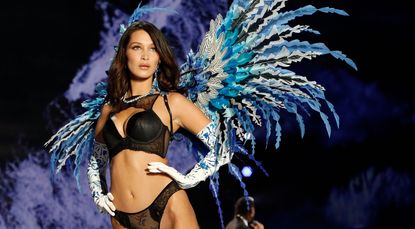 (Image credit: Taylor Hill/WireImage/Getty)
As a model with access to some of the top fitness pros in the industry, Bella Hadid knows a lot about staying in shape. So, if you're not getting the results you want from your own workouts—or are new to fitness altogether—following the Bella Hadid workout plan might make all the difference for you.
Much of Hadid's workout routine is centered around muscle tone and definition, so having access to (or purchasing) some of the best resistance bands for women can really elevate your progress when following this program. However, you'll want to make sure you have appropriate bands that fit your fitness and strength levels, as working above or below your own comfort levels can lead to injuries. Be mindful of your body!
With that said, here is everything you need to know about the supermodel's fitness game—including the type of movement she favors, how she steps it up before a big event, and the diet she follows to complement her fitness regime.
All about the Bella Hadid workout routine:
1. She swears by having the right partner to work out with
Bella has admitted that she can't go to the gym with just anyone, and instead swears by having the right partner to work out with.
Her ideal workout buddy? "My sister, Gigi Hadid. She's a bad-ass, who is strong and sturdy both mentally and physically," Bella told French Vogue.
If you struggle with motivation, it can be super helpful to exercise with a friend to keep you focused during your workout.
2. She focuses on cardio and strength training
Hadid's routine is specific to her career as a model—according to reports, she doesn't lift heavy weights when strength training, nor does she focus on building muscle. Instead she, like fellow model Kendall Jenner, focuses on toning and tightening, as she generally needs to maintain a slimmer shape for her career as a high-fashion model.
That doesn't mean her workouts aren't intense though; the 25-year-old certainly pushes herself in the gym to achieve results.
With a busy work life, free time is a struggle for Hadid, but she fits in a two-hour workout every day into her schedule—three hours if she has a show coming up. This mostly includes cardio and strength training. Speaking to Women's Health, the Victoria's Secret angel explained: "When time is on my side, I train with my coach for intensive sessions. I run non-stop for 20 minutes, followed by a boxing session and finally a series of weights targeting the abs and glutes. We keep the routines varied, so the sessions are always fun."
Running for at least 20 minutes in addition to your workout can go a long way in helping you reach your fitness goals. Running prior to strength training can help you to build muscle, while running afterward can really help boost your endurance. Just make sure you have one of the best yoga mats around, as it's vital to stretch both before and after a run.
While Bella stays away from dumbbell weights, she still does a series of strength training and ab workouts for a full-body burn and core strength. A workout provided by Rob Piela (the trainer for both Hadid sisters), published in Self, gives an example of what you can expect:
Squats—20 reps
Donkey kicks—12 reps on each side
Plie squats—12 reps on each side
Banded squat walks—12 reps on each side
3. But, full-body boxing sessions are her favorite
When it comes to her favorite workout, Hadid has said that it's "definitely boxing."
Mixing it up in intervals, Bella often uses boxing to help tone and create those impressive abs that she's so well-known for. Boxing can also be a super helpful way to take out any pent-up frustrations or emotions you might be feeling. We'd recommend checking out Shay Mitchell's boxing routine or joining a class nearby for more expert guidance.
Hadid has also admitted that while she hasn't done it much, she likes the sound of Body Ballet—or 'barre' workouts, as they are otherwise known. She told Vogue: "I've only tried it out once, but I can see the long-term results amongst my friends."
4. She has a super-committed approach to fitness
One of the biggest parts of getting in shape is knowing how to motivate yourself to work out. But for Bella, the boost she gets at the end of a tough exercise session is all she needs to make it worth it.
On her workout philosophy, she told Vogue: "Put in 100% from the start to the end of a workout. There is nothing better than to push yourself to the limit while making the most of it."
Speaking to E!, she also explained that she genuinely loves exercising, too—which is handy. She admitted: "I really do like it. I wouldn't say I get out of bed in the morning and I'm all 'I'm going to work out', but when I get to the gym…rock and roll."
5. She supplements her workout routine with good nutrition
As one of the world's top models, you can bet that Bella Hadid follows a strict diet almost year-round. But before and after a workout session, she pays special attention to her nutrition, to utilize the effects of the sweat sesh.
She told French Vogue: "I count on a smoothie, a juice or a protein drink 30 minutes before the session. After the session I eat something full of protein like chicken and wholegrain rice. It's ideal to strengthen the muscle mass and to increase the effects of the session."
Christina Izzo is the Deputy Editor of My Imperfect Life.
More generally, she is a writer-editor covering food and drink, travel, lifestyle and culture in New York City. She was previously the Features Editor at Rachael Ray In Season and Reveal, as well as the Food & Drink Editor and chief restaurant critic at Time Out New York.
When she's not doing all that, she can probably be found eating cheese somewhere.