Bling Empire's Dr Chiu: everything you need to know about Christine's husband
Did you know Bling Empire's Dr Chiu started as his wife Christine Chiu's employee?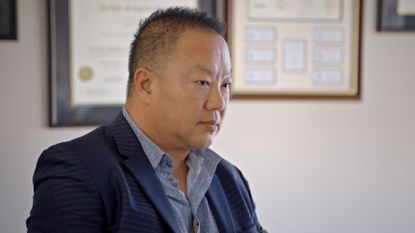 (Image credit: Netflix )
Bling Empire's Dr Chiu may not be the biggest character on the hit Netflix reality show, but he does bring some royalty to the set, as his wife Christine keeps reminding us.
One of the Bling Empire husbands, alongside Don Morris, Dr Gabriel Chiu is a 24th-generation direct descendant of the Song Dynasty (as Christine mentions in season one...more than once). That means that if the Chinese dynasty were still a thing today, both Gabriel and the couple's son, Gabriel II AKA Baby G, would be in line to the throne. As of now though, they'll have to settle for being Bling Empire royalty instead. But what other interesting facts are there about Dr Chiu?
We saw Dr Chiu and Christine discuss their journey to parenthood and the difficulties they faced with fertility, about which they spoke candidly in a number of episodes back in the first season. But outside of that, Bling Empire focuses more on the wider group—a cast of wealthy Asian-American socialites in Beverly Hills including Anna Shay, DJ Kim Lee and Kevin Kreider, and of course, Christine. While she's very much a part of that, Dr Chiu takes a bit of a backseat.
Luckily, we've got all the info you'll need on him, from his career and philanthropy work to his relationship with Christine. Here's everything you need to know about Bling Empire's Dr Chiu...
How old is Bling Empire's Dr Chiu?
Dr Chiu is 55 years old, which makes him 15 years older than his wife, Christine Chiu, who is 40.
What does Bling Empire's Dr Chiu do for work?
Dr Chiu is a board-certified plastic surgeon at Beverly Hills Plastic Surgery, Inc. (BHPS), which was founded by his wife, Christine. He got a degree in Microbiology and Immunology at the University of California Berkeley in 1989 before going to California's College of Osteopathic Medicine of the Pacific-Western University of Health Sciences, from where he graduated in 1996.
The Beverly Hills Plastic Surgery, Inc. (BHPS) , which is on Wilshire Boulevard, counts "numerous celebrities" among its clients, according to Dr Chiu, and its most popular treatments include breast augmentation, liposuction, and rhinoplasty. The business also has an online service, where customers can buy products and treatments.
What is Dr Chiu's net worth?
Between them, Dr Chiu and Christine are worth $80 million (£57.5million). Yep, they're rich, rich!
Dr Chiu's charity work
Dr Chiu and Christine do a lot of philanthropic work. In fact, The Hollywood Reporter described them as avid supporters of charitable causes in health, human services and the arts, working with multiple organizations including Children Mending Hearts, The Music Center and Ghetto Film School. According to Christine, the couple also invest "50% of every net dollar that comes into Beverly Hills Plastic Surgery" back into their community.
The two also worked with Prince Charles to launch The Prince's Foundation Chiu Integrated Health Programme in Scotland back in 2019. The center was designed to provide holistic services to nearby communities by tackling health and wellness issues such as obesity, depression, women's health issues and the isolation of the elderly.
At the time, Dr Chiu told The Hollywood Reporter: "When Prince Charles invited us to become involved with his vision at Dumfries House, it was a very compelling opportunity to not only help the community, but to see how much good could be done with the full arsenal of traditional, holistic, herbal, homeopathic, and naturopathic medicines and therapies."
While he takes a back seat, we do love how sweet Dr Chiu is every time he appears on screen...
Sagal is a journalist, specialising in lifestyle, pop culture, fashion and beauty. She has written for a number of publications including Vogue, Glamour, Stylist, Evening Standard, Bustle, You Magazine, Dazed and Wonderland to name a few.