Who is Don Morris on 'Bling Empire'? There's a lot to know about Mimi's husband
Who is Don Morris? Everything you need to know about Mimi Morris' wealthy husband...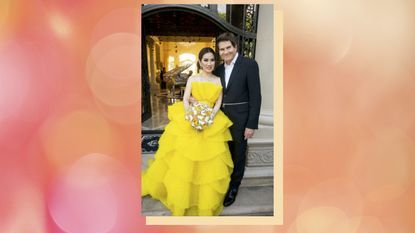 (Image credit: Netflix)
Ok seriously, who is Don Morris? And how is he so rich? If you've been watching Bling Empire season two, then you'll have met new arrivals Mimi Morris and her husband, as well as fellow newbie Dorothy Wang.
In between investigating when Bling Empire was filmed (there's a lot of confusion around the timelines), we've been keen to know the latest cast members joining Anna Shay, DJ Kim Lee, Kevin Kreider, Kelly Mi and the rest of the gang.
As we know, the show follows the luxurious lives of LA's rich Asian-American community, all of whom have been entertaining us with their drama since we were introduced to them on the first season of the show back in January 2021. This was before we met Mimi and Don Morris, one of the wealthiest couples in LA, but how did they get there?
Here's everything we know about Don Morris...
Who is Don Morris?
Don is Mimi Morris's husband, becoming one of the Bling Empire husbands (just like Dr Chiu). As Mimi reveals on the show, they have been together for 20 years and married for ten.
She said: "I think most people thought I was pushing Don to marry me but no, I didn't want to marry him. I was already divorced once so I didn't want to make that mistake one more time but Don really wanted it. He was asking 'will you marry me' every day. So he finally convinced me to say yes." Three years after getting married they welcomed their only son, Skyler.
Mimi was born and raised in Vietnam where she had a tough childhood embroiled in war before making it to Los Angeles where she worked hard to start a business and now lives a glamorous life with Don and their kids. However, Don's childhood was quite the opposite as he was born to a father who was a wealthy businessman, a trait he has most certainly adopted.
What is Don Morris' job?
Don is the founder of Morris Group International. He began his career with the Morris Company nearly 53 years ago in 1969 and has managed to keep the brand intact for over five decades. In 2017, he was recognized as The Wholesaler's Person of the Year for business qualities including accountability, character, courage, commitment, graciousness, ability to inspire, loyalty, respectability and approachability. Where do we sign up to work for him?
It's safe to say that ever since graduating from the University of Southern California in 1969 with an MBA in Finance, Don has followed in the footsteps of his father, Earl L Morris, founder of the Earl L Morris Company in 1945 and later the Acorn Engineering Company in 1954.
What is Don Morris' net worth?
With his longstanding career as a CEO combined with his several assets, Don has an estimated net worth of $800 million. Yes, you read that correctly!
When combined with Mimi"s net worth, the two are definitely worth a shared fortune of over $1 billion.
Sagal is a journalist, specialising in lifestyle, pop culture, fashion and beauty. She has written for a number of publications including Vogue, Glamour, Stylist, Evening Standard, Bustle, You Magazine, Dazed and Wonderland to name a few.