Who is Don Morris on 'Bling Empire'? What we know about Mimi's hubby
Who is Don Morris? Here's everything you need to know about Mimi Morris' wealthy husband—from his job to his net worth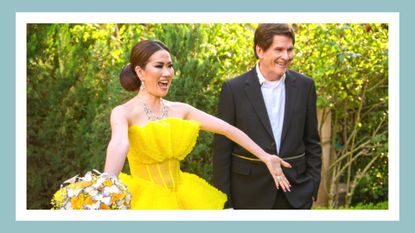 (Image credit: Netflix/Future)
Who is Don Morris? If you're caught up on the Netflix hit, you're likely also wondering how exactly he has ended up being the richest cast member on Bling Empire, too!
As fans will well know (especially if you've been binge-watching all of Bling Empire season 3, which premiered on Netflix on October 5, 2022), Don is cast member Mimi Morris' husband. After making their debut in Bling Empire season 2, alongside the likes of Dorothy Wang (who will star in the spin-off series Bling Empire New York), Don and Mimi Morris returned for the third installment, and once again flashed their cash—even giving co-star Kevin Kreider the chance to pitch his business venture to them for potential investment.
Fans of the reality series were this season even treated to a glimpse of Mimi's fabulous walk-in wardrobe, which was basically a museum of Hermes bags. Their very obvious wealth has unsurprisingly left a lot of us wondering just who Mimi's husband Don is—and how exactly did they become one of the most moneyed couples in Los Angeles? Here's everything we know about Don Morris, and that very impressive Don Morris net worth...
Who is Don Morris from 'Bling Empire'?
Don Morris is the husband of Bling Empire star Mimi Morris, making him one of the many Bling Empire spouses (like Dr. Chiu) featured in the series. As Mimi revealed in season two, they couple have been together now for more than 20 years, and married for 10.
In the show, 53-year-old Mimi said of her 70-something husband: "I think most people thought I was pushing Don to marry me but no, I didn't want to marry him. I was already divorced once so I didn't want to make that mistake one more time but Don really wanted it. He was asking 'will you marry me?' every day. So he finally convinced me to say yes." Three years after getting married in 2011, they welcomed their only son, Skyler.
Mimi Morris was born and raised in Vietnam where she had a tough childhood embroiled in war, before making it to Los Angeles. Since then, she tells how she has worked hard to start a business, and now lives a glamorous life with Don and their son. However, Don's childhood was quite the opposite, as he was born the son of a wealthy businessman—a trait he has most certainly adopted as an adult.
Don Morris job: what is Morris Group International?
Don Morris is the founder of Morris Group International, a broad range of companies that "manufacture a vast selection of products for non-residential construction markets, including commercial, institutional, government, hospitality, and healthcare sectors."
He began his career with the company nearly 53 years ago in 1969, and has managed to keep the brand intact for over five decades. In 2017, he was recognized as The Wholesaler's Person of the Year for business qualities including accountability, character, courage, commitment, graciousness, ability to inspire, loyalty, respectability and approachability. Impressive!
It's safe to say that ever since graduating from the University of Southern California in 1969 with an MBA in Finance, Don has followed in the footsteps of his father, Earl L Morris, founder of the Earl L Morris Company in 1945 and later the Acorn Engineering Company in 1954.
And it seems the family business is only continuing! Don has four other children (as well as his son Skyler), and three of them work for the family business. His daughter, Kristin Kahle was working as vice president of the company's Whitehall Mfg. and Neo-Metro division, and his son Randall Morris was vice president of the Potter-Roemer Fire Protection division and vice president of Elmdor Stoneman. Finally, another of his son's, Barrett Morris, took on the role of senior vice president and general manager of Acorn Engineering.
Don Morris net worth: how much is he valued at?
With his longstanding career as a CEO combined with his several assets, Mimi Morris' husband Don Morris has a staggering estimated (and reported) net worth of $800 million. Yes, you read that correctly!
The Don Morris net worth, hen combined with Mimi Morris' Bling Empire net worth, equals to a shared fortune of over $1 billion! But this may not be surprising for viewers of Bling Empire, who are used to seeing the couple's *pretty* extravagant displays of wealth.
That means that, when it comes to the Bling Empire cast net worth, this pair sit pretty right at the top of the list.
Watch Don and Mimi Morris in Bling Empire, now streaming on Netflix.
Sagal is a journalist, specialising in lifestyle, pop culture, fashion and beauty. She has written for a number of publications including Vogue, Glamour, Stylist, Evening Standard, Bustle, You Magazine, Dazed and Wonderland to name a few.