Love Euphoria? These are the forgotten Y2K beauty trends to keep you going
Would you wear these Y2K beauty trends?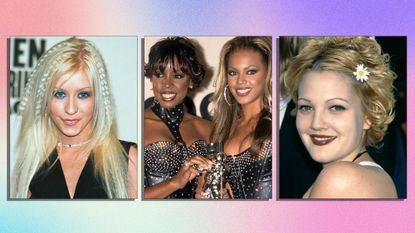 (Image credit: Getty Images / Kevin Mazur / Steve Azzara / Ron Davis)
With Zendaya stepping back into the spotlight as Rue from Euphoria, the glamorous show is back for another season—packed to the second with beauty inspiration. Helmed by make-up artist Doniella Davy, the 2000s influences remain strong this series with eye rhinestones, frosty blue eyeshadow, and touches of white liner to make its stars' angsty glances really pop.
As the obsession with all things Y2K continues, we're taking a trip back to the decade and reflecting on a few forgotten beauty trends—some of which deserve another spot in the sun, and others that should be cast into it. Fingers crossed a few pop up if Euphoria gets renewed for a third season.
---
---
1. Crystal tattoos
From Mariah Carey to Paris Hilton, stick-on rhinestone tattoos were all the rage in the early 2000s. Butterflies, hearts, and practically any design you desired were a way to express yourself and add an extra dazzle to your baby tee and low-rise jeans ensemble. While the trend has been firmly left behind in the 2000s (along with its controversial cousin: vajazzling), Cassie from Euphoria and other stars have found ways to tastefully include rhinestones in sparkling eye looks.
2. Ultra thin brows
Championed by the likes of Drew Barrymore and the cast of Friends, overplucking your eyebrows was the name of the game a couple of decades ago. While it seems absolutely criminal to tweeze or thread a pair of beautiful bushy brows now, it wasn't until stars such as Cara Delevingne came along that the natural brow movement came into full force. NB: This is one trend we hope doesn't make a comeback.
3. Statement lip liner
While beauty brands such as Kylie Lip Kit and Illamasqua typically sell sets with matching lip liners and lipsticks, it used to be fashionable to contrast them. J.Lo, Destiny's Child, Britney and all the big hitters you remember from Y2K were big proponents of the look, which typically featured a lighter lipstick and a darker, heavily defined lipliner (sometimes with lashings of lipgloss to boot). Though it's started to trickle back in slowly thanks to nostalgic TikTokers and a handful of celebs, it's yet to see a full renaissance.
4. Hair stamping
A couple of celebrities have recently waded back into hair stamping waters, with trendsetters Rihanna, Megan Thee Stallion, and Dua Lipa debuting colorful locks. The hair trend, which generally uses literal stamps or hairspray and stencils to essentially graffiti your locks, could be ripe for a 2020s reckoning if the music industry has anything to say about it. After RiRi teased her upcoming Savage X Fenty Valentine's Day collection with crimson tiger-striped hair, beauty retailer Justmylook reported searches for hair stamping increased 566% overnight.
5. Frosted tips
One word: N*Sync. Ultra spiked hair and bleached blonde tips became a mainstay of early 2000s boybands and celebrity heartthrobs, with Justin Timberlake, Nick Lachey, Jared Leto, and even haute couture queen Celine Dion all jumping on the bandwagon at the time. The maligned look has since been abandoned in naughts, with men in particular nowadays embracing their natural hair shade and turning to softer, fluffier styles. (And…mullets.)
6. Crimping
No, it's not a dance move. While hair curlers and straighteners have remained a styling essential, hair crimpers haven't quite lasted the test of time. The heated tools, which iron a zig-zag 'crimp' into long locks, create a playful, deliberately mussed look and was one of Christina Aguilera's signatures during her Dirrty era. Some have tried with relative success to bring it back in the 2020s, with Olivia Rodrigo's hairstylist for example championing it as a breakout trend for this year.
Megan C. Hills is a Welsh-Filipina lifestyle and entertainment journalist based in Hong Kong, with a special interest in fashion, beauty and internet culture. She has previously been a staff writer for titles including CNN Style, Marie Claire UK and the Evening Standard with additional bylines in Forbes, Vice and Wallpaper*. When she isn't writing, she is usually found cuddling her elderly dog, eating ramen or losing a video game – as well as posting on social media at @megchills everywhere.