Foreo Cyber Monday sale: the must-have products for better skin that are actually worth it
You won't want to miss big deals in the Foreo Cyber Monday sale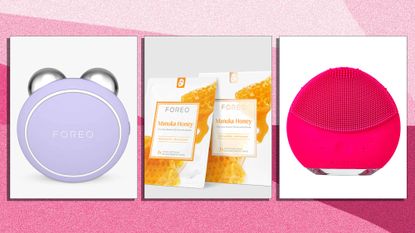 (Image credit: Foreo)
Cyber Weekend is upon us—it's go-time! Unless you've been off-grid, then you'll know that this is when brands offer some serious discounts on products. So, it's the ideal time to stock up on your much-loved products and also get ahead on your Holiday gift shopping—self-gifting is huge this year FYI.
Whether you're after the best perfume deals or tech buys, this is the time to do it! When it comes to beauty gadgets, Foreo is a must-have for beauty buffs: whether you are a beginner navigating your way into the skincare world, or a more experienced MUA.
The brand has a whole host of gadgets, from the LUNA cleansers, IRIS eye massager to electric toothbrushes, and many more, so there is something to suit every shopper—and their skincare needs.
The brand has revealed its incredible offers for the Cyber Weekend sale and the best news is that these offers are available now! Read on for our must-have wishlist and all the details of the Foreo Cyber Monday sale.
Where can I get Foreo offers?
What is on our Foreo Cyber Monday sale wishlist
The Foreo Cyber Monday sale is a-go! There is an incredible opportunity to save up to 50% on their much-loved and best-selling products. But with so much choice, it's easy to feel overwhelmed. So, we present the only products that our editors love and couldn't live without. These are the items officially on our must-have shopping list.
Where to shop Foreo Cyber Monday deals in the US
Where to shop Foreo Cyber Monday deals in the UK
When is Foreo Cyber Monday 2021 sale?
The Foreo Cyber Monday sale is now live! The brand is giving you the chance to save up to 50% off their much-loved beauty gadgets and products.
For those who sign up for Foreo's newsletter (opens in new tab) will be able to get an extra 5% off their Cyber Monday sale—it's a no-brainer.
Stay tuned to see if anything changes before Cyber Monday this year.
What was on offer in Foreo's Cyber Monday sale last year?
Last year Foreo slashed some of its bestselling beauty tech items by up to 35%.
Huge discounts were available to shop across fan favorites, including the UFO gadgets and Luna devices, which are our personal favorites.
Sunil Makan is the digital editor of Marie Claire UK. With over 12 years of publishing experience, working on print publications and their digital counterparts, national newspapers, and digital pure plays he is an Editor, Strategist, Content Producer, and Creative Director. In his most recent role, Sunil was deputy editor of My Imperfect Life and before that, he was the Associate Editor of British Marie Claire. Prior to that he worked at ELLE, InStyle, Shortlist Media and freelanced at titles such as Mr Porter, Saks Fifth Avenue, Floral Street fragrance, and The Times.
Sunil's specialisms include Fashion, Beauty and Grooming, Lifestyle, and Culture. He has reported and covered fashion trends at International fashion weeks in London, Milan, and Paris, smelled and tested countless fragrances, beauty treatments, slathered on more serums, moisturizers, and masks than he cares to mention plus reviewed some of the best hotels in the world—and the worst.
Sunil has appeared on and led workshops and panels like the All-Party Parliamentary Group (APPG) for Creative Diversity roundtable, the British Fashion Council's Diversity and Inclusion Board, and Fujifilm reader events. A lover of—in no particular order—fragrance, fine wine, champagne, Dior, food, and chicken wings.