This is Harry Styles' workout routine—from zen yoga sessions to weight training
Harry Styles' workout schedule is varied and interesting, meaning it's a great one to try out yourself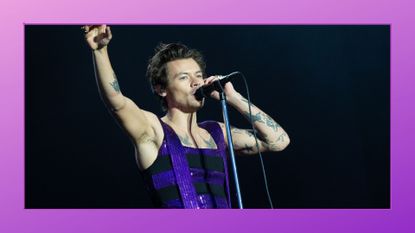 (Image credit: Joseph Okpako/Getty)
When it comes to finding the right workout routine for you, checking out what your favorite celebrities and their expert trainers is a handy starting point. If you're looking to mix up your routine, Harry Styles' workout plan is a great option, as he does a beneficial combination of cardio, yoga, and weight training.
Not only does Harry's workout regimen allow him to stay in shape ready for his next big performance, but it can also help with endurance, muscle toning and improved flexibility.
A pair of running shoes and extra motivation is all you really need, but for this Harry Styles workout, grabbing a few of the best dumbbells for women and one of the best resistance bands will allow you to get the most of your new exercise regime. Here are a few of the rules the former One Direction star follows for a healthy lifestyle.
All about Harry Styles' workout routine:
1. He favors both cardio and weight training
Harry's workout routine mainly consists of cardio and weight training to keep him in tip-top shape and boost his stamina for his busy touring schedule.
According to Health Yogi, Harry's weight-training routine consists of two sessions of the following lower-body and upper-body workouts, although it's occasionally changed to keep his body guessing and consistently challenged.
For upper-body, he does three sets, 10-15 reps, and 30 second rests of a variety of these exercises:
Chest press
Bench press
Dumbbell press
Dumbbell fly
Cable crossovers
Dips
Z bar barbell curls
Isolation curls
Dumbbell Bicep curls
Preacher hammer curls
Concentration curls
His lower-body fitness routine consists of three sets, 10-15 reps, and 30 second rests, chosen from these exercises:
Lat pulldown
One-Arm dumbbell rows
Cable rows
Bent over row
Military press
Dumbbell military press
Lateral raise
Front raise
Overhead press
Triceps pushdowns
Triceps dips
Skull crusher
2. He does cardio outdoors every chance he gets
Styles has always been vocal about working out frequently, revealing that he exercises five to six days a week most of the time. And while he loves hitting the gym for indoor workouts, he's explained that it's important for him to also get outdoors and taking advantage of nature, to support his healthy lifestyle.
As an outdoor enthusiast, Harry enjoys going for runs or hikes outside every chance he gets—just like Ariana Grande during her workouts.
In fact, he's often spotted on hikes in the LA hills, too, which is where he resides much of the time.
But of course, life can sometimes get in the way and make a long outdoor walk impossible. When this is the case, Harry runs for 30-40 minutes on a treadmill on an incline, using a combination of interval cardio techniques. If you want to mimic this Harry Styles workout, it's important to note that intensity levels and speeds on a treadmill should be adjusted according to your own personal workout level and endurance capabilities.
3. He tries inventive new workouts
If there's one thing to remember when it comes to working out, it's important to change your routine frequently, so your body doesn't get used to it and stop benefiting from your efforts.
Ben Bruno—a personal trainer for Harry and other big celebrities like Kate Upton—revealed that he often creates new exercises for his celeb clients.
He recently showed fitness enthusiasts everywhere one of the moves he made up for a client. It was "a combination lying leg raise and an isometric band-apart, using a resistance band and medicine ball to amp up a traditional leg lift." We don't know that Harry was the specific star he made the exercise up for, but we can imagine he'd have been keen to try it is if works well! To see more like it, his Instagram is full of his workouts with celebrities, mixed with his own.
4. He swears by yoga and meditation
Harry has always been an active promoter of meditation and yoga (using one of the best yoga mats) as a form of relieving stress and adding calm to your life. After all, a healthy lifestyle isn't all about intense workouts—a 360-degree approach to your wellness is vital.
"Sleep and meditation are a huge part of my routine, whether I'm at home, in the studio, or out on the road," Styles said whilst working with the Calm app. "Rest and recovery are as important as doing the work. Finding a balance has been endlessly beneficial to both my physical and mental health. It's changed my life."
Although Harry was once spotted by a fan in a hot yoga class in LA, there's not much more information about his actual daily yoga routine. However, there are plenty of beginner and expert videos on YouTube that you can take inspiration from, if you're keen to add some zen to your life.
5. His workout guilty pleasure is something we all can get into
In a TV interview with Ellen DeGeneres, Harry was asked what his guilty pleasure was. He responded: "Working out to One Direction." Love it! Considering how many hits Harry, Louis, Niall, Zayn and Liam churned out, it's safe to say most of us have at least one of their songs on our workout playlist, too.
This isn't exactly a workout tip, but it's certainly important to play songs you love, and tracks that get you pumped during a workout, in order to keep you going.
Will you be trying the Harry Styles workout routine for yourself?
Amy Hunt is a lifestyle writer and editor, and was previously Lifestyle Channel Editor at womanandhome.com, having been with the brand since 2015. She is passionate about everything from entertainment to books, to homes, food and wellness. When she isn't editing, researching or writing articles, he's busy burying her nose in a gripping thriller, practising yoga, or buying new homeware.