If you want to eat healthy food for skin that glows, serve yourself up these nutritious staples
We've rounded up the healthy food for skin that you should be adding to your daily meals...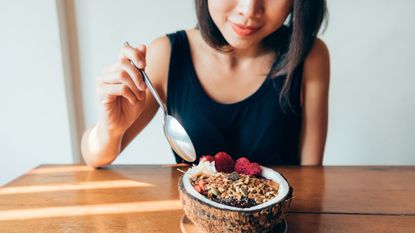 (Image credit: Getty Images)
When considering healthy food for skin that will get your complexion looking all bright and J Lo-glowy, you need to look at the foundations of a nutritious diet.
Because, as you'll know, just like there's no "miracle" cream—only a carefully crafted skincare routine—there's no one single radiance-enhancing item that you can serve up on your plate (or by one of these best meal prep delivery services).
"Despite many claims, there isn't a particular 'superfood' that is best to eat for the skin," says Jo Cunningham, clinical director of The Gut Health Clinic. "Research is showing that a plant-based diet can have a direct impact on someone's skin's health via our immune system."
"This doesn't just mean fruits and veggies, but also whole grains—like rice, bread, quinoa, buckwheat—as well as nuts, seeds, and legumes like beans and pulses, as well as herbs and spices," Cunningham continues. "They are all great sources of plant chemicals—also known as phytochemicals—that feed our gut bacteria, which has been associated with an improvement in our skin's appearance."
Alongside getting to grips with the best skincare product order to follow and how to deal with winter skin, these are the complexion-boosting foods the experts say you should be munching on...
---
---
What is healthy food for skin? Eat your way glowy
1. Fruit
Sure, it might seem obvious—but fruit is one of the leading skin-loving foods of them all. Even better, there are certain types that work some magic on your complexion.
These include blueberries. "They contain the highest concentration of antioxidants per serving compared to any other fruit," says Holly Zoccolan, nutritional health coach and founder of The Health Zoc. "They also have rich levels of vitamins A, C and E, and assist with the neutralizing of free radicals in your skin and your body, enabling your skin to retain its moisture and therefore bring out its youthful appearance."
Kiwis, blackcurrants and citrus fruits are also a great source of vitamin C, notes nutrition expert Penny Weston. "Some studies suggest this particular nutrient may also protect skin against UV damage and improve collagen production," she explains.
2. Vegetables
Yep, you guessed it, your five-a-day really does matter, and—just like with fruit—there are some veggies that sit top of the class when it comes to skin.
"Tomatoes are loaded with the antioxidant lycopene which creates an external barrier against free radicals, sunshine, inflammation, stress and pollution," says Jess Shand, the naturopathic nutrition specialist at wellness brand Manifesto. "The high levels of vitamin K found in broccoli help boost circulation, strengthen capillaries and fight dark circles. Then there's aubergine, which is rich in the phytochemical anthocyanin that helps fight against aging free radicals, and fiber and vitamin B, which also contribute to radiant skin."
Dr. Naomi Newman-Beinart, a nutritionist, recommends opting for brightly colored veg where possible. She notes: "Carrots are great as they contain beta-carotene which is well-known for promoting healthy skin. Daisy York, nutritionist and co-founder of wellbeing platform Aegle, agrees, adding: "Sweet potatoes and bell peppers are particularly good sources of this nutrient—as well as vitamin C—making them valuable functional foods for skin health."
And make sure you pile your plate high with all varieties of greens. "Spinach and brussels sprouts are rich in alpha-lipoic acid, which fights free radicals and is incredibly anti-aging—it has also been shown to reduce under-eye puffiness and have an anti-inflammatory effect on your skin," says Zoccolan. "Green leafy veg is also high in vitamins A, C and E, as well as chlorophyll, which enables the skin to retain its moisture and also protect it from damaging free radicals that cause aging, dehydrated and tired-looking skin."
3. Healthy fats
You'll be pleased to know that your beloved avocados have the skin-friendly seal of approval. "They are high in healthy fats, which are essential to keep your skin looking plump and hydrated, whilst also preventing your skin from aging," says Zoccolan. "They also contain lots of vitamin E—an important antioxidant that prevents the skin from oxidative damage which occurs in daily life."
Similarly, walnuts are really beneficial. "They are high in omega-3 fatty acids, which help to protect cell membranes thus leading to the skin retaining its moisture and staying hydrated," explains Zoccolan. "They also contain vitamins C and E, as well as selenium—which is also important for a youthful complexion."
You should also make space on your plate for fatty fish. "Sardines, salmon and anchovies are great for hydrating skin," continues Zoccolan. "They contain high amounts of omega-3 fatty acids, and are also an excellent source of vitamin E." The latter nutrient can also be found in extra virgin olive oil, which she also recommends adding to your diet.
4. Fiber
This nutrient often gets overlooked—indeed 90% of us don't get enough of it—but it's vital for your complexion, and can be found in everything from fruit and vegetables to whole grains and pulses.
"Fiber increases our ability to absorb essential nutrients, such as vitamin C, lutein and lycopene, involved in the production of collagen and antioxidants, which are known to improve skin health," says Dr. Federica Amati, chief nutrition scientist at Indi Supplements. "It also plays a key role in maintaining regular bowel movements—since insoluble fiber helps our intestines absorb water and soften our stools to support more regular bowel movements—helping to excrete toxins and unwanted waste from the body to help support glowing skin." Now, that's clever.
A mix of fiber sources can also help nourish your gut, which, as previously mentioned, is important for great skin. "Aim to eat a wide and varied range, including vegetables, fruits, nuts, seeds and whole grains," recommends Eve Kalinik, nutritional therapist and gut health specialist for KÄLLA Probiotics. "Research suggests that the more diverse the gut microbiome, the healthier and the stronger it is. If we have less diversity or imbalances in the gut microbiome, it can manifest in skin symptoms and conditions, such as eczema, psoriasis, rosacea and acne."
Prebiotic foods can also help keep the gut healthy. "They act as fuel for beneficial microbes," explains Lisa Harris, a facialist and natural skincare expert. "Examples include artichoke, cabbage, broccoli, chicory root, as well as fermented foods like Swedish sauerkraut or Japanese cabbage."
So, what's for dinner?
Lauren is a freelance writer and editor with more than six years of digital and magazine experience. Most recently, she has been the Acting Commissioning Editor of Women's Health—where she co-produced the Going For Goal podcast—and has previously also written news and features for titles including The Telegraph, Grazia, Stylist, Dazed, The Sun's Fabulous, Yahoo Style UK and Get The Gloss. She covers all aspects of lifestyle, specializing in health, beauty, and travel. Can't live without: oat milk lattes, new podcast episodes, long walks, and great skincare.