Our definitive list of Iconic TV characters that shaped our teen years—from Rachel Green to Pacey Witter
The My Imperfect Life teams shares which iconic TV characters they were obsessed with as teens and who made a lasting impact on their lives and hearts...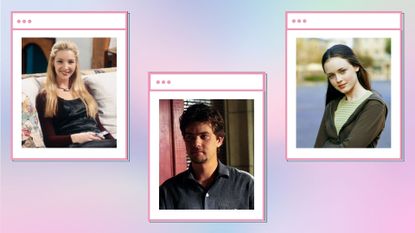 (Image credit: Alamy: (L) Photo12/7e Art/Warner Bros Television/ (M) COLUMBIA TRISTAR/ (R) Maximum Film / WARNER BROS)
When it comes to the best and most nostalgic TV shows, their greatness often comes from their characters. Whether it's the bad boy with a soft side or the arty 'misunderstood' girl—we all have that one, iconic TV character who we can say influenced and inspired us in some way. So, why not take a trip down memory lane and explore which characters helped shape our My Imperfect Life colleagues...
What shows and movies we watch as teens can really have a massive impact on the people we become and are still, usually the shows we turn to when life gets a little, well...adult. For example, if you religiously watched Friends—you probably have an eye for 90s fashion trends—if you loved Pacey from Dawson's Creek, you have likely grown up to have the highest of standards when it comes to romantic partners. And if you were a die-hard The Vampire Diaries stan, you probably still have a major thing for broody boys.
Having a favorite character who lives rent-free in our hearts is something we can all relate to. So, let's reminisce and hopefully inspire a few re-watches from our ultimate nostalgic TV list—here are the iconic TV characters who shaped our teen years and made an impact right on through to our adulthood...
The iconic TV characters that shaped our teen years
From all our data gathering two things are clear—most of us are very obviously 90s babies and the other is that a fair few of us as teens were watching shows totally inappropriate for our age group *guilty!*
But which characters were our ultimate faves and how did they inspire the people we are today? Let's find out and do some soul-searching while we're at it...
Rachel Green
Played by: Jennifer Aniston | TV Show: Friends | Original Release date: 22 September 1994
Of course, fashion icon Rachel Green would make this list—there's a reason why we have an article dedicated to just 'Rachel Green's outfits.'
Our Social Media Editor, Hannah Gulliver-Jones, says: "Rachel Green was SUCH an icon to me growing up—Friends was one of the few TV shows my mum and I would watch together and she was a character that instantly felt recognizable to me. She still inspires me when I watch re-runs, there's something so comforting about her friendships, career journey, and (it should go without saying) her fashion. It's just SO good. I wish I could shop her wardrobe directly!"
Naomi Jamieson, our Lifestyle News Writer, can also pinpoint Rachel's influence on her teens: "For me, Rachel was the original IT girl, I loved everything about her, from her fashion sense to her humor—in fact, my entire 'Fashion' Pinterest board is pretty much just pictures of Rachel in season one and two of Friends and I can definitely link my affinity to blue jeans to her.
"Her whole story arc was just so comforting to me—at 25, she had no idea what she wanted to do with her life, she didn't have it all figured out, and yet, it all worked out okay! Whenever I was stressed or unsure about my decisions (like university etc!) I would think of her. I also loved how confident she was, despite being painted as a 'pushover' at some points in the series—I always saw her as so independent. Plus she worked at Ralph Lauren, how cool is that?"
Carrie Bradshaw
Played by: Sarah Jessica Parker | TV Show: Sex And The City | Original Release date: 6 June 1998
Another TV style icon has made it onto the list, as Hannah remarks: "There's a theme for me in terms of TV characters who helped shape me: clothes! So naturally, Carrie Bradshaw was a big part of my teen years.
"There's something I find so wonderfully comforting watching SATC. Whether it's the different career paths, the relationships, or the overriding theme of female friendships, I always found SATC to be really calming through my teen years. Carrie, in particular, shaped me I think; she's sassy and bold, but ultimately she is kind and loyal and her wardrobe is nothing short of iconic!"
Our Social Media Producer, Lauryn Berry, also found Carrie to be an inspiring character. She says: "Fashion—need I say more? I didn't watch SATC until I turned 20, it was never something I thought I would like. How wrong I was… As whiny, annoying, infuriating and selfish as Carrie may be, she is iconic.
"My favorite thing about the show is that above all else it's a show about women, about their friendships—not the men, or the sex, or the Fendi baguettes, although I love the Fendi baguettes. Carrie is definitely a style icon for me and she encourages me to push the boat, wears that random color combination, do something fun and childish with my hair, buy those boots that don't go with anything but are an absolute showstopper. I also love how SJP (and Carrie in And Just Like That...) has kept this creative spirit alive through her fashion, no matter how much she ages or what people think is appropriate for a woman her age."
Rory Gilmore
Played by: Alexis Bledel | TV Show: Gilmore Girls | Original Release date: 5 October 2000
Gilmore Girls is often the topic of our weekly meetings, especially now fall has hit—because apparently, it's the ultimate show for cozy, autumnal vibes and has a tonne of relatable, childhood-favorite characters.
Lauryn remarks that she IS Rory Gilmore, she says: "From being a bookworm to being besties with my mum and having the dream of one day becoming a journalist. While I certainly went through my phase of disliking Rory (like everyone else does) and the decisions she made, I also came to understand that it's only natural to make those mistakes while you're growing up and that while you learn from them, they don't define you.
"She taught me that no matter how much you study, plan, and work, things don't always work out the way you want them to—but that doesn't mean you have failed, it just means you've taken a different path."
Pacey Witter
Played by: Joshua Jackson | TV Show: Dawson's Creek| Original Release date: 20 January 1998
We've finally made it to the portion of the article that lays bare a few of our teenage crushes—and our two Deputy Editors, Aleesha Badkar and Christina Izzo, credit their single 30s relationship status to the high standards of none other than Pacey Witter.
"Every 90s and 00s show has that one guy who ruined all real-life relationships for us because they're just too damn perfect, and Pacey is the OG. For me, I didn't actually watch Dawson's until I was a bit older and still he managed to give me unrealistic expectations for any future relationship I might have. Yes he starts off with a questionable storyline and you're led to believe that he's going to be the 'bad boy' of the series. But he doesn't even have that much of an arc because actually he's just pretty much perfect from the first series. He has the biggest heart but doesn't shout about it, he knows who he is and he never tries to be anything else, he is hilarious, he stands up for what he believes in, he cares deeply and when he loves he loves fully. Plus, he's pretty easy on the eyes..."
"He. Bought. Her. A. Wall," adds Christina. "Precociously romantic Pacey Witter—who named his boat 'True Love,' who referred to his teenage crushes as 'freaking goddesses' and who never tried anything untoward during that entire summer alone on a boat with Joey—is not only the gold standard for all high-school TV boyfriends but for all romantic partners. Fiercely supportive, swooningly sweet, refreshingly direct ('I'm going to count to ten and then I'm going to start kissing you,' GAH), he was wise beyond his years and passionate to boot, the kind of charmingly flawed but still impossibly dreamy boyfriend that we're still not over, 25 years later."
Brooke Davis
Played by: Sophia Bush | TV Show: One Tree Hill | Original Release date: 23 September 2003
Brooke Davis absolutely had to be a main feature of this list—after all, fans still celebrate her birthday and are always competing with actress Sophia Bush to be her number one fan.
"Brooke Davis might be favorite person in the entire world," says Aleesha. "Not only do I want to be her, but I want her to be my best friend too. One of the most incredible character arcs I've seen in any show, she goes from kind of lost and always seeking the validation of others, to a badass boss who has the kindest heart. My favorite thing about Brooke is that—even though at the beginning she tries to hide this side of her—she actually has so much depth to her that is made up of love, intelligence and strength, but also insecurity, uncertainty and fear.
"But both deep down and on the surface SHE IS JUST THE BEST. First of all, she's hilarious, always has the best comebacks, she has the best fiery temper, she's refreshingly open about sex and is not afraid of a flirt. She is the biggest feminist and is all about girl power, she's self-confident, she promotes body positivity (bar a slightly misguided incident with a certain photograph), she's unapologetic about who she is and she's secure enough to know her own worth. She also loves so fiercely—both romantically but more importantly towards her friends and family, she will jump to the defence of everyone, she learns to not be scared of being vulnerable. And she built a fashion empire at 17 people!
"I feel so honored to have lived my teen/formative years during a time when she was a role model, because I have taken so much from her when living my own life—mostly her strength, resilience and belief but also in the way that she treats those she loves and, above all, in the way that she values herself. Even comparing some of the trials of her adult life to those of my own gives me comfort that anything I'm scared of will be okay—because WWBDD?"
Blair Waldorf
Played by: Leighton Meester | TV Show: Gossip Girl | Original Release date: 19 September 2007
Sometimes the characters that inspire us are exactly our complete opposites, which Naomi says was definitely the case for Queen B—Blair Waldorf.
"Obviously at the beginning of Gossip Girl, Blair comes across as spoilt and a total savage, but over time you see that she's actually one of the most caring and most complicated characters in the whole show (and her romance with Chuck Bass is truly swoon-worthy). While great things would seemingly just happen for Serena, Blair was always met with hurdles and setbacks, which is something that made her really relatable to me.
"Plus her confidence and just badass attitude were just so refreshing—no one messed with Blair without getting burned! And Blair's outfits, which include some of my favorite 2000s fashion trends, deserve a mention too!"
Seth Cohen
Played by: Adam Brody | TV Show: The O.C. | Original Release date: 5 August 2003
Our Deputy Editor, Christina, was a huge fan of this The O.C. star.
She tells us: "From comic books to Chrismukkah to Captain Oats, The O.C.'s Seth Cohen was the boy who ruined all other teenage boys for me. I didn't just want to date a Death Cab for Cutie-loving, 'delightful half-half situation' like him—I wanted to be him and, with my penchant for ironic tees and indie albums, damn tried my hardest to do so during my four years of high school, which ran perfectly parallel to the four seasons of the show.
"Here was a certified geek (ditto) who was unashamed of who he was or what he liked, who—despite some serious social awkwardness (again, ditto)—still had great friends, still had great times and still landed their crush. (Seth + Summer 4eva!) Seth Cohen gave hope to all of us hopeless high-school nerds—and the fact that he had Adam Brody's face surely didn't hurt."
Ivy Sullivan
Played by: Gillian Zinser | TV Show: 90210 | Original Release date: 2 September 2008
90210 was another one of those series packed with relatable characters, for Hannah, that character was Ivy Sullivan.
Hannah says: "Those that know me, know that I am at heart a complete beach bum, so I loved how Ivy's character showed a tomboy-side to a main character. I live by the sea, and spend as much time as I can in the ocean. Whether I'm swimming, surfing, or just watching the surf, I can almost always be found on the beach and I'm most at home in a bikini and denim cut-offs, so naturally, Ivy was relatable! I still love how she was depicted: just a gal getting great waves and showing the boys how it's done!"
Damon Salvatore
Played by: Ian Somerhalder | TV Show: The Vampire Diaries | Original Release date: 10 September 2009
For many of our team members, the golden age of hunky vampires struck right in our adolescents and Naomi, was one of many who fell for the eldest Salvatore brother...
"Be still my beating heart—the chokehold this man still has on my soul is not even funny. I have gotten into many an argument over which Salvatore brother is the best and I will wave the Damon flag until the end of my days. He was every other picture on my Tumblr blog (that's some 2010s nostalgia for you right there) and is likely why, to this day, I have such a love for 'anti-hero' characters, especially if they're a love interest.
"In all the shows I've watched since TVD, I always find myself rooting for the gruff guy, who pretends he doesn't care but deep down he actually cares ALOT. I mean c'mon, that moment when Elena becomes a vampire and remembers all the times Damon made her forget him and his face when she finally chooses him over Stefan, oh my god."
Daria Morgendorffer
Voiced by: Tracy Grandstaff | TV Show: Daria | Original Release date: 3 March 1997
Our first influential animated character to make the list—our Digital News Writer, Danielle Valente, says she really related to Daria Morgendorffer's high school journey.
She said: "She's cynical, moody and a writer. How could I not love Daria Morgendorffer?! The animated teen's "woe is me" narrative looked a lot like mine in high school, minus her grunge ensemble and uber-popular little sister.
"Yes, Daria might have been a lot different than her peers at Longdale, but that doesn't necessarily make her—or even them—bad (well, maybe not the Fashion Club). She's the essence of "you do you," and I think that's something we can all appreciate."
Phoebe Buffay
Played by: Lisa Kudrow | TV Show: Friends | Original Release date: 22 September 1994
How could we not include Phoebe Buffay! Lauryn says that her favorite Friends characters are Ross (controversial) and Phoebe—adding, "I think it's because they are the most independent out of the friend group.
"Phoebe is the quirky outsider with a dark past and a mysterious life. While I am nothing like her in that respect, I do identify with how she always stands by her morals and isn't afraid to speak her mind, even if her friends don't always agree or understand." Love that!
Paris Gellar
Played by: Liza Weil | TV Show: Gilmore Girls | Original Release date: 5 October 2000
Of course, this would hardly be an 'iconic TV characters' list if there weren't a few more names from Gilmore Girls.
Danielle shares that she feels like Paris was one of those characters that imparted a life lesson to her. She explains: "There's a lot to love about Paris Gellar once you get past the asperity and grimace.
"Sure, she's over the top in every sense of the word, but you can't fault a girl for being passionate. She crumbled when life did not go according to her plans, but her rejection from Harvard taught me that, sometimes, the universe has better ideas for us."
Nathan Scott
Played by: James Lafferty | TV Show: One Tree Hill | Original Release date: 23 September 2003
Deputy Editor Aleesha already waxed lyrical about One Tree Hill's Brooke Davis, but as a diehard fan of the show (who rewatches all NINE seasons at least once a year) she obviously has more than one favorite character...
"Nathan is another one of those teen boys who just ruined all our future real-life relationships due to the sky-high expectations he produced. But jokes aside, he actually taught me to value myself and helped me understand that it's okay to have high standards towards how someone treats you in a relationship.
"His relationship aside, I still love who Nathan is as a character. Like Brooke, he has an impressive character arc, going from selfish, bullying, emotionally-insular jock to the one of most loving, caring, understanding and generous people in the show—even being labelled a 'martyr' by Peyton in one iconic episode (4x13 if anyone is wondering). The way he navigates his relationships with his wife, brother and friends as well as his own career trajectory, while dealing with very difficult parents and essentially taking on the burden of his whole world onto his own shoulders is admirable. And while he was up against the ultimate 00s teen heartthrob Chad Michael Murray, his cute but brooding look was the winner for me."
Caroline Forbes
Played by: Candice King (née Accola) | TV Show: The Vampire Diaries | Original Release date: 10 September 2009
The one character who's made it right from the start all the way through the eight seasons of The Vampire Diaries as well as its two spin-off shows to the very end of the franchise, Caroline had to make an appearance thanks to her journey on this iconic teen show.
Aleesha says: "I definitely have a thing for character arcs, so Caroline has to be up there for me. I love how she goes from this pretty selfish, unaware, shallow and scared teen girl to this absolute badass vampire mom who not only looks after everyone but defeats all the baddies while she's at it. She's intelligent and tactical, brave and resolute but also SO loving, caring, a bit sensitive, devoted to everyone she loves—even when they're at conflict with each other and she's stuck in the middle—she fights for what she believes in and always does what she feels is right even when people are telling her not to. Yet she is still so funny, eccentric, ditsy in a cute way and has changed the phrase 'seriously?' for me forever."
Jess Mariano
Played by: Milo Ventimiglia | TV Show: Gilmore Girls | Original Release date: 5 October 2000
And we've got another Gilmore Girls honorable mention for Jess Mariano. Danielle says: "Jess will always hold a special place in my heart—had he not been fictional, he'd be the boy my mom would've warned me to stay away from.
"Even still, his flaws, charms and great taste in books will forever solidify my place on #TeamJess."
Samantha Jones
Played by: Kim Cattrall |TV Show: Sex And The City | Original Release date: 6 June 1998
Samantha Jones is also a no-brainer when it comes to iconic characters—who doesn't love this ultimate blonde bombshell?
Naomi says: "While perhaps not exactly PG for my teenage eyes, I found Samantha, in her own words—fabulous. As a teen experiencing first crushes and rejections, I loved her attitude toward dating.
"She was unapologetically Samantha Jones, never letting anyone walk over her and always standing up for herself. Personally, I was a very shy teen so she was the opposite of me in every way but because of that, I found her confidence so inspiring. She was and is the ultimate independent woman and her ethos on sex was waay ahead of its time!"
Our News Editor, Lydia Swinscoe also adds: "The music of my teenage years was full of lyrics about cheating men, or women getting dumped, so it was so refreshing to be introduced to Sex and the City's powerhouse character Samantha Jones.
"Exuding confidence and almost always getting exactly what she wanted, her character felt revolutionary in terms of sexual power. Because of her candid discussions on every sexual topic going, Samantha embodied what it meant to be sexually open and smashed the myth of women always being portrayed as the weaker sex."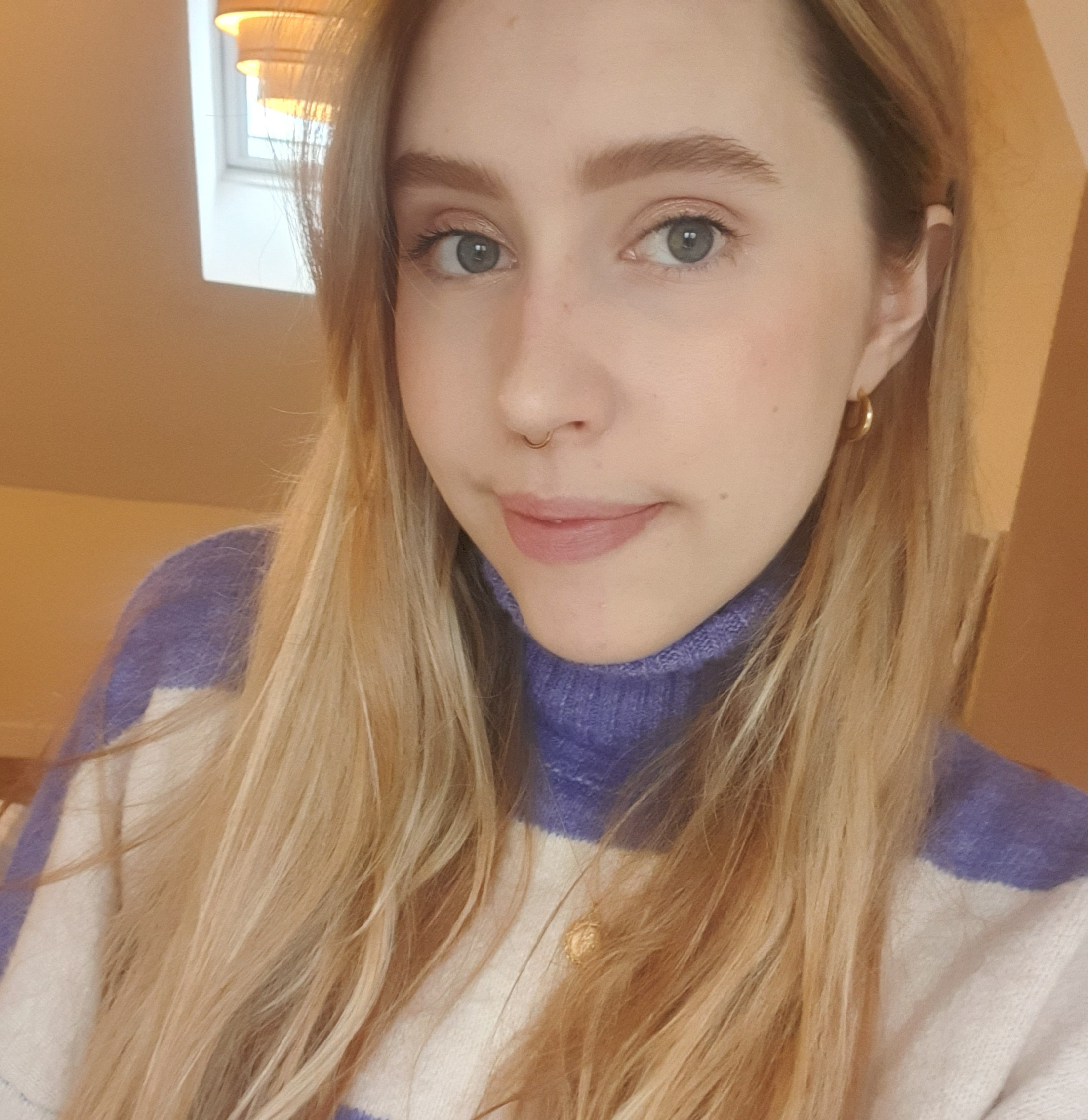 Naomi is a Lifestyle News Writer with the Women's Lifestyle team and has recently earned her Gold Standard diploma in Journalism with the NCTJ. She has a background in design, having studied Illustration at Plymouth University but has taken a leap into the world of journalism after always having a passion for writing. She currently writes pieces on beauty, trends, fashion, and entertainment for GoodTo and My Imperfect Life. She also tests and reviews beauty and skincare products and tries out the latest TikTok hacks for My Imperfect Life.
Before working for Future Publishing's Lifestyle News team, she worked in the Ad production team. Here she wrote and designed adverts on all sorts of things, which then went into print magazines across all genres. Now, when she isn't writing articles on celebs, fashion trends, or the newest shows on Netflix, you can find her drinking copious cups of coffee, drawing and probably online shopping.