We quizzed previous islanders on everything you ever wanted to know about Love Island UK
We asked some 2021 islanders about their Love Island UK experience and this is what they had to say...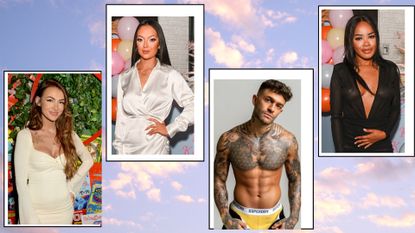 (Image credit: David M. Benett/Dave Benett/Getty Images for Virgin Media/ David M. Benett/Dave Benett/Getty Images for Revolution)
The hit ITV reality show Love Island is the gift that keeps on giving (here's how to watch Love Island from anywhere if you need to catch up) and with all the new changes ITV brought in to make the show better than ever, we thought what better time to reflect on past editions (while we patiently wait for the 2022 Love Island final).
Love Island 2021 was a lot. From the disastrous love life of Hugo Hammond to a moment between a couple that led to Ofcom receiving a record-breaking number of complaints about the show, last year's show was nothing short of drama.
With only two couples from Love Island 2021 still together (after Liam and Millie's surprise breakup) and ex-islanders constantly making new revelations, we wanted to know the truth behind what went on in the villa and outside it.
So we spoke individually to four 2021 islanders—Abigail Rawlings, Dale Mehmet, Sharon Gaffka and Rachel Finni—about their experiences in the famous villa (where Love Island is filmed), and this is what they had to say a year on.
What advice would you give to this year's Love Island 2022 cast?
Sharon: Just be yourself because if you are anybody that's not who you are, you'll really struggle after leaving the show.
Dale: Enjoy themselves. I would say just make sure you're headstrong because whereas I'm not too fussed, I could see why it will get under someone's skin. But you're so much better than that. So always keep your head no matter what anyone says.
Rachel: Do whatever the f**k you can to be memorable, do whatever you can to stand out. If you're going to go on make sure you reap everything you can so when you come off you're getting paid just for being yourself. Also, remember no one's your friend. You're all strangers. It's a game so play the game.
Abigail: Always be yourself because people can see straight through. The main thing that I think is also so important and also like a life motto is if you don't enjoy it, what is the point? Don't focus so much on what you potentially can make from it.
Would you still choose to go on 'Love Island'?
Sharon: I would still do it again. Looking back, there were clues to how my journey would have gone. In terms of me leaving single, I think that was always the plan for me as a character in the show.
Dale: Yeah, of course, I had an amazing experience. I feel like I represented myself well. I represented where I came from well. I had no bad points or things that I didn't like.
Rachel: 100%, for two reasons. One to basically piss off the producers that messed up my time there. You wanted me to be a dick, believe that I'll go on and play the character that you want me to play. Secondly, I'm thinking you masked me as such an idiot. So even though I didn't come out for the fame or go on the show for the fame, I'm going to profit off of you guys. If I was to do it again, it would be purely out of selfishness because there's nothing that show can give me that would mean anything to me.
Abigail: I'd never done anything in telly before, so I really was punching in the dark with it. But it was really interesting as I've been a tattooer since 19 and my life's been quite samey. It was really nice to test myself and I wasn't like scarred from it or anything. I actually really enjoyed it.
What do you feel is your most misunderstood moment on Love Island?
Sharon: [The breakup with Aaron] When he broke things off with me they'd cut some of the conversations so much that it made it look like he'd only ended things with me because of the Hugo thing and that's why I cried. When actually, let's be honest, I didn't cry during the arguments with Hugo, I'm not going to cry if someone brings it up in a breakup. What made me upset was he basically said to me that I'm too much of who I am for him and if I wanted to be with him, then I should make myself smaller to make myself be deemed as more feminine or attractive to someone like him. I remember having to spend a lot of time with the welfare team because it genuinely caused me mental distress to know that I'm being told again, in a situation that I cannot leave, that I have to make myself smaller to make a man feel better about himself.
We also asked Rachel Finni about the Sharon, Aaron and Hugo situation and this is what she had to say: "Sharon's the innocent party. I was there when it happened. I saw everything from start to finish, Sharon's totally right. Editing can make you look a certain way."
Dale: [Did he ever speak to Mary after it seemed like they had a connection in the villa] No conversation. We are cool and she's a cool person. I don't think it got to that stage where I was like oh "Why did you do that?" Yeah, it wasn't that deep.
Rachel: [On her Laura Whitmore presenter comments] I never said Laura Whitmore was a bad presenter. I said she's not a good presenter for Love Island. Caroline Flack was known for her dating history. Laura Whitmore is someone who is married with a kid, which is what people aspire to have, which is great. But how would you relate to the contestants you're surrounded by? There are articles out there from when people were calling for Laura Whitmore to be sacked because of the reunion and I came out and defended her. So I will say again, she's not a bad presenter, but she doesn't fit Love Island. I always say Maya Jama, AJ Odudu and Nella Rose fit the age and demographic, or are known for their dating or bring a bit of personality.
Abigail: [On wishing she came in earlier] I was actually supposed to be going in when Lucinda and Millie went in, but I think because I didn't put Jake as my top three, I got put down to the bottom of the pecking order. And at the time they wanted Lib and Jake to be tested as they were the strongest. But it's a TV programme at the end of the day, and I think a lot of people forget that.
How did your life and relationship with social media change once you came out of the Love Island villa?
Sharon: I'm probably stronger—mentally and have a bigger sense of self-worth. I think women off Love Island make more money and are financially more lucrative and that's fine, but we also get bigger repercussions for actions we do. So for example, I got more abuse, hate and trolling for calling Hugo out for the way he speaks about women than Aaron did for the stuff he said towards me. I think women will always have a harder time on reality TV than men in terms of their actions.
Dale: Obviously, Love Island puts you on a platform that you're not used to. Coming home, people know who you are—it's totally different. I don't think it necessarily changes the way you live but it's made me a better person and it's heightened my social skills. I will say that [social media] is the hardest part because people are judging you off an hour of tv a day. For me, it wasn't hard because I don't care but I can see why it would be hard for other folks.
Rachel: I swear to you, I never ever, ever went on Love Island to become an influencer, I'm one of the most insecure girls you'll ever meet. That's why I rarely post a picture. So I always thought, I'd go back to work anyway and even if I became so successful, it's a factory. [With Love Island] There's a new product that's going to come out every single year that's why influencing isn't stable.
Abigail: I've definitely grown more self-confident. Beforehand I would never allow people to see me with no makeup on. Like even boyfriends I'd been with for years, I'd always keep a little eyeliner on. Then when I was on Love Island, as soon as you've washed all your makeup off and you're about to put a fresh face on, the producers will go heavy and have you talk with a bare face on! [In regards to social media] I've actually been so fortunate, I haven't really experienced too much trolling, so that's really nice. If anything, I've felt like I've had the opposite. I found it really emotional.
What are your plans for the future?
Sharon: I would love to be an MP. I do think that that's kind of one of the next things on the horizon for me. I'm massively passionate about creating safe spaces for young people. Educating the next kind of generation on being unapologetically themselves.
Dale: When I came back I decided I was gonna take a bit of time and move to Manchester, so in January that was my big thing. But I actually came back to Glasgow. There are only so many pictures you can take. Since I was 16 I was working, so I want something else—something to keep me busy on the days that I'm not. So hopefully in the next two months, I'll have my barber shop set up in Glasgow.
Rachel: Honestly, my goal in life has always been just buying a house, have kids, get married and live a quiet life. One thing I will say though is I probably would never do reality TV again.
Abigail: I will literally never give up tattooing—it's my absolute passion—so that will be forever here, no matter what I'm doing. But before COVID times, I could have told you down to the day, what I was going to do. Then when the pandemic happened, I just felt like all I've done is work and for what for—nothing. So, my plan is literally to just do every fun opportunity that comes my way, and enjoy life as much as possible
The interviews were done individually and have been edited and condensed for clarity.
Liv is a freelance journalist currently studying English at university. She loves covering everything from entertainment and politics to lifestyle and travel. As well as writing for My Imperfect Life, Liv has bylines in The Times, HuffPost, Den of Geek, Bustle The Metro and The Bookseller.