The best JLo movies ranked: from 'Selena' to 'Hustlers' and everything in between
With a new Jennifer Lopez movie out, where do your favorite JLo movies stack up?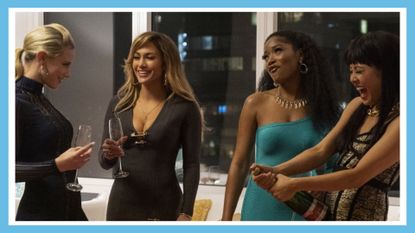 (Image credit: STX Entertainment)
No one takes on a role with as much gusto as Jennifer Lopez. JLo movies are the ultimate feel-good watch—whether the triple threat is playing a wedding planner, a Manhattan maid, a tough cop, or a famous pop star, we fall a little more in love with her.
Now that the actress is back with a fresh new rom-com, Marry Me, out Friday, February 11, we've got JLo movies on the brain. If you're stuck for something to watch during a Netflix or Hulu binge, our ranking of the best Jennifer Lopez flicks should keep you entertained for hours.
From '90s classics when the actress-singer was just getting started, to her latest critically acclaimed roles, this list has a little bit of everything. (Fair warning: we didn't include Gigli, the 2003 hit that resulted in the Jennifer Lopez and Ben Affleck union and many cinematic nightmares.)
Where do your favorite JLo rom-coms and thrillers stack up on the list below?
---
---
The best JLo movies, ranked:
12. 'The Boy Next Door' (2015)
In this 2015 erotic thriller, Claire (Lopez) engages in what she thinks is harmless flirting with her son's friend next door (played by Ryan Guzman). But when she gives into the teen, a whole new side of Noah is on full display—and it's frightening. The movie holds a whopping 12% rating on Rotten Tomatoes, but there's some campy fun to be had here.
Where to watch: Netflix
11. 'The Backup Plan' (2010)
Lopez's Zoe takes her maternal future into her own hands at the sperm bank. Coincidentally, that same day, she manages to meet her perfect match. Once Stan (Alex O'Loughlin) learns of her pregnancy, the two vow to make it work, but will their newly-found romance have a happily-ever-after?
Where to watch: Amazon Prime Video
10. 'Second Act' (2018)
Maya Vargas (Lopez) is led to believe that she can't compete with her college-educated peers. When she's denied the promotion she's been dying for, she decides it's time to take matters into her own hands and pursue a second chance at a corporate career—only after a friend's son creates a fake résumé for her. Hijinks unsurprisingly ensure. (If you're feeling inspired, check out our tips for how to get a promotion at work!)
Where to watch: Hulu
9. 'Monster-In-Law' (2005)
Charlotte (Lopez) is head over heels for Kevin (Michael Vartan), but what happens to the newly betrothed when his poorly behaved mother, Viola (played by the fabulous Jane Fonda), enters the picture? Can their love withstand a horrendously overbearing matriarch? JLo holds her own against Fonda's gamely bitchy performance and the two make for fun-to-watch sparring partners onscreen.
Where to watch: HBO Max, Fubo TV
8. Enough (2002)
In this Michael Apted thriller, Slim (Lopez) thinks she's struck gold when she marries Mitch (Billy Campbell) and settles into the seemingly perfect suburban life. But as it turns out, Mitch is not what he seemed, and Slim is forced to go on the run to flee his abusive behavior. Though widely panned for its plot, Lopez offered up believable grit and gumption through all of the film's tough physical scenes.
Where to watch: Netflix, HBO Max, Amazon Prime Video
7. 'Anaconda' (1997)
Filmmaker Terri Flores (Lopez) has to travel into the Amazon for a project about a forgotten tribe. Her task is thrown off-kilter when she and her crew meet Paul (Jon Voight), who has his heart set on capturing a famous—and potentially lucrative—anaconda. (Those who suffer from ophidiophobia might be better off with another title from this list!)
Where to watch: Hulu
6. 'Maid in Manhattan' (2002)
There's an instant connection between Marisa (Lopez) and Christopher (Ralph Feinnes), but there's just one problem. Chris, an up-and-coming politician, mistakingly believes Marisa is a socialite and not a maid at the New York City hotel where he's staying.
Can a romance last when one partner is lying? Though the two come from different worlds, they're not as different as society might have led them to believe.
Where to watch: Hulu, HBO Max
5. 'The Wedding Planner' (2001)
"Those who don't do, teach. Those who don't wed, plan." Lopez's Mary Fiore is at the top of her game as a wedding planner, but when it comes to her personal love life, well...that's another story.
After a seemingly perfect first date with a handsome doctor—who saves Mary when a huge dumpster came hurling downhill towards her—things start looking up. But what happens when said doctor is engaged to one of Mary's clients? Oh, and let's not forget about the Italian man her father keeps trying to set her up with. This is JLo at her rom-com sweetest.
Where to watch: Netflix
4. 'The Cell' (2000)
Most of JLo's movies are of the "fun" variety but few are in the "frightening" camp. Tarsem Singh's trippy sci-fi drama is the latter, with Lopez playing Catherine Deane, a psychologist who uses experimental technology to enter the mind of a comatose serial killer (Vincent D'Onofrio) to save a kidnapped victim.
Where to watch: Apple TV
3. 'Selena' (1997)
The 1997 biopic Selena put Jennifer Lopez on the map and caused Hollywood to take notice of the former dancer. The film focuses on the fictional retelling of Selena Quintanilla-Pérez's rise to fame and untimely death at the hands of her fan club manager, Yolanda Saldivar, at the age of 23. Critics praised Lopez for her radiant, star-making performance, for which she received a Golden Globe nomination.
Where to watch: HBO Max, Amazon Prime Video
2. 'Hustlers' (2019)
One of JLo's buzziest roles ever was that of Ramona Vega in Lorene Scafaria's 2019 Hustlers, a veteran stripper who helps a pack of women from the strip club take advantage of the male, wealthy clientele, even when the 2008 economic crisis threatens their livelihood.
Entertainment experts suspected Hustlers would earn Lopez her first Oscars nomination in 2020, but the actress was unfortunately not among the list of contenders, although she did nab Supporting Actress nominations at the Golden Globes, Screen Actors Guild Awards and the Independent Spirit Awards for her performance.
Where to watch: Amazon Prime Video, Hulu
1. 'Out of Sight' (1999)
More so than Selena or any of her other '90s outfits, this Oscar-nominated 1998 Steve Soderbergh title cemented Lopez as a real-deal actress. Playing against George Clooney's charismatic bank robber Jack Foley, JLo plays Karen Sisco, the gritty US marshall assigned to capture him.
The duo positively crackles with steamy sexual tension and serious star power, bolstered by a supporting cast of Don Cheadle, Catherine Keener, Steve Zahn and Albert Brooks, making it one of the suavest, coolest crime movies ever.
Where to watch: Amazon Prime Video, Apple TV
New in 2022: 'Marry Me' movie
Get ready fans, JLo is ready to pull out all the stops alongside Owen Wilson. In 2022's Marry Me, Kat Valdez (Lopez) is a famous pop star who marries a fan (Wilson) at one of her shows—an impromptu move that's sparked by her fiancé's infidelity and her perceived abandonment anxiety. But is this ridiculous move crazy enough to work? We'll just have to see how this one ranks in Lopez's film career!
Christina Izzo is the Deputy Editor of My Imperfect Life.
More generally, she is a writer-editor covering food and drink, travel, lifestyle and culture in New York City. She was previously the Features Editor at Rachael Ray In Season and Reveal, as well as the Food & Drink Editor and chief restaurant critic at Time Out New York.
When she's not doing all that, she can probably be found eating cheese somewhere.