Kim Kardashian workout routine—how the star maintains that famous figure
The Kim Kardashian workout routine, guided by her trainer, is what the star relies on religiously to stay in shape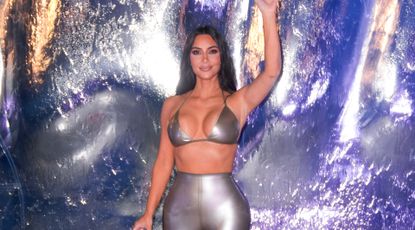 (Image credit: J. Lee/Getty)
If there's one thing people know about the Kardashians (and Jenners), it's that they know how to get their bodies in shape (with the help of great professionals, too, of course). And of all the sisters, the Kim Kardashian workout routine is arguably the most in-demand, with the reality star and businesswoman having one of the most envied bodies in the world.
Following Kimberly's routine could be a great way to reach your fitness goals—especially if you're looking to explore more results in your legs, booty, and waist, all of which make up the SKIM's founder's iconic hourglass figure.
Since resistance training is Kim's go-to, you'll want to get your hands on some of the best resistance bands for women before getting started. Not only do they offer a range of light and heavy resistance, but they have also been proven to improve the quality of your exercises as a great alternative to workout machines.
So how else does the mom-of-four stay in shape? We take a deep dive into Kim K's workout routine, to learn more about her habits and her favorite exercises...
All about the Kim Kardashian workout routine:
1. 6 am workouts, six times a week
Kim swears by working out for most of the week—she has said that she regularly does six days a week with one 'rest day'. Like the other Kardashians, she also likes getting started with her morning rituals as early as 6 am, to start the day off right.
Many health and fitness experts advise working out early in the morning (before breakfast) if you're interested in losing weight, and later on in the morning, after breakfast, if you're more interested in building and strengthening muscle.
Kim's sessions tend to be around an hour to an hour and a half long—which may seem pretty long, but is actually shorter than some other celebrities, who have said their workout schedules include 2-3 hour sessions!
2. Weight training is her biggest focus
Weight and strength training is a big focus for Kim, and it's no surprise given how beneficial it can be.
Working your muscles in a targeted way, such as with strength training, can really help you to change your body composition, and if you have more muscle, you'll generally burn more fat throughout the day, as you go about your business.
Kim's weight training sessions include basic combinations of squatting, hip hinges, overhead presses, rows, and chest press exercises:
Front Squat
Overhead shoulder press
Plank
Row
Glute bridge
Tricep extensions
3. One day dedicated to abs
There's no denying how incredible Kim's mid-section looks when she rocks her latest crop-top set or a bikini on a beach. Those kinds of results don't come without at least one day devoted entirely to sculpting your abs to perfection, whilst sitting on one of the best yoga mats.
Typical Kim-K ab workouts include a mix of the following and more:
Lying leg-lifts
Reverse V-ups
Abs bicycle With clap
Hanging knee raises
Plank
Butterfly sit-ups
High boat to low boat
4. Less focus on cardio
If you tend to keep up (get it?) with every Kardashian workout routine, you likely know how much Khloe values cardio training in her fitness routines. Kim, however, puts cardio at the bottom of her fitness schedule.
According to an interview with her trainer Melissa Alcantara, Kim's workouts are more resistance training-based. "85% of our training is weight training, and the other 15 is made up of cardio," she says.
As you likely already know from her Instagram stories, her cardio routines typically consist of sprints around her Calabasas neighborhood and jogging on her treadmill—although she finds it "hard to video and sprint," as she captioned one story with a laughing emoji.
How to work out with Kim Kardashian's trainer herself:
Kim's trainer, Melissa Alcantara, actually offers training guides and workout programs on her app (opens in new tab), for those looking to get in shape.
Also, following her on Instagram (opens in new tab) will allow you to see her workouts in action—making it much easier to execute correctly in your own workouts.
Struggling with how to motivate yourself to work out? The celebrity fitness trainer is big on discipline and explains that excuses will hold you back from utilizing routines like Kim's to their maximum potential.
"Don't lie to me, don't lie to yourself. Realize that you're just making an excuse," Melissa says. "Say f*** that, I'm not going to do that, I'm doing this for myself, and it's going to become part of my life."
Well, that mentality has certainly worked for Kim K. Incorporating Kim's intense weight training exercises into your fitness routine could well garner amazing results. After all, have you seen her lately? She looks incredible!
Amy Hunt is a lifestyle writer and editor, and was previously Lifestyle Channel Editor at womanandhome.com, having been with the brand since 2015. She is passionate about everything from entertainment to books, to homes, food and wellness. When she isn't editing, researching or writing articles, he's busy burying her nose in a gripping thriller, practising yoga, or buying new homeware.