Who is the new Lord Featherington on 'Bridgerton' season 2?
Season two sees the return of Lord Featherington to the Ton—with a very different face. Here's who he is and who plays him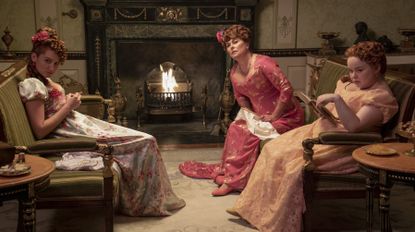 (Image credit: Liam Daniel/Netflix)
Season one of Bridgerton ended in tragedy for the Featherington women when their husband and father Lord Archibald Featherington (played by Ben Miller) was killed by bookies for trying to swing a boxing match—a match the avid gambler had bet the deeds to the family home on.
"Who will inherit the house?" wailed the distraught Lady Portia Featherington (Polly Walker), before being told by Violet, the housekeeper, that it is someone well-known to them. So who is it? We find out in Bridgerton season 2 and, strangely, it's none other than Lord Featherington. No, he didn't fake his own death to escape the menacing loan sharks, but instead it's a different Lord Featherington entirely. Confused? Yeah, so were we. Let's break it down…
*Warning: spoilers ahead!*
---
---
Who is the new Lord Featherington?
We rejoin the Featheringtons at their most desperate low: getting Mrs Varley to flog bits of the household, like candlestick holders. Daughter Philippa is meant to be getting married to Finch, but there is a slight problem—they're as broke as Oliver Twist and can't afford to pay the sizable dowry. That's when the new Lord Featherington steps in.
It turns out his father (presumably a brother to the O.G. Lord Featherington) inherited the sizable Featherington mansion, but he's also popped his clogs. The deeds have instead been passed down to the new Lord Featherington—but he asks Philippa, Prudence and Penelope to call him Cousin Jack (which is handy for us, too, as we've written Lord Featherington far too many times in this article already) and gets settled straight away in the family home. He swiftly takes Lady Featherington's bed chamber as his own, turns the morning room into a gaming hall and puts up a highly questionable display of guns and antlers in the hallway.
Still, at least he's sorted the Featherington's financial worries. "I've made the trip from America," he tells the ladies, where he was in charge of a mining operation, "and the dowry to Finch is paid." Hurrah! Philippa won't be an old maid any more! Life can go back to its decadent best!
However, all the ladies can't help notice that Jack's rather, well, not "old" and "ugly." And most importantly: he's single. The next crisis, cries Lady Featherington, what happens if he finds a lady from the Ton, marries her, moves her into the house and kicks the remaining Featheringtons out on the streets?
Her fears are only confirmed when Jack starts lavishing gifts on some of the city's would-be diamond debutantes. So she does what any self-respecting Lady would do—comes up with an elaborate scheme to turn matters to her favor, i.e. have one of her girls marry their cousin. "If it's good enough for the Royal Family..." she plots out loud. Yikes! What will her long-suffering daughters have to put up with now?
Who is the new Lord Featherington actor?
The new Lord Featherington is played by British actor Rupert Young.
Young is a 43-year-old actor from London who is most famous for his role as Sir Leon in the fantasy series Merlin. He has also appeared in Doc Martin, Shameless and The Bisexual. You also might have seen him pop up in People Just Do Nothing.
The character of Cousin Jack isn't in Julia Quinn's Bridgerton books, as he's a new person devised especially for the returning TV series. We can't wait to see how this plays out.
See Rupert Young's Lord Featherington and the rest of the Bridgerton crew in Bridgerton season 2 now streaming on Netflix.
Laura is a freelance entertainment and lifestyle journalist who writes for The Guardian, The i newspaper, Metro, BBC Culture and Grazia. She's happiest travelling the world and discovering new trends and, within reason, is willing to give most things a try. From feasting on rancid camel milk cheese in Morocco to jumping into the shimmering aquamarine cenotes of the Yucatan; it's all out there to be explored, then written about. A firm believer of Nora Ephron's mantra: "everything is copy".