This star sign will be the luckiest in love in 2023, according to the pros
The luckiest star sign in love in 2023 will soak up Jupiter's good vibes for a romantic 12 months ahead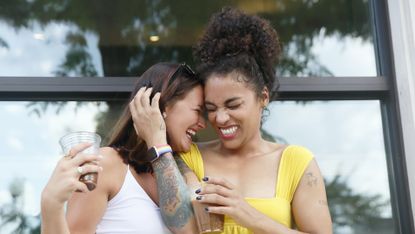 (Image credit: Mireya Acierto/Getty Images)
A new year means new opportunities for romance.
So, who will be the luckiest star sign in love in 2023? We already know this earth sign will do the honors of raking in prosperity on the whole, but when it comes to matters of the heart, a water sign will be getting some time in the spotlight, and astrologers agree its well-deserved.
Ready to see who's taking home the W in 2023? Allow us to give you the romantic celestial scoop.
(Taking all birth charts into consideration, our house astrologer gave us an early holiday present: our 2023 horoscope. It looks like everyone is in for a year of power and can expect both personal and collective change.)
Luckiest star sign in love in 2023
Ladies and gents, Scorpio (October 23 to November 21) will accept the title of luckiest star sign in love in 2023. Let's cheers to swiping right, first dates and new beginnings! (Anyone else thinking about a few new first date outfits for their capsule wardrobe?)
"Jupiter is going to be in its seventh house, and the seventh house is the area of relationships," says astrologer Narayana Montúfar (opens in new tab). "They will be finding a partner, getting engaged, etc."
Meet the expert: Narayana Montúfar
Narayana Montúfar is an astrologer and an expert in the astrological studies of the Moon and the author of Moon Signs: Unlock Your Inner Luminary Power. She was one of Medium.com's Authority Magazine 2020's Strong Female Leaders and one of Vogue's 13 Astrologers to Follow in 2021.
Since relationships are being taken to new levels, you'll want to check out our expert-backed online dating tips and first date tips to get prepared for all that's ahead (regardless of your star sign).
Montúfar insists that 2023 is a clean slate for Scorpios. Now that the south node has left their sign, it has taken all the negativity along with it. Consider it the celestial Swiffer cleaning things out.
Not only will this benefit Scorpios when it comes to love, but it will be a huge help with anyone they come into contact with.
"They will do much better with relationships this year and they'll do business partnerships and relating to people in general this is because they left their toxic behaviors in the past," Montúfar says.
She also insists that it's time for Scorpios to get out of their negative ways. Even if they lost something of value within the past year, she believes better things will be on the way now that the south node has done its housekeeping and Jupiter is making its way in.
"Oh, you got divorced? Now you get to meet someone. You got fired? You'll get a better job than you had," Montúfar adds.
Although things will be looking up, Desiree Roby Antila admits that it will require a bit of effort on Scorpios' parts.
"There is still a lot of work to do in the beginning of the year, but once the nodes shift out of Scorpio there will be an immediate release," she says. "Do the work in the beginning of the year with your relationship so that way you can rest of your laurels of love when the nodes switch to Libra and Aries come July."
Meet the expert: Desiree Roby Antila
Desiree Roby Antila, author of Sun Signs in Love (opens in new tab), specializes in sun signs and astrological relationships. She has been studying astrology for several decades and has written numerous articles on matchmaking, cosmic timing, forecasts, and more. Desiree also teaches astrology classes in her local community and has conducted hundreds of natal chart and synastry readings.
What's more is that Scorpios can expect to feel a bit of relief now that they're starting anew. Now's the time to take a deep breath, dear Scorpio—the past is behind you.
Romance tips for Scorpios in 2023
Although Jupiter will give Scorpios a helping hand in the love department, that doesn't mean a partner will fall into the water sign's lap. On the contrary, Scorpios—and the rest of us—will have to be mindful of our actions and the ways in which we approach a new match or even a current relationship.
"Hopefully [Scorpios] learned that intimacy doesn't have to translate to control, intimacy doesn't have to be so intense," Montúfar says. "Hopefully they learn to go with the flow more and when establishing these new relationships, and to be very mindful of having a component of freedom in their relationships. They don't need to be together 24/7."
So while Jupiter is stationed in a positive place, soak up that energy, dear Scorpio. It's an astrology gift you cannot pass up! But, regardless of your star sign or your relationship status, we wish you nothing but happiness and romance in the year ahead.
Cute astrology-themed gifts
Brand
Colour
Price
Refine ☵
Sort By