What will be the luckiest zodiac sign of 2023, according to astrologers?
Could it be yours? The luckiest zodiac sign of 2023 is...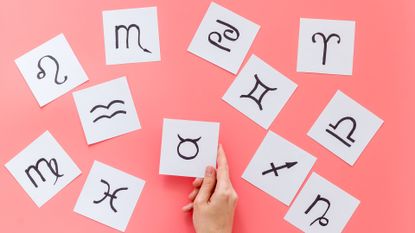 (Image credit: 9dreamstudio/Getty Images)
We're curious who will be crowned the luckiest zodiac sign of 2023 as we get closer to parting ways with 2022.
Our beloved Pisces, the empathetic, creative and emotional water sign, soaked up the cosmic prosperity in 2022 thanks to Jupiter's influence, but as we know, we have to take turns. Now, Pisces will hand over the reigns and share the wealth, but who's getting the goods?
Drumroll, please...
(Psst! Don't forget to check out your 2023 horoscope—it's going to be a "powerful" year.)
Luckiest zodiac sign of 2023
We have a winner folks, the lovely Taurus (April 20 to May 21) is said to be the luckiest zodiac sign of 2023, for a number of reasons.
"Jupiter the planet of abundance and luck is going to enter Taurus on May 15," says astrologer Narayana Montúfar (opens in new tab). "That immediately is going to bring Taurus one of the best years they will have, which is good because they had a really rough 2022. All the work that they did to stay afloat or to change, leave relationships is going to translate into growth in many different areas of life."
There are a few other aspects that prove favorable for the earth sign as well, including Saturn connecting with Jupiter from May 12 to June 18, which will be a wonderful opportunity to turn those goals into reality.
"Taurus are going to be able to manifest a lot of their desires that they couldn't this year," Montúfar adds. "There will be a lot going on, but it won't be so intense."
Astrologer Desiree Roby Antila agrees that the spring will be particularly busy.
"When Jupiter enters your sign in May, you will feel an instant uplift and will see a fresh relationship come into play or be taking next steps with the one you are with," she says. "This is the right time to spend the money you have been saving on that big trip or expensive night out you have been wanting to do with your partner."
Meet the expert: Narayana Montúfar
Narayana Montúfar is an astrologer and an expert in the astrological studies of the Moon and the author of Moon Signs: Unlock Your Inner Luminary Power. She was one of Medium.com's Authority Magazine 2020's Strong Female Leaders and one of Vogue's 13 Astrologers to Follow in 2021.
Then you have the north node of the moon meeting with Jupiter, a rare occurrence that will take place on July 1.
"The north node kind of functions as an energetic center that brings a lot of energy to that sign," Montúfar says.
Although there's a lot happening, a Taurus cannot just expect things to fall in their laps. You have to be proactive, and things might even feel difficult at times, but know it's worth it in the end.
"The new year will bring a richness that you have been craving," Roby Antila says. "There will be some challenges in order to enjoy your hard work, but you will see really positive outcomes."
Meet the expert: Desiree Roby Antila
Desiree Roby Antila, author of Sun Signs in Love (opens in new tab), specializes in sun signs and astrological relationships. She has been studying astrology for several decades and has written numerous articles on matchmaking, cosmic timing, forecasts, and more. Desiree also teaches astrology classes in her local community and has conducted hundreds of natal chart and synastry readings.
Taurus' predictions for 2023
Taurus is typically used to having a lot going on at once, and they'll certainly feel that in the year ahead, but it won't seem quite as unmanageable. But, when it's all good things, who are we to complain?
"Tauruses will get engaged, get really good jobs. They might have babies, expand their families and their finances are going to look pretty good," Montúfar confirms.
Well, there's certainly nothing wrong with that! Let's keep our fingers crossed that we can all catch a little bit of that Taurus magic at some point throughout the year. But the earth sign should note that the best way to ensure this fortune is to embrace what the universe sends their way. Now is the time to soak up new ideas, future-forward thinking and be open to hearing others' side of the story, even if it's not one you necessarily agree with.
2023 tips for Taurus
"The way Taurus can prepare is to continue being open to change," Montúfar says. "This is a trend that started in 2018. The key is to not be super stubborn, be willing to go with the flow and embrace opportunities that normally they wouldn't. Just be a little more open minded instead of conservative."
Consider this news an astrology gift to you, dear Taurus. As for other members of the zodiac, fear not: we'll be here to guide you through every step of 2023 so that you can enjoy your good fortunes, too.
Cute astrology-themed gifts
Brand
Colour
Price
Refine ☵
Sort By