Everything we know about the 'Money Heist' spinoffs
Two 'Money Heist' spinoffs are a go! A Korean remake and a show featuring Berlin are confirmed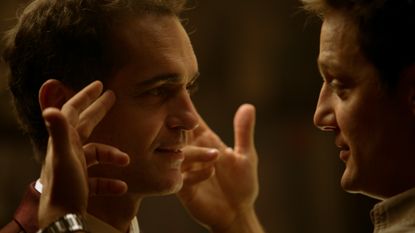 (Image credit: TAMARA ARRANZ/NETFLIX)
The final season of the Netflix crime series launched on December 3 and gave us a thrilling conclusion to the franchise—and now we've already got Money Heist spinoffs on the brain.
For a show that originally launched as a limited series on the Spanish network Antena 3 and got relatively low viewing figures, Money Heist has done incredibly well on Netflix to become the phenomenon it is. But now that it's over, a lot of fans have already begun wondering what comes next (guilty!) and the streamer has an answer to that question.
Ahead of the show's final season, Netflix made two big announcements surrounding the future of the Money Heist franchise.
What are these announcements, you ask? Here's everything you need to know about the Money Heist spinoffs. (Yes, plural!)
---
---
Money Heist spinoffs: what we know so far
Netflix has announced that Berlin will be getting his own spinoff show.
On November 30, Pedro Alonso, who plays Berlin, revealed the fantastic news to 5,000 fans at a Q&A event in Madrid's Palacio Vistalegre. He told TV Line: "I am deeply grateful to be able to connect with people all over the world and receive so much love and such a memorable time."
This heist might be coming to an end, but the story continues... Berlin: A New Series, coming in 2023 pic.twitter.com/jMvufEArKqNovember 30, 2021
See more
The second franchise announcement is less of a spinoff and more a remake. The streamer announced that it would be making a Korean version of Money Heist, with the main characters having already been cast.
What will the Berlin 'Money Heist' spinoff be about?
*Warning: Spoilers ahead!*
Netflix has been very tight-lipped about the plot of the Berlin-focused spinoff. However, considering that Berlin died back in season two of Money Heist, we're going to take a good guess and suggest that the show will be a prequel to the story we know in the original Money Heist, which, after seeing the final season, is something fans want desperately.
We'd also guess that the storyline will be about his illness and life before the heist, which we don't really know much about.
Pedro Alonso made his debut as Berlin, the jewel thief (real name Andrés de Fonollosa) on the Netflix show back in 2017, as The Professor's older brother and leader inside of the Royal Mint of Spain heist.
Fans will be interested to see how the creators approach the show due to the fact that Berlin is dead in the original series, not only in terms of whether it will be more of a flashback kind of show but also how they approach a character who, for the most part, can be seen as misogynistic and psychopathic, something which Alonso and show creator Alex Pina discussed in the Netflix documentary Money Heist: The Phenomenon.
There are also rumors that if the spinoff goes well, there could be a chance we see spinoffs about other characters, such as Tokyo from Money Heist.
When will the Berlin 'Money Heist' spinoff land on Netflix?
When Netflix took to Twitter to reveal the news to the wider public, they teased that the Berlin spinoff would be coming in 2023, so sadly there's still a bit of a wait. (These shows like Money Heist should tide you over until then, yeah?)
What will the Korean 'Money Heist' remake be about?
From what we've been told so far, the Korean remake will be a bit similar to the original series, which is titled La Casa de Papel in Spanish and follows a group of thieves who undertake heists at the Royal Mint of Spain and the Bank of Spain.
It will differ, however, as the remake's Tokyo, Jun Jong-Seo, says Money Heist characters in the Korean adaptation will have completely different personalities from the Spanish original, which we think will make it all even more interesting.
Who is in the cast for the 'Money Heist' Korean remake?
Netflix announced that Squid Game star Park Hae-soo will be taking part in the series and playing the character Berlin in the upcoming adaptation. Hae-soo gained global attention by playing Cho Sang-woo in the hit 2021 series Squid Game.
Swindlers star Yoo Ji-tae who will play The Professor and The Call's Jeon Jong-seo will play Tokyo.

Other actors joining the cast are Lee Won-jong (Moscow), Kim Ji-hoon (Denver), Jang Yoon-ju (Nairobi), Lee Hyun-woo (Rio) and Lee Kyu-ho (Oslo).
The actor who played Rio had to be recast from Park Jung-woo to Lee Hyun-woo as the original actor had to drop out due to scheduling conflicts with a series he stars in called Fly High Butterfly.
The actors for the task force handling the investigations of the gang's crimes will feature Lost's Kim Yun-jin as Seon Woo-jin and A Korean Odyssey's Kim Sung-o as Cho Moo-hyuk.
It's also been announced the two big hostages will be played by Parasite actor Park Myung-hoon as Cho Young-min and Find Me In Your Memory actor Lee Joo-bin as Youn Misun.
When will the 'Money Heist' Korean remake air?
Squid Game actor Park Hae-soo, who will play Berlin, announced the Korean remake of Money Heist will premiere in 2022.
There are rumors that the show was supposed to premiere earlier but because of the coronavirus pandemic, like many shows, the production had to be delayed to comply with government regulations.
Are there any other 'Money Heist' spinoffs in the making?
Not currently but Money Heist creator Álex Pina did till Spanish Esquire: "We have a lot of possibilities to do a spinoff, yes, and I think it's thanks to the strong and powerful identities of the characters. We have always wanted the characters to have a very complex and layered design. So I think almost all the characters of La Casa de Papel have a duality that we would like to see in a spinoff. We could see any of them in other contexts."
Liv is a freelance journalist currently studying English at university. She loves covering everything from entertainment and politics to lifestyle and travel. As well as writing for My Imperfect Life, Liv has bylines in The Times, HuffPost, Den of Geek, Bustle The Metro and The Bookseller.