'Outer Banks' season 3 ending explained for all Pogues fans
Who dies? Who is Blackbeard? Here's that shocking 'Outer Banks' season 3 ending explained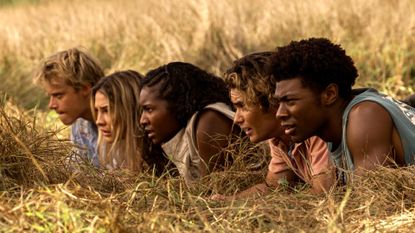 (Image credit: Jackson Lee Davis/Netflix)
The Outer Banks season 3 ending has left fans craving another adventure. What's next for John B (Chase Stokes), Sarah (Madelyn Cline), Kiara (Madison Bailey), Pope (Jonathan Daviss) and JJ (Rudy Pankow)? Looks like we have a few clues already!
"As we started this season, there was some work to try to connect everything together," Shannon Burke, the co-creator and executive producer of the Netflix series, told Entertainment Weekly. "Now we have a very general roadmap for what we want the whole rest of Outer Banks to look like."
Before we sink our teeth into those Outer Banks season 4 predictions, let's break down how Outer Banks season 3 and the journey to El Dorado wrapped up.
*Warning: spoilers ahead!*
'Outer Banks' season 3 ending, explained: what to know
Ahead of the season 3 finale, Big John (Charles Halford) has been taken captive on a boat down to South America by the ruthless Caribbean don, Carlos Singh (Andy McQueen), who has tasked him with deciphering the man that would lead them to the city of gold, El Dorado.
Sarah convinces her dad Ward to put aside his villainous ways for a second and allow the Pogues—save for JJ and Kiara, who are busy busting Kie out of youth camp and revealing their feelings to one another, finally—to use his private plane to fly down to South America and save Big John. They end up finding and freeing Big John and then he, Sarah and John B take off to find the long-hidden treasure before Singh can.
Do the Pogues find El Dorado?
Yes, despite both Ward and Singh working together to sabotage them and Big John getting shot and seriously injured in the process, John B and Sarah do end up deciphering all of the clues—including the ones in Denmark Tanny's diary—and finding El Dorado, tucked into a cave deep in the Venezuelan jungle.
They fill up on gold but before they can leave, Singh catches up with them. To keep him from getting the treasure, Big John detonates dynamite at the entrance of El Dorado, killing Singh and hiding the ancient city once more.
The Pogues end up bringing their bounty back to Kildare, where it finances better futures for the friends, including a charter boat for JJ, a surf shop for Sarah and John B, and turtle conservation for Kiara.
Who dies in 'Outer Banks' season 3?
The Pogues gang has survived many near-death experiences in three seasons of Outer Banks, but the season 3 finale sees the demise of several characters, including Big John and Ward Cameron (Charles Esten). Yes, after escaping and faking their own deaths over three seasons, the finale had us saying goodbye to both John B and Sarah's fathers.
The former sadly succumbed to his gunshot wound and, after saying how proud he is of his son and their completion of his decades-long quest, the Pogues bury him in the jungle.
Though Ward Cameron was working with Singh throughout the finale, he changes loyalties at the last minute when one of Singh's henchmen threatens to shoot Sarah. To save his daughter, Ward jumps on the shooter, plunging them both off a cliff to their deaths.
Where happened to Rafe Cameron?
Did anyone else notice that Rafe Cameron (Drew Starkey) is MIA at the end of the third season? He doesn't join his father or sister down in South America; instead, the last time we see him, he has successfully taken his father to the airstrip to board the flight to Venezuela and is about to be questioned by the police.
Did Sheriff Shoupe lock him up? How will he react to his father's death when we reunite with him next season? Stay tuned!
Who is Blackbeard exactly?
In the very last moments of Outer Banks season 3, we've flash-forwarded eighteen months into the future, when the Pogues are being honored by the town for solving the mysteries of the Royal Merchant, Denmark Tanny and El Dorado.
While at a ceremony celebrating the teens, a man approaches the group with a proposition: given their success in treasure hunting, he thinks they're the ideal people for uncovering the long-lost bounty of Blackbeard, the notorious English pirate who sailed up and down the Carolina coast in the early 18th-century.
He shows the group manuscripts dated all the way back to 1718, a captain's log that shows where Blackbeard's ship began and ended its journey—and where that legendary loot just might be located.
"Hot damn," John B whispers before the screen goes black. Looks like we have more treasure to hunt next season!
Outer Banks season 3 is available to stream on Netflix as of February 23.
Christina Izzo is the Deputy Editor of My Imperfect Life.
More generally, she is a writer-editor covering food and drink, travel, lifestyle and culture in New York City. She was previously the Features Editor at Rachael Ray In Season and Reveal, as well as the Food & Drink Editor and chief restaurant critic at Time Out New York.
When she's not doing all that, she can probably be found eating cheese somewhere.