Shay Mitchell workout routine: how she transformed her body in just four weeks
Curious about that Shay Mitchell workout routine? The You star has long prioritized fitness for her mental health, calling exercise her "therapy"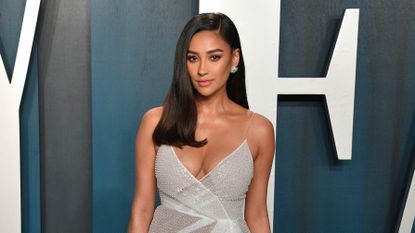 (Image credit: George Pimentel/Getty Images)
Need some inspiration to lace up your trainers or to dust off your dumbbells? Shay Mitchell's workout routine should do the trick.
As well as scene-stealing turns in Pretty Little Liars and You, and being a doting mum to one-year-old daughter Atlas, exercise is one of the star's key habits for happiness.
"I work out not only to balance food but also to keep my mind focused," the 34-year-old actress told Byrdie of how her fitness philosophy fits alongside a love of pizza. "Anything physical has such a positive impact on people; the dopamine and serotonin that get released when you work out—afterward, you feel amazing."
Indeed, Mitchell has long trained with her mental health as a priority—describing fitness on Instagram as her "therapy". She previously revealed to The Cut that she's never exercised to "get skinny", with her focus instead being on building strength.
And if you needed another relatable reason to get on board with Shay's sweat schedule? The pandemic was a bit of a meh time for her too, and she has admitted that she let her activity levels slide last year (we feel you)—but she has shown that it's possible to successfully get back on track. "[It] was the year of searching for something to make us feel good," the Canadian star wrote on Instagram. "For me, that came in the form of comfort food, comfort clothes and throwing my fitness routine out the window. And that was okay… for a while...but I also learned about physical and mental self-care, and made a pact with myself that 2021 would be different."
And the girl did good, sharing impressive before and after images of her amazing progress in February after a month-long, weights-based workout plan to kickstart the year. Along with her personal trainer Kelsey Heenan, Mitchell has turned it into a program, called "Four Weeks Of Focus," that's now available on the digital fitness and nutrition platform OpenFit. Good news: the app is currently offering a 14-day free trial.
Now, let's take a look at exactly how Shay Mitchell stays in shape...
---
---
How to recreate the Shay Mitchell workout routine:
1. Short, regular sessions
For her recent transformation, Mitchell opted for little and often with her training schedule. She worked out for 30 minutes, five days a week, for a total of four weeks, alongside her friend Stephanie Shepherd Suganami, who happens to be Kim Kardashian's former personal assistant.

The pair sweated it out under the direction of Shay's PT Heenan, who described their sessions on Instagram as "a challenging mix of foundational resistance and high-intensity training."

But what's the perfect workout schedule now that Mitchell has finished the program? The star still aims to train five days a week, and on the other two, she keeps active, telling HelloGiggles that she likes to take her dog for a hike or go on a cycle from Santa Monica to Venice near her LA home. Dreamy!
2. Mix it up
One thing's for sure, Mitchell never has a dull exercise session. Her OpenFit program features a wide variety of workouts, inspired by everything from HIIT and resistance training, to Pilates, yoga and barre.

"I have to switch it up because I get bored," she previously explained to Byrdie. Similarly, she told Shape magazine that she likes to "confuse" her muscles by doing different things. That often means spin followed by Pilates, or cardio and then moves to build strength—like planks and lunges with weights. Talking of which, these are the best dumbbells for women, in case you want to try out Mitchell's method for yourself.
3. Box it out
However, there's one type of exercise that really gets Mitchell in the groove: boxing.

"I love it because there is the cardio at the beginning, and then we're sparring afterward and then we do stretching and weights," she noted to Byrdie.

Mitchell's passion for being in the ring is also evident in a video on her YouTube channel, where she explained: "Everyone has SOMETHING that gets them out of bed every day. My reason involves two gloves and a punching bag."

And it makes sense. Speaking to Shape magazine, the star noted: "When I'm in the ring or boxing with my coach, I really can't think about anything else, or I could get hit in the face." Fair enough...
4. Train whenever, wherever
Mitchell is also a fan of weaving movement into her routine at any given opportunity. When asked by Byrdie what she'd do with just 20 minutes to train, she said it'd be sprints up and down her street or a staircase, and revealed that she often has a skipping rope ready for a quick jump around in her hotel room while traveling.

And even though her workouts fell by the wayside during lockdown, the mum-of-one told Forbes that she kept moving on her Peloton bike, adding: "Chasing after my one-year-old has also been a surprisingly great workout."
5. Schedule a group sweat
But if there's one thing you should take away from Shay Mitchell's workout routine, it's the importance of exercising with company. She has previously said that exercising with others—often in classes—keeps her accountable, and she'll frequently head to Barry's Bootcamp or to spin studio Cycle House.

Speaking to Byrdie, she said: "I get so amped up with other people in the room, and there's just a really good energy about it."
Lauren is a freelance writer and editor with more than six years of digital and magazine experience. Most recently, she has been the Acting Commissioning Editor of Women's Health—where she co-produced the Going For Goal podcast—and has previously also written news and features for titles including The Telegraph, Grazia, Stylist, Dazed, The Sun's Fabulous, Yahoo Style UK and Get The Gloss. She covers all aspects of lifestyle, specializing in health, beauty, and travel. Can't live without: oat milk lattes, new podcast episodes, long walks, and great skincare.