When is 'Stranger Things' season 5 coming out?
Prepare for a time jump in 'Stranger Things' season 5, says the Duffer Brothers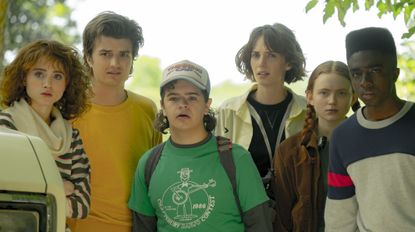 (Image credit: Netflix)
Good news, lovers of Stranger Things: season 5 is a go!
In a February 2022 open letter to fans, the Duffer Brothers (a.k.a. creators and executive producers Matt and Ross Duffer) announced that not only would Stranger Things season 4 be arriving on Netflix in two batches but also that season 5 was already greenlit by the streaming juggernaut. Alas, despite that good news, they also announced that the fifth season will serve as the show's final chapter.
"Seven years ago, we planned out the complete story arc for Stranger Things. At the time, we predicted the story would last four to five seasons," the brothers wrote. "It proved too large to tell in four, but—as you'll soon see for yourselves—we are now hurling toward our finale."
Here's what we know about Stranger Things season 5 so far, including intel about that much-rumored Stranger Things spin-off.
When is 'Stranger Things' season 5 coming out?
The Duffer Brothers recently gave insight into how long fans will need to wait between Stranger Things season 4—which is split into seven episodes, which aired on the streamer starting on May 27, and the final two episodes, premiering on July 1—and the fifth iteration.
"The gap should be quite a bit shorter this time, due to the fact that we already have an initial outline, and we can't imagine there will be another six-month forced hiatus," the brothers jointly told Variety, alluding to the lengthy COVID-related scheduling setbacks that plagued many film and TV productions in the past two years, from Bridgerton season 2 to You season 3. The fourth season of Stranger Things premiered nearly three years after the third, which aired on July 4, 2019.
"During the six-month pandemic hiatus, we outlined season 5 and pitched it to Netflix," the Duffers explained to the outlet. "Everyone there had also been present when we first pitched the show in 2015. While we were strangers then, we were now friends, and there were a lot of tears when it was over."
Series star David Harbour told GQ in a July 2022 profile: "I think we'll [shoot] next year. They're finishing writing it this year, and they need to prep and stuff, so hopefully it'll be this year. I think that's the plan. So it'd probably come out mid-2024, based on our track record."
"Season four won't be the end," Ross Duffer assured fans in an interview with The Hollywood Reporter back in August 2020. "We know what the end is, and we know when it is. [The pandemic] has given us time to look ahead, figure out what is best for the show. Starting to fill that out gave us a better idea of how long we need to tell that story."
Matthew Thunell, Stranger Things season 1 executive producer and head of Netflix's spectacle and event scripted programming, told Variety that the fourth season will offer "a new understanding of our mythology" that is "really setting up Season 5 in a way that's going to satisfy fans." Production hasn't kicked off on season five yet, so there is no news set yet regarding the release date of the final season. But you'll know as soon as we do!
While this chapter is coming to an end, the Duffers believe there are more new adventures and stories to be told. pic.twitter.com/3OGCjXR2DbFebruary 17, 2022
See more
Where will 'Stranger Things' season 5 pick up?
If you were shocked at how mature the show's former child actors like Millie Bobby Brown, Caleb McLaughlin and Gaten Matarazzo look in season 4, you're not the only ones. The Duffer Brothers are well-aware how quickly their young leads are growing up and are planning out the last season with that in mind.
"I'm sure we will do a time jump," Ross Duffer told TV Line. "Ideally, we'd have shot [Seasons 4 and 5] back to back, but there was just no feasible way to do that."
"So these are all discussions we're going to have with our writers when we start the room up," he continued. "Believe it or not, we're still working on Season 4. We're trying to finish the final two episodes, they're so massive."
How long will 'Stranger Things' season 5 episodes be?
In a recent interview on Josh Horowitz's Happy Sad Confused podcast, the Duffer Brothers confirmed that the upcoming season five episodes wouldn't have the lengthy runtimes of its predecessor. (Most of the season four episodes clocked in at more than 80 minutes, and the last three were each more than an hour and a half.)
Per The Hollywood Reporter, Matt Duffer says: "The only reason we don't expect [season five] to be as long is because typically—or this season, if you look at it, it's almost a two-hour ramp up before our kids really get drawn into a supernatural mystery. You get to know them, you get to see them in their lives, they're struggling with adapting to high school and so forth. Steve's trying to find a date, all of that."
"None of that is obviously going to be occurring in the first two episodes," he continues. "For the first time ever, we don't wrap things up at the end of four."
Instead, he says, season five will naturally move faster than the previous episodes because "characters are already going to be in action, they're already going to have a goal and a drive, and I think that's going to carve out at least a couple hours and make this season feel really different."
However, fans can still expect a grand finale to the beloved sci-fi series. "We're more likely to do what we did here, which is to just have a two-and-a-half-hour episode," Matt says of the last ep. "It's going to be Return of the King-ish with, like, eight endings."
What does the 'Stranger Things' cast say about the show ending?
In March 2022, actor Noah Schnapp—who plays Will Byers in the series—described on The Tonight Show Starring Jimmy Fallon the reactions of the Stranger Things cast when they heard that the fifth season would be the show's last.
"The [Duffer Brothers] put out this letter that the show's ending and that's it. This is the beginning of the end. And I read it, I just started bawling," Noah revealed on the talk show. "I was upset. I texted Millie, my castmate who plays Eleven, and she was like, 'You're crying too? So am I!'"
"She he texted Gaten, who plays Dustin, and he was like 'I'm crying too!' Then, we texted the Duffers and said, 'This is so sad! I can't believe this is over.' They were like, 'You guys gotta stop texting us. Like, I know it's over, but we have time left," Noah said.
Schnapp also told Variety: "That was even like on our last day of shooting on Season 4. I remember, I was going up to Millie, and I was like, 'Are you crying? Are you gonna cry? Are you crying or upset?' And she's like, 'No, no, we're not talking about it yet. There's still seven more hours. It's not over yet.'"
"And as soon as it was 4 a.m. and they said, 'That's a wrap,' Noah and I were like [miming fake sobbing with Schnapp], like those cartoons with tears coming out of their eyes," Brown said to the publication. "So we are choosing not to speak of it. Ask other cast members who are ready to accept it."
What about that 'Stranger Things' spin-off?
The Duffer Brothers first gave word of a potential spin-off back in that open letter to fans, writing: "There are still many more exciting stories to tell within the world of Stranger Things: new mysteries, new adventures, new unexpected heroes. But first, we hope that you stay with us as we finish this tale of a powerful girl named Eleven and her brave friends, of a broken police chief and a ferocious mom, of a small town called Hawkins and an alternate dimension known only as the Upside Down."
The creators confirmed an upcoming spin-off in the Variety feature: "We do have an idea for a spin-off that we're super excited about… but we haven't told anyone the idea yet, much less written it."
"We think everyone—including Netflix—will be surprised when they hear the concept, because it's very, very different. But somehow Finn Wolfhard—who is one crazy smart kid—correctly guessed what it was going to be about. But aside from Finn, no one else knows!"
In terms of timing, Harbour told GQ: "I think as soon as the show ends, or maybe six months before it ends, you'll be hearing about whatever spin-offs they have planned."
As to his involvement in any potential spin-offs, the actor says: "At this point, I think Hopper is a character that can exist independent of me. If they wanna go back in time, forward in time… I'd love to see another actor play Hopper, and see what they can bring to it."
Christina Izzo is the Deputy Editor of My Imperfect Life.
More generally, she is a writer-editor covering food and drink, travel, lifestyle and culture in New York City. She was previously the Features Editor at Rachael Ray In Season and Reveal, as well as the Food & Drink Editor and chief restaurant critic at Time Out New York.
When she's not doing all that, she can probably be found eating cheese somewhere.