A breakdown of all of the 'Too Hot to Handle' season 5 rule breaks
The 'Too Hot to Handle' season 5 rule breaks were plentiful—here's who got in the most trouble with Lana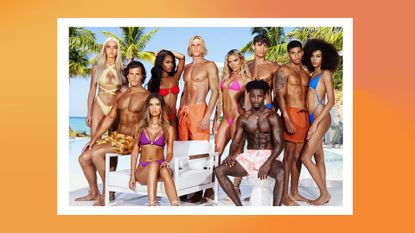 (Image credit: Netflix)
With the finale officially here, who had the most Too Hot to Handle season 5 rule breaks?
Yes, every episode of Too Hot To Handle season 5 is now on Netflix for us to enjoy and that means we can finally watch the contestants break all of Lana's strict rules without interruption.
Ten sexy singletons were led to believe they were going on a show that would provide them with all the hot fun they'd need this summer. But instead, they were roped into being a part of a no-sex retreat where not only were they expected to keep their hands off each other (and themselves) but amongst the sexual tension they had to try and build real connections with each other. If they succeeded in following Lana's rules they would win $200,000 on the condition that everyone on the retreat sticks to the rules, as each kiss and innocent touch—or not so innocent, in Louis Russell's case—cost money.
Despite detective Dre Woodard trying his hardest to get everyone to respect the rules of the retreat within the first two episodes of the show, the contestants lost some serious cash. It turns out Dre's detective skills and Lana's rules were no match for Christine Obanor, who was dubbed the horniest contestant. Riding with Christine on the rule-break train was her partner in crime Louis and his rule-break partner, Isaac Francis. The contestants conducted what they thought were foolproof plans to get around Lana's vision in the hope that the other contestants wouldn't get too mad at them if they were breaking rules together—yes, we're refereeing to the infamous rule break pact.
So, unfortunately, throughout the season, the prize fund did take quite a hit. But let's take a look at all of the Too Hot to Handle season 5 rule breaks.
All of the 'Too Hot to Handle' season 5 rule breaks:
Lana made the shocking decision to double the cost of rule breaks this season, so instead of each kiss costing $3,000, they would cost $6000 each. Here's when and how each rule break took place in season 5 of Too Hot to Handle.
Episode 2:
Hunter and Elys: Kiss in bed $6,000
Hunter and Elys: Kiss on the beach $6,000 – They decided to take their kissing to the beach this time in the hope that Lana didn't have WiFi on the beach but boy were they wrong
Hannah and Louis, and Isaac and Courtney: rule break pact kiss $24,000 – Louis and Isaac came up with the idea that if they both broke the rules with their partners at the same time, the rest of the contestants would be less mad at them for being the first ones to break the rules. However, they had no idea Hunter and Elys had already broken the rules twice so not only was the financial damage far greater but it also meant that they weren't the first to do anything.
Christine and Louis: Kiss at the beach $6,000 – Christine used the rule break to mark her territory and claim Louis as her man. When the kiss ended he promised to share a bed with her the following night after he broke things off with Hannah.
Hannah and Louis: Kiss in bed $6,000 – Player Louis struck again as, after kissing Christine moments earlier, he jumped into bed with Hannah and had a little bit more than a goodnight kiss.
Episode 4:
Isaac and Courtney: Kiss $6,000 – After a romantic moment at the bonfire, where Courtney really opens up, the pair share a kiss.
So, after the end of the first batch of episodes, the group lost a total of $54,000, putting the prize fund down to $146,000.
Episode 5:
Louis and Christine: multiple kisses $18,000 and prolonged gratification for both of them $30,000 = $48,000 – The pair broke $48,000 in one night. However, Lana gave the pair an opportunity to make up for it by putting them to the test. She sent them to a private suite for the night alone. Meanwhile, she gave the other contestants the option to have faith in them and if they passed the test, they would win back the $48,000. If they failed, not only with the prize fund deplete by a further $48,000 but they would also be dumped from the retreat. Luckily they passed the test.
Episode 6:
Elys and Alex: kissed for 12 minutes $36,000 – We have so many questions about this record-breaking kiss because 12 minutes?! The length of this kiss was so long Lana had to resort to maths to figure out an appropriate fine. She reached the sum of $36,000 by calculating all that across the 32 rule-breaking kisses over the show's history, they have averaged 1 minute and 57 seconds. Which makes Elys and Alex's kiss equivalent to over 6 kisses.
Episode 7:
Louis and Linzy: touched Linzy's breast $4,000 – On Linzy and Louis date, Louis touched her boob. #boobgate was a rule break.
Dre and Linzy: Kiss $6,000 – Detective Dre decided he wanted to partake in a rule break and kissed new arrival Linzy Liu.
How Many Rules Did The Too Hot To Handle Season 5 Cast Break?
There were 15 rule breaks across Too Hot To Handle season 5. Most of the rule breaks occurred within the first few days, with the cast breaking five rules on the first day and 11 rules in the first seven episodes. They also recorded the show's longest kiss, which stood at 12 minutes and 31 seconds. It's safe to say that this is the horniest bunch of contestants in the show's history!
Which Too Hot To Handle Cast Member Broke The Most Rules In Season 5?
Many of the Too Hot To Handle season 5 cast members contributed to depleting the prize fund, but no one has contributed more than Louis Russell, who started his journey on the show between three women—Megan, Hannah and Christine—before getting caught between two after he had a kiss on the beach and a kiss in bed. But his biggest rule break had to come during his time with Christine, as they lost the group a whopping $48,000, which they did eventually earn back.
In second place is the series winner Elys Hutchinson, who, like Louis, was stuck between Alex Snell and Hunter LoNigro. In the second episode, Elys and Hunter broke $12,000 worth of rules before she moved on with Alex. While Elys and Alex had a genuine connection, they did put a dent in the prize fund when they kissed in bed for 12 minutes costing the group $36,000. In total, Elys lost the group $48,000.
How Much Did The Season 5 Winner Of Too Hot To Handle Win?
When Elys won the prize fund, it stood at $100,000. However, she decided to split the money with Dre.
All episodes of Too Hot to Handle season 5 are streaming on Netflix now.
Liv is a freelance journalist currently studying English at university. She loves covering everything from entertainment and politics to lifestyle and travel. As well as writing for My Imperfect Life, Liv has bylines in The Times, HuffPost, Den of Geek, Bustle The Metro and The Bookseller.