Who is Vanessa Villela's boyfriend on 'Selling Sunset'?
Everything you need to Vanessa Villela, boyfriend Nick and the most promising relationship in 'Selling Sunset' season 5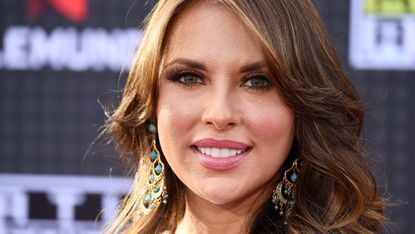 (Image credit: Frazer Harrison/Getty)
'Tis the season for romance on Selling Sunset!
Not only do we get a view into Chrishell and Jason's relationship, Tarek and Heather's wedding and Emma Hernan's new romance with property developer Micah McDonald, but we also get to see Vanessa Villela's new boyfriend and their super cute relationship.
Vanessa Villela was season four's newbie alongside Emma and back then, both girls were single. But as we see in season five, which filmed in 2021, Vanessa found a new love in British photographer Nick Hardy.
So, who is Nick Hardy from Selling Sunset season 5 and what is his current relationship status with Vanessa Villela? Here's what we know.
Vanessa Villela boyfriend: meet Nick Hardy
Nick Hardy is a professional photographer that focuses on "expressing timeless images that ooze beauty and sophistication but with a twist," according to his website.
His LinkedIn page shows him currently working at his own company Tom Fraud photography, and as managing and creative director of Lascivious Lingerie, which is the company Vanessa modeled for in Denver Fashion Week.
Is Vanessa Villela engaged?
Yes! In January 2022, Vanessa posted a video of Nick's proposal and captioned it: "You came into my life when I least expected it and you came to make my dreams come true. Our love story is like a movie and you are my prince."
In season five, Vanessa explained that she and Nick spoke online for three months before meeting in Mexico and falling in love. They were only supposed to stay in Mexico for 10 days but they were so infatuated with each other that they stayed for two months.
On the show, Nick visited Vanessa at the Oppenheim Group office and gave Vanessa a promise ring because he was off to London for a long time but wanted to show his commitment. A lot of the agents thought this indicated the fact that Nick was planning to propose in the not-too-far future and looks like they were right.
Who is Tom Fraud?
Tom Fraud is a pseudonym Nick Hardy uses professionally. He explains on his website that "Fraud stands for the idea of going against the tide, doing your own thing and doing it your way. Fraud is a way of life."
Does Nick Hardy have Instagram?
Yes, his Instagram handle is @tomfraud. Nick's Instagram page mainly consists of his photography and snaps of Vanessa.
Did Vanessa move to England?
In the final episode of Selling Sunset season five, we see Vanessa boarding a plane to London. Throughout the season she discussed how she was thinking of moving to the UK to be closer to Nick because she loved him.
However, whether she's actually followed through is yet to be confirmed, as Vanessa still remains on the Oppenheim Group website, suggesting she's still an agent there. She and Nick also got engaged in Los Angeles, so perhaps Nick decided to move himself closer to her? Hopefully we'll see more of the couple on the next season of Selling Sunset.
Liv is a freelance journalist currently studying English at university. She loves covering everything from entertainment and politics to lifestyle and travel. As well as writing for My Imperfect Life, Liv has bylines in The Times, HuffPost, Den of Geek, Bustle The Metro and The Bookseller.