Your weekly horoscope is here: February 28 - March 6
Your weekly horoscope is here and love is getting re-written...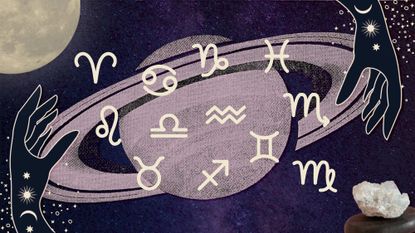 (Image credit: Future)
Hold on to your seat, because the week ahead is jammed-packed with powerful astrology events. Besides a powerful lunation, there will be intense energetic fusions, as well as two significant shifts in energy.
On March 2, we welcome the New Moon in Pisces, one of the most auspicious times of the year to plant the seed of something new. Turn on your intuition and see how the universe is pushing you forward, helping you feel optimistic about your future. This lunation is activating a super-sweet connection between Jupiter and Uranus, making this a fabulous time to take a risk, as nothing is stopping you to win!
At the same time, master communicator Mercury will have its annual meetup with Saturn, meaning that the steps we take now can last long-term and help us build something meaningful. The deals, promises, and beginnings that take place now are bound to last.
This weekend, love gets re-written as the cosmic lovers, Venus and Mars, enter Aquarius to once again kiss in the sky! From this moment on, we will all adopt a more Aquarian-like approach to love and sex. Intellectual connection will reign, as well as the need to explore our own individuality within partnerships. Aquarius is the sign of the future—so let this hip, exciting sign show you the way.
---
---
Weekly horoscope: what does this week have in store for you?
Aries
Keep your eyes on the prize, Aries. While last week was about being open and receiving, this is a week to act as your ruler meets with powerful Pluto. You're bound to feel a surge of energy and ambition, and you should listen to it, as this same energy is not bound to repeat for a while! Asteroid Pallas, the goddess of wisdom, is now in your sign, reminding you that the more strategic you are when chasing your goals, the more you will succeed.
Taurus
This is a fantastic week for networking, Taurus. With both your career as well as your community houses activated, you can easily attract the attention of someone who admires your work. Send emails, make calls, and pull some favors to make the best of this week's energy, as it will help you plant the seed of a powerful new beginning. Lastly, since there's something "fated" or "destined" about this week, the people you meet this week could be crucial for your growth and evolution.
Gemini
This is a stellar week to focus your attention on your career, Gemini! The New Moon is asking you to plant a seed, making this your time to pitch a project, formulate a strategy, or apply for a new job. However, know that this is not a super malleable energy—while some aspects of the project could change, its main objective will not. The teacher planet Saturn is active here—and he means long-term business.
Cancer
You've been putting a lot of effort into a partnership, and this week brings the grand finale of your efforts. A loan, contract, or payout could be the result of this week's triple conjunction between Venus, Mars, and Pluto. On another note, the New Moon in Pisces should give you the push you need to book that trip, sign up for that class, or take that risk that's been on your mind. Take the leap, dear Cancer.
Leo
This week, Mercury, Saturn, and asteroid Juno are activating your seventh house. It looks like a deal or important partnership you've been working on is receiving the long-term seal of approval. Congrats, Leo! Celebrate yourself by losing yourself in the realm of fantasy. The Pisces New Moon is activating a sensitive part of your chart, you may find more inspiration when you rest, take naps, and explore your sense of wonder.
Virgo
Dating, fun, and romance keep on being in the cards for you, Virgo. This week's New Moon is your best for starting a profile in a dating app—or if you're taken, plan a vacation with your darling. Major creative downloads are available to you if that's more what you're looking for as Venus, Mars, and Pluto energize your fifth house of imagination. This week, take note of any visions or ideas, as they could prove very helpful in the future.
Libra
Your sector of home and family has been receiving big attention from the cosmos in the past few months and this week brings a major finale. Perhaps you're closing the deal on a new home or taking a relationship to the next level. Coincidentally, the New Moon also represents a turning point in your work routine which will allow for more fun and play in your day-to-day. Life is sweet!
Scorpio
Regardless of if you see yourself as a creative person or not—you absolutely are, and this week's New Moon in Pisces has you floating in the waters of a vivid imagination. This week, spend some time painting, playing or listening to music, or just play and have fun! You're shedding old fantasies and ways of looking at the world, but who said you can't have fun in the process of letting go?
Sagittarius
For the past few months, the cosmos has been asking you to work on your finances, and this week there's a major ending to this theme. Fortunate as you are, the universe is sending someone who can help along the way, so keep your eyes peeled for a "fated" encounter. Thank your lucky stars under this week's New Moon, which will be activating your sector of home and ancestry.
Capricorn
Venus and Mars are delivering a big ending for you this week by meeting Pluto in your sign and then kissing in your second house of money, honey. Perhaps a deal you've been working on bears fruits, which automatically translates into more money in your bank account. This also is bound to shift the way you communicate with the world at large, thanks to the New Moon in your third house of communication.
Aquarius
Something big is materializing for you this week as mastermind Mercury meets Saturn in your sign. Regardless of how much work you must put in, you must sustain your concentration, as it will be worth it. Your love and sex forecast looks splendid as the cosmic lovers, Venus and Mars, kiss in your sign. From the next months, your attractor factor is off the charts, helping you attract whoever you like!
Pisces
This week's New Moon is absolutely yours for the taking, dear Pisces. Clear your schedule on Wednesday so you can honor this gorgeous lunation by capturing the ideas, flashes of insight, and mysterious codes from the universe. This is also a fabulous weekend to be by the water. Alternatively, it's also an ideal time to plan a vacation to a place near the water, as you're bound to come up with the best ideas when you're in your element.
Cute astrology-themed gifts
Brand
Colour
Price
Refine ☵
Sort By
Athena Antares is a traveling writer, astrologer, and mystic who believes in adding a touch of magic to everyday life. She has written horoscopes for numerous lifestyle publications and has dived deeply into astrological magic and manifestation spell work. In her spare time, Athena enjoys exploring new places, spending time in nature, and reading charts for her worldly clientele.