Your weekly horoscope is here: October 25 - October 31
Scorpio season is here and comes with some big energy. Here's what the weekly horoscope has in store for your sign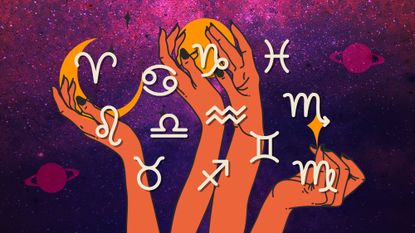 (Image credit: Future)
Scorpio season is now in full swing but what does this mean for your weekly horoscope? This zodiac sign's enigmatic and mysterious vibes will be felt as we prepare for this year's Halloween festivities! Regardless of what your star sign is, try embodying the Scorpionic powerful and focused approach toward mastering the area of your life this sign will highlight. Ruled by no-nonsense planets Mars and Pluto, Scorpio's piercing ability gets to the heart of the matter. Do expect to feel a bit emotional this week, as the water element take hold in the form of feelings, creativity, and flashes of intuition.
At the beginning of the week, Venus in Sagittarius forms a square with Neptune in Pisces. Things will get blurry in the relationships department, so be aware that not everything you hear or see is real. If you're partnered, give your darling the benefit of the doubt before playing the blame game. If you're single, keep your wits about you, since this aspect is classic for bringing charismatic individuals who might look better on paper than in real life.
On Saturday, the Sun in Scorpio will clash with Saturn in Aquarius, bringing tests and challenges our way. If things get intense for you around this time, know that if you reach out to people, you will receive help. All you need to do is ask!
---
---
Weekly horoscope: what does the week ahead have in store for you?
Aries
With the Moon in Cancer challenging your sign on Tuesday and Wednesday, things could get intense at home, dear Aries. Instead of acting impulsively or reacting to a situation, breathe deeply or go out for a run so you can burn off the energy. Things so get much better as soon as the weekend arrives. Mars, your planetary ruler, leaves Libra to enter Scorpio, helping you feel more in flow from now until December 13. Enjoy!
Taurus
The Sun in Scorpio means transforming your closest bonds, a trend that will last for the next four weeks. Mars will be here too, helping you assert yourself when it comes to your wants and needs. However, do keep in mind that things will be a bit distorted around this topic as your ruler, Venus, clashes with confusing Neptune this week. What you hear or see, might not be real, so take everything with a grain of salt, Taurus.
Gemini
This is a lucky week for you, Gemini! Mercury, your ruler, is now moving at full speed. This will assist you in fixing everything that went wrong during the retrograde. But the best news is that it will be forming a glorious connection with happy-go-lucky Jupiter. This is a week to open your mind and expand your horizons by planning a trip or exploring the world around you. Themes related to philosophy, metaphysics, or spirituality (like figuring out crystals for beginners) might fascinate you—so dive in!
Cancer
The Moon will be in your sign on Tuesday and Wednesday and will be making a lot of intense connections with other planets. Expect to feel emotional around this time, which is why you should schedule rest and self-care during this time, regardless of how busy you are. On Saturday, red-hot Mars enters your fifth house of dating, creativity, and playful sex where it will stay until December 12. What a way to welcome November and Scorpio season!
Leo
The Sun in Scorpio for the next four weeks will highlight the balance that needs to happen between your career and your home life. This trend will be reinforced by Mars over the weekend, making this the perfect time to begin a home or DIY project. Ruled by the Sun, you are one of the most creative signs. So regardless of how busy or crazy life gets, don't forget you have this side of yourself to fall back on.
Virgo
The Moon will be in your sign on Halloween, creating a new beginning for you! This represents a resetting of your overall life goals, so make use of it by setting some goals for the month ahead. If you're doubting going out trick-or-treating—think again! Your ruler, Mercury, will be connecting with lucky Jupiter in your house of work. This not only says that you will feel social, but you could also end up meeting someone important!
Libra
With the communication master now in your sign and moving at full speed, you have the gift of gab. You might also feel restless, so make sure to focus this energy on something productive—like figuring out your budget! In fact, this is the best use of the Sun in Scorpio, which is your second house of money and income. On Saturday, Mars finally leaves your sign, which should feel like a relief. Go out and celebrate!
Scorpio
With the bright Sun now in your sign, get ready to receive some cosmic blessings during the next four weeks. Mars enters your sign on Saturday, giving you energy and drive to make some of your deepest dreams come true. Do stay alert this weekend, however. A harsh aspect between the Sun in your sign and stern Saturn in Aquarius could spell trouble in paradise. It's definitely a time to fly under the radar when it comes to issues with authority.
Sagittarius
With sexy Venus in your sign, you're getting some serious attention from your partner or in the dating scene. Not to ruin your high, but this week's Venus-Neptune clash could pull the rug out from under you. Whether partnered or single, stay aware that confusion will reign. On the positive side, this is an amazing energy for any kind of creative work. If you're an artist or creative, you could be producing some of your best work!
Capricorn
You are a pretty ambitious sign, and the Moon in Cancer will put this side of you on display on Tuesday and Wednesday. Your desire to accomplish things will be strong—but you might notice that there is a lack of balance between your professional and personal lives. And as the week progresses, the responsibilities could feel heavy as the Scorpio Sun challenges your planetary ruler, Saturn. If you can, take some time off to decompress, dear Cap.
Aquarius
During the week ahead, you could feel your drive and ambition grow as the Moon in Leo opposes your sign on Thursday and Friday. However, as you try to make headway, annoying little obstacles could get in your way as the Scorpio Sun challenges stern Saturn in your sign. While this might make you want to stop—don't. Keep going and ask for help, people will want to lend you a hand if you dare to ask.
Pisces
What a week to be you, Pisces. With both of your rulers, Jupiter and Neptune, getting activated this week, the dreamy vibes will reach climax. It's a wonderful week to get lost in a book or a movie, a creative project, or even just taking some time off. As you get lost in wonderland, do pay attention to any signs or flashes of intuition you receive—they could hold important information about your upcoming future.
Athena Antares is a traveling writer, astrologer, and mystic who believes in adding a touch of magic to everyday life. She has written horoscopes for numerous lifestyle publications and has dived deeply into astrological magic and manifestation spell work. In her spare time, Athena enjoys exploring new places, spending time in nature, and reading charts for her worldly clientele.