What is 'Stranger Things' based on? Inside the inspirations of the sci-fi hit
Wondering 'what is Stranger Things based on?' You'd be surprised to learn how much of the supernatural series is pulled from real life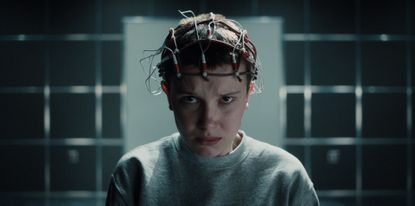 (Image credit: Netflix)
A book, a movie, a true-crime story—exactly what is Stranger Things based on?
Unlike some of our favorite streaming series like Bridgerton and Lupin, the supernatural Netflix hit is surprisingly not based on a book series, though it's clearly inspired by classic horror titles from spine-chilling scribes like Stephen King and R.L. Stine.
The show's creators, the Duffer Brothers, have been emphatic about how much pop culture has inspired the show, with references to '80s movies, arcade games, comic books and more sprinkled throughout each episode. But you'll be surprised to learn that the sci-fi juggernaut also took inspiration from real-life events.
Yes, despite regularly dealing with monstrous super-villains like Vecna and alternate dimensions like The Upside Down, there is some reality interwoven in those otherworldly storylines.
Here are the IRL true-crime events and conspiracy theories that inspired both the series overall and its most recent edition, Stranger Things season 4.
What is 'Stranger Things' based on?
1. Project MKUltra
In Stranger Things, Jane "Eleven" Hopper (played by Millie Bobby Brown) is a girl born with psychokinetic and telepathic powers who was raised as a test subject by Dr. Martin Brenner (Matthew Modine) in a laboratory in fictional Hawkins, Indiana. The experiments involve Eleven making contact with alternate dimensions—it is during one such contact that she comes across the Demogorgon and accidentally opens a gateway to the Upside Down.
Eleven's powers are inherited as her mother, Teresa Ives, was herself a test subject for Project MKUltra, a covert CIA operation to develop mind-control techniques using sensory deprivation, psychedelic drugs, and more.
And while that sounds like the stuff of pure science fiction, it's actually partially fact. Project MKUltra was a real-world human experimentation program conducted by the U.S. Central Intelligence Agency from the 1950s through the 1970s, where subjects were administered psychoactive drugs, electro-shock therapy, sensory deprivation, hypnosis and forms of psychological torture in efforts of subduing and control the human mind, techniques that would be applied to Soviet spies during the Cold War.
Project MKUltra was officially halted in 1973 when then-CIA Director Richard Helms had all program-related files destroyed out of fear of a Watergate-style situation.
2. The Montauk Project
In the original pilot script for Stranger Things, the show was set in Montauk, NY, rather than Hawkins, Indiana. In fact, the series was originally sold to Netflix under the working title Montauk, per Variety. Why? Because of the Montauk Project, a much-conspired-about governmental project alleged to have taken place at an Air Force Station, or Camp Hero, on the eastern tip of New York's Long Island.
"It's based on a place in Montauk, New York called Camp Hero," Stranger Things star Gaten Matarazzo told Wired. "There was, like, rumors of secret government spies doing human experiments to fight in the Cold War. It's based on that one government lab."
Legend holds that the military program conducted paranormal experiments on civilians, including children, involving mind control, time travel and more with the aim of developing psychological warfare techniques. One man, Preston Nicols, who claimed to have repressed memories of the project, wrote about the experience in the 1992 book, The Montauk Project: Experiments in Time. The book includes references to post-procedure subjects developing psychic powers, coming into contact with extraterrestrials, and opening up portholes to other time dimensions—sound familiar?
Though the Duffers changed the real-life Montauk setting to fictional Hawkins, to give themselves more creative license, it's clear that the so-called realities of the Montauk Project have greatly influenced Stranger Things.
3. The West Memphis Three
The story of Eddie, Stranger Things' new fan favorite played by Joseph Quinn, also had real-world roots. The Hellfire Club leader was "loosely modeled after writer and artist Damien Echols, who was a member of the West Memphis Three," per a recent tweet from the official Netflix Geeked account.
Like the fictional Eddie Munson, Damien Echols was a longhaired metalhead living in a small town, West Memphis, Arkansas. On May 6, 1993, three eight-year-old children were horrifically found dead in a creek, and Echols, alongside fellow teens Jason Baldwin and Jessie Misskelley, was accused and convicted of the murders. The "West Memphis Three," as the teens were known, spent many years in prison, with Echols on death row, but their convictions were overturned after a retrial in 2010 and the trio was released.
The Duffers were reportedly inspired by the true-crime documentary Paradise Lost: The Child Murders at Robin Hood Hills, which detailed how the era's "satanic panic" (baseless rumors about a rise in satanic cult activity and abuse in the 1980s and early '90s) played into the West Memphis Three case.
"Something we really wanted to get into this year was the satanic panic. So that brought us back to the Paradise Lost documentary series with the [West] Memphis Three, and it brought us back to Damien Echols," the brothers said in a Tudum interview. "We really wanted that character who's a metalhead, he's into Dungeons & Dragons, he's ultimately a true nerd at heart. But from an outsider's point of view, they may go, 'This is someone that is scary.' So that's really where the idea for Eddie came in.
Actor Joseph Quinn doubled down on the reference point, telling Men's Health: "The satanic panic of the time was definitely at the spine of my character," who spends most of season four on the run for a death he didn't commit.
"What's sad about [Eddie's] narrative is that the people who get to know him love him, and the people who don't have judged him horribly. Just because of the way he dresses and just because of his interests," the Duffers told Tudum.
Part one of Strangers Things season 4 is available for streaming on Netflix. Season 4 part 2 hits the platform on Friday, July 1.
Christina Izzo is the Deputy Editor of My Imperfect Life.
More generally, she is a writer-editor covering food and drink, travel, lifestyle and culture in New York City. She was previously the Features Editor at Rachael Ray In Season and Reveal, as well as the Food & Drink Editor and chief restaurant critic at Time Out New York.
When she's not doing all that, she can probably be found eating cheese somewhere.