Who plays Rafe in 'Outer Banks'? What we know about the Netflix star
He's the bad boy of season 3—who plays Rafe in 'Outer Banks'? Let's get to know the character and the actor behind him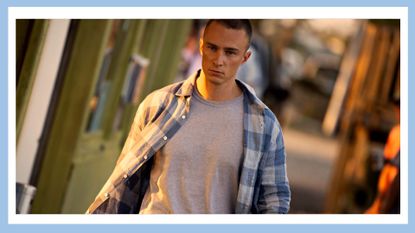 (Image credit: Jackson Lee Davis/Netflix)
He's gone from privileged teen to crime boss, but who plays Rafe in Outer Banks?
Rafe Cameron has served as an antagonist to the beloved Pogues crew—including John B (Chase Stokes), JJ (Rudy Pankow), Kiara (Madison Bailey), Pope (Jonathan Daviss and his own little sister, Sarah (Madelyn Cline)—for the past two seasons. And it doesn't look like his animosity towards the scrappy teens is changing anytime soon in Outer Banks season 3, which premiered on Netflix on Thursday, February 23.
But who is the actor behind the villainous character and what happens to Rafe in the third season? Here's what we know.
*Warning: spoilers ahead*
Who plays Rafe in 'Outer Banks'?
Rafe Cameron, brother to Sarah and son to Ward, is played by 29-year-old American actor Drew Starkey. The North Carolina native is probably best known for his role as Garrett Laughlin in the Simonverse films Love, Simon and The Hate U Give. He has also popped up in TV shows like the VH1 slasher series Scream: Resurrection and the Prime Video action thriller The Terminal List.
On playing Rafe, Starkey told People: "What me and showrunners [Josh Pate, Jonas Pate and Shannon Burke] wanted to establish early on was not making some bad guy just for the sake of making a bad guy.
"He's constantly at a push-and-pull with what he's going through internally and even though he makes some pretty insanely stupid decisions, he struggles with those," the actor continued. "There's just a little hint of maybe he's still a good person, but ultimately he gives into his internal thoughts too much."
Starkey added: "Most 'bad people' start off as good people and then end up making bad decisions. The more you make, the larger the monster in the room becomes...I don't really want people to have empathy for him so much as I want them to understand the process in which he makes these decisions. It's up to the audience whether they want to empathize with that or not, sometimes I don't even."
How old is Rafe Cameron in 'Outer Banks'?
Though he's played by 29-year-old Drew Starkey, Rafe Cameron is reportedly only 19 years old in Outer Banks, marking a decade-long difference between the actor and his famous character. (For reference, Rafe's younger sister Sarah is supposed to be around 16 years old in the series.)
Do Kiara and Rafe get together in 'Outer Banks'?
Yes, you read that question right. Though viewers may be shipping JJ and Kiara to finally get together in Outer Banks' third season, there are others who are wondering about Rafe's connection to Kiara (Madison Bailey) after that season 3 trailer.
The unlikely duo of Rafe and Kiara are thrown together when they're taken hostage by Carlos Singh, a Caribbean don who's also on the hunt for the El Dorado treasure, who gives them one day to offer up the diary that holds clues to the gold's exact location.
While holed up together at Singh's estate, at first Kie doesn't want anything to do with Rafe. "You may not want to trust me but I'm your best bet," Rafe informs her. They both let their defenses down, with Rate tearfully opening up about his bad behavior, telling Kie: "I'm trying, I'm trying to be better, ok?"
Together, they eventually escape Carlos' compound and stow away in the back of a truck. However, even though Rafe tells Kiara that he doesn't think of her as a Pogue, Kie's true loyalties are revealed when she steals Rafe's boat and deserts him to go find John B and the rest of the Pogues gang.
"What we've done this season, which is really interesting, is we've taken these characters that we're familiar with and plucked them out of their natural friend groups and placed them into situations where they're really uncomfortable and they have to test themselves," Starkey told People about the Rafe-and-Kiara match-up. "They're challenged a lot."
Does Rafe die in 'Outer Banks' season 3?
No, Rafe doesn't die in Outer Banks season 3—but another member of the Cameron clan does.
Yes, Rafe and Sarah's father, Ward Cameron (Charles Esten), dies in the season 3 finale while saving Sarah from one of Singh's henchmen. Stopping the thug from shooting his daughter, Ward jumps on top of the man and sends them both falling off a cliff, killing them both.
Does Rafe get arrested in 'Outer Banks' season 3?
The last time we see Rafe Cameron in the third season is in the penultimate episode. He has just saved Ward from an assassin and taken him to the airstrip where Ward and the Pogues board a private plane and set off for South America.
Law enforcement arrived just at the airstream as the plane takes off, but we don't know whether or not Rafe gets taken into police custody or not. Guess you'll just have to wait until Outer Banks season 4 to find out!
Fans react to that Rafe Cameron buzz cut:
God knows viewers love a bad boy, so it's not all that surprising that OBX fans are positively thirsting on social media over Rafe's new haircut in season 3:
rafe cameron got me like this, with the buzz cut this season in outerbanks 😩 pic.twitter.com/Zg7vPNRZp1February 24, 2023
See more
Tell me one thing rafe cameron did wrong in his life, because I cannot for the life of me remember a thing with that buzzcut.February 24, 2023
See more
wasn't expecting buzz cut rafe cameron to be this sexy #OBX3 pic.twitter.com/WrsVKsiGFtFebruary 23, 2023
See more
rafe cameron is scum but buzzcut drew starkey will always be famousFebruary 24, 2023
See more
rafe cameron with a buzzcut was one of the best decisions they could make. it's just so fitting for the character pic.twitter.com/65wWhJQQAbFebruary 25, 2023
See more
Catch Drew Starkey as Rafe in Outer Banks, streaming on Netflix.
Christina Izzo is the Deputy Editor of My Imperfect Life.
More generally, she is a writer-editor covering food and drink, travel, lifestyle and culture in New York City. She was previously the Features Editor at Rachael Ray In Season and Reveal, as well as the Food & Drink Editor and chief restaurant critic at Time Out New York.
When she's not doing all that, she can probably be found eating cheese somewhere.