Younger season 7: everything you need to know, including how to watch the finale
Younger season 7 ends tonight! Here's what you can expect from the show's grand finale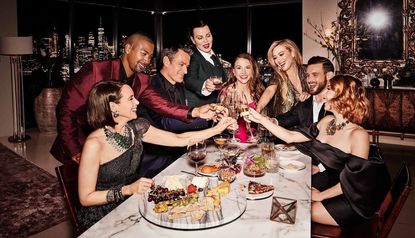 (Image credit: Paramount+)
Liza Miller, Kelsey Peters, and the whole crew are back, as Younger season 7 caps off with the show's final episode tonight.
Some TV shows get plenty of hype (and rightly so): we're talking Bridgerton, Ginny & Georgia, Firefly Lane, and the list goes on. Then there are the shows that are equally amazing yet don't seem to have the internet up in arms as much—Younger is one of those. The underrated TV Land comedy series is an absolute gem, which those of us who've been watching it religiously for the past few years are already well aware of.
The long-running show by Darren Star, the man behind shows you might have heard of like Sex and the City and Emily in Paris, follows the life of Liza Miller (played by Sutton Foster), a 40-year-old divorced single mom who pretends to be younger than she is to secure her dream job in the millennial-dominated world of book publishing. As you can expect, things get pretty complicated, and fast, as she finds herself caught up in a web of lies in both her personal and professional life.
With six seasons of love, deceit, and hilarious chaos, Younger is wrapping up with a seventh and final season. *Weeps.* But what does that mean for Liza? Will she get her happily-ever-after both in romance and at work? Here's everything we know about season seven, including how to watch tonight's final episode.
When is the Younger finale coming out?
Younger season 7 started streaming exclusively on Paramount Plus on Thursday, April 15th, with the first four episodes dropping at once before moving forward with weekly episodes every Thursday thereafter.
The final episode of the series will be available starting on Thursday, June 10th at 3am ET on Paramount Plus and Hulu.
It's been a long wait since the finale of season six, which aired back in 2019. Like many things, the delay was due to the pandemic, as the show is set and filmed in New York City, one of the locations hit hardest by COVID-19. Right after filming resumed following the lockdown lift, ViacomCBS announced that the seventh season would be the final run for the TV Land show, and also explained that it would be moving to Paramount+ (the rebranded CBS All Access) for streaming access before heading to TV Land later this year.
How many episodes are in the final season of Younger?
The seventh season is made up of 12 episodes and, as the trailer shows, it picks up right where we left off in the season 6 finale: with an open-ended marriage proposal to Liza from the prim-and-proper Charles—one of the men in her love triangle, Josh the tattoo artist being the other.
At this point, Liza has come clean about her age to the main cast but that doesn't mean life has gotten any easier. Still, she and co-worker Kelsey are determined to spread their wings and excel in the publishing industry.
"Liza's personal life is on shaky ground as she tries to stay true to herself. After a setback at work, Kelsey doubts her career decisions and discovers a new creative outlet. Maggie (Debi Mazar) gets canceled," reads the official synopsis of the season.
Who is in the cast of Younger season 7?
Joining Sutton Foster, who takes the lead as Liza, the Younger cast is made up of Hilary Duff, who plays Kelsey; Nico Tortorella who plays Josh; Peter Hermann, who is Charles; and Debi Mazar, who plays Liza's best friend, Maggie.
Miriam Shor, Molly Bernard, and Charles Michael Davis round out the show's cast.
How to watch the Younger season 7 finale:
If you've been streaming the show on Hulu or watching it on TV Land then, unfortunately, things will be a little different for Younger season 7, as this season— along with all the rest of the seasons of Younger—is currently only available on Paramount+.
To watch it, you have to sign up to the new streaming platform, which is priced at $9.99 per month without ads, or $5.99 with them. The service also offers a seven-day free trial for new subscribers, so make sure you get yours!
If you're currently outside of the U.S., you can still watch the show on Paramount+ with the use of a VPN. A VPN is a handy piece of software that allows you to browse anonymously, and to change your IP address so your mobile, computer, or laptop thinks it's in another location. That means that you can watch your favorite show, film, or event, even if you're away from home.
Our favorite VPN service is ExpressVPN, rated the best VPN in the world right now, by our colleagues at TechRadar.
Sagal is a journalist, specialising in lifestyle, pop culture, fashion and beauty. She has written for a number of publications including Vogue, Glamour, Stylist, Evening Standard, Bustle, You Magazine, Dazed and Wonderland to name a few.