Your weekly horoscope is here: February 14 – February 20
It's Valentine's Day and the stars are telling us to get romantic...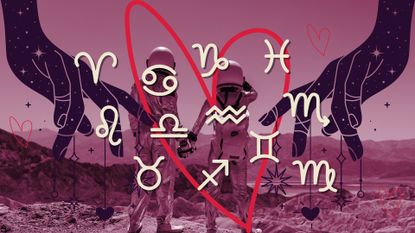 (Image credit: Future)
A super-fabulous week is in the stars! As we welcome Valentine's Day, we are under the last days of Aquarius season. Mercury, the planet of communication, enters this sign on Monday, bringing eloquence and fast-paced movement to our interactions and exchanges for the next three weeks.
The Moon will be in Leo on Valentine's Day, preparing to reach its fullness on Tuesday night, hinting at big displays of affection and red-hot seduction. If you have a partner, make sure to plan something sweet. If you're single, celebrate love and friendship with your VIPs (we found the best Galentine's Day gifts FYI). Venus, the planet of love, and Mars, the planet of sex will be sitting exactly next to each other in the sky, stimulating passions.
And in even more positive news, lucky and abundant Jupiter will be activating serendipity-lover Uranus. This is a somewhat rare transit that should bring unexpected but nice surprises our way. It also provides us with creative inspiration to remove the blockages that have previously been holding us back. If you have been waiting for a time to set yourself free—this is it!
On Friday, we turn an energetic page as the Sun begins to illuminate the part of the sky ruled by Pisces. While Pisces season always holds a dreamy energetic imprint, in 2022, it is set to be incredibly healing and restoring for our souls. Hurray!
---
---
Weekly horoscope: what does this week have in store for you?
Aries
Fun times this week, Aries. The combination of this week's astrology looks positive for many aspects of your life. Your career sector is shining, so make sure to set some ambitious goals. Your love life also looks promising, so make sure to ask someone out, or take your babe out for a hot date. Once Friday arrives, you will begin a four-week period in which you benefit from resting and connecting with your intuition.
Taurus
Life seems sweet for you this week, Taurus. This week's combination of energies is busy as surprises, messages, and new doors open for you. This full moon feels fated, bringing the beginning of a whole new cycle in which the universe instigates you to level up! Stay true to yourself and let the cosmos take care of the rest. If you're in a committed relationship, serious conversations about the future could be in the cards.
Gemini
Good news, Gemini. If you're in a relationship, serious talks could be part of your Valentine's Day plans. On top of that, a sweet surprise could show up for your career. A raise, a new opportunity, or the possibility to apply for a better position are all possibilities. In fact, it's time to get serious, because the Sun's entrance into Pisces kicks off a two-month period in which the cosmos will help you succeed. How exciting!
Cancer
This week looks packed with activity as the cosmic lovers (Venus and Mars) kiss in your seventh house of partnerships. Romance looks fabulous for you, so don't hesitate to block your calendar to focus on romance. If love isn't your jam right now, use this energy to work with a coach or business partner. The full moon could feel intense, but it could also bring a major ending to a financial matter. Go with the flow and give yourself a self-care day.
Leo
The Moon is in your sign on Valentine's Day, Leo, giving you a free pass to be your bold and shiny authentic self. If you're taken, make a splash together. If single, hit the town with some of your besties so you can get the attention you will be craving. Once the Sun enters Pisces, you will feel hungrier for deeper life experiences. For the next four weeks, esoteric and taboo subjects might fascinate you.
Virgo
Is romance on your mind? We certainly hope so, because your stars are looking fab for love. If you're committed, by all means celebrate Valentine's Day! If you're single and interested in dating, this week kicks off a two-month period in which romance looks highlighted for you. On a more serious note, this week's full moon is ideal for leaving behind insecurities and pre-conceived notions about yourself. Spend some time alone mid-week in order to process them, Virgo.
Libra
What a fabulous week for you. As your ruler, Venus, meets with Mars, you have a golden opportunity to assert yourself! Ask someone out, pitch that project, or just get creative. This is the type of energy that can help you in any aspect of your life. This week's full moon might bring the ending of an important work project—or alternatively, you might be called to help an organization or perform a good deed. Get some good karma points, Libra!
Scorpio
This week has a "destined" flavor to it, Scorpio. This Wednesday's full moon activates the South Node of Fate, which is currently in your sign. Doors could close and open during this time—and the changes brought by this lunation are non-negotiable. Trust the process! Once the Sun enters Pisces on Friday, you will be more in your element and kicking off a four-week period in which you will be focusing on creativity and fun.
Sagittarius
A sweet week is in store, Sagittarius! The connection between Jupiter and Uranus might bring exciting news that are bound to liberate you from stale energy. Good news around your home, family, or the possibility of a trip or class could suddenly appear. This week's full moon might test some of your deepest beliefs around life in general. Alternatively, it might drive you to crave attention. Go ahead and take it—life's too short not to see yourself shine!
Capricorn
The cosmic lovers (Venus and Mars) are kissing in the skies ruled by your sign, hinting at a glorious week for your love life. If you have a special someone, make sure to make big VDay plans, as the stars will be in your favor. As the Sun enters Pisces, it activates your third house of communication, heralding a two-month period of growth and success in this area of your life.
Aquarius
Your birthday season ends with a bang as this week's super-powerful full moon in your partnership sector. Good news about a one-on-one connection could be in the cards. Alternatively, you might have to make some changes to accommodate someone. The Sun's entrance into Pisces is more than good news for your wallet, heralding the possibility of a raise and more shine in your self-confidence.
Pisces
This is a week to network, Pisces. The planets will be linking your third house of communication with your sector of community. Regardless of the nature of the dream that you want to manifest, there are people out there who could help you. Your birthday season starts on Friday—and this is one for the books! As the light of the Sun illuminates all kinds of possibilities, start by capturing any ideas, signs, and messages that begin to arrive. They hold special meaning.
Athena Antares is a traveling writer, astrologer, and mystic who believes in adding a touch of magic to everyday life. She has written horoscopes for numerous lifestyle publications and has dived deeply into astrological magic and manifestation spell work. In her spare time, Athena enjoys exploring new places, spending time in nature, and reading charts for her worldly clientele.