Your weekly horoscope is here: March 14 – March 20
Watch out—some big aha moments are coming this week...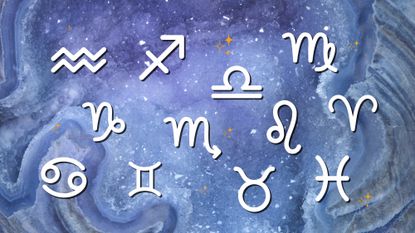 (Image credit: Future)
A very potent week is in store for us with the arrival of a Full Moon, a new solar season, and an aspect that spells surprises in love! Master communicator Mercury, which is now in Pisces, delivers big aha moments mid-week as it connects with genius Uranus mid-week. Keep an eye out for new ideas and flashes of insight, as this exciting planetary combo will be sending electricity to our brains.
As we head to Friday, this month's full moon rises in the skies of Virgo. We've been swimming in the mystical waters of Pisces for three weeks now, and as we prepare to close this season, we might have to take a cold, hard look at the progress towards our dreams. The tension that this lunation is bringing is not a call to quit your desires, it's more a reminder to stay realistic and keep our feet on the ground.
Since it's positively activating Pluto, this lunation is here to deliver personal transformation, bringing a unique opportunity to shed what no longer serves us. The cosmic lovers, Venus and Mars, will be locked in a clash with wild child Uranus, bringing the awareness that changes are due in our closest relationships. If something comes up for you, sinking into the spirit of liberation, excitement, and newness will get you to the other side.
Over the weekend, the Spring Equinox arrives, and with it, the beginning of a new season and astrological year!
---
---
Weekly horoscope: what does the week have in store for you?
Aries
You've been in a period of introspection, Aries, but as the Sun enters your sign on March 20, your soul, mind, and body are reinvigorated. This Sunday is your most potent day of the year to set intentions for the year ahead as the cosmos resets your energy. As you do so, channel the Full Moon's influence by promising yourself to release any negative habits that no longer serve you. It's time to purify your daily routine.
Taurus
It's time to take a hard, cold look at the fact that you might be overworking yourself, Taurus. This week's Full Moon reminds you to set aside some time to play, so make sure you have fun plans on the books for the weekend. As the Spring Equinox arrives, you begin a one-month period of introspection. As you witness more and more flowers bloom, your inner life will also be brimming with messages, codes, and vivid dreams.
Gemini
Stay alert to incoming messages mid-week coming from Mercury, who is now in your career sector. You've been making progress in this area of your life, and its influence could be the last piece of inspiration you were looking for. With that said, this week's powerful Full Moon might bring you a reality check at home. If your partner, children, or even roommate feel neglected, it might be the perfect weekend to show them how much you care about them.
Cancer
Keep your wits about you when interacting with people, Cancer. The Venus-Uranus clash activates a tricky part of your chart, so it's not a time to gossip or throw caution to the wind. The Virgo Full Moon could try to pull you in many different directions—but as much as you can, stay grounded and focused on yourself. You will notice that the more time you spend alone, soaking the last days of Pisces season, the better you will feel.
Leo
We kick off the week with the Moon in your sign, which might have you craving attention and action. Look within to obtain what you need, as the outside world might feel kind of weird. Later on, the Full Moon turns your attention towards the give and take in your life—not only of money and time but also pleasure. Strike a balance in this area of your life, Leo!
Virgo
You've been most likely spending a lot of your energy on others, and this Full Moon happening in your sign is your yearly reminder to take care of Number 1. This weekend, spend some time alone, doing the things you love the most. Once the Sun enters Aries, you will begin a period of self-study and deep introspection. Over the next four weeks, you would gain a lot of insight when diving into esoteric and mystical practices that can help you get to know yourself better.
Libra
For some time now, you've seemed to be deeply involved in a relationship—and as your ruler, Venus, clashes with Uranus this week, things could get a bit messy. Take it as a sign from the Universe to make changes and adjustments. This month's Full Moon helps you do exactly that, by facilitating the release of old beliefs about yourself and life itself. Allow this lunar energy to purify your soul, dear Libra.
Scorpio
If you're working on a creative project, the favorable Mercury-Uranus connection could very well provide you with inspiration or a moment of genius. Be open to exploring it all this week, Scorpio. The bright Sun connects with Pluto, your ruler, shining a light on how much you have transformed in the past months. Life hasn't been super easy, so spend some time patting yourself in the back and celebrate yourself under the full moonlight.
Sagittarius
Messages could be a bit distorted in your interactions as Venus and Mars in your communication sector clash with techy Uranus in your sixth house of daily routine. Go with the flow and keep your mind open. This week's Full Moon activates your career sector, maybe bringing the manifestation of a project—or your required intel to make one take off. Put the hours in, because once the Spring Equinox arrives, it will be time for fun and celebration!
Capricorn
A gorgeous link between the Sun and Pluto in your sign illuminates the way for you to succeed. As the Moon becomes fuller, you will feel your ambition grow in tandem with its light. If you've been waiting for the right time for a power move, the end of the week paves the way. If romance is on your mind, this connection also gives you incredible magnetism, so strut your stuff this weekend!
Aquarius
Things could get interesting in your relationships this week as the cosmic lovers, Venus and Mars, clash with Uranus. While this aspect could test a relationship, it can also inject fresh energy into it—which in the end, you might end up liking. So, over the week ahead, try seeing things from a new perspective, Aquarius. This week's full moon activates a deep place in your heart, when moments of deep soul-searching can prove to be very eye-opening.
Pisces
You've been experiencing lucky breaks recently, but as the Virgo full moon appears in the sky this week, you could be second-guessing yourself as well as the progress you've been making. Don't get it twisted, Pisces. This lunation is not asking you to abandon your dreams. What it is requesting from you is to focus on realistic, sustainable growth—and for that, you will need to organize your thoughts as well as your ambitions.
Cute astrology-themed gifts
Brand
Colour
Price
Refine ☵
Sort By
Athena Antares is a traveling writer, astrologer, and mystic who believes in adding a touch of magic to everyday life. She has written horoscopes for numerous lifestyle publications and has dived deeply into astrological magic and manifestation spell work. In her spare time, Athena enjoys exploring new places, spending time in nature, and reading charts for her worldly clientele.