Your weekly horoscope is here: March 21 - March 26
Ready to start over? This week marks the beginning of a brand new zodiac cycle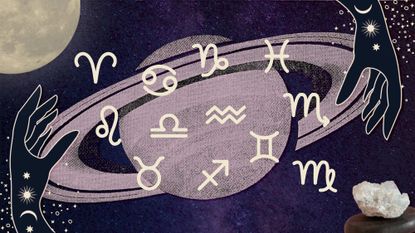 (Image credit: Future)
Happy Astrological New Year! In astrology, this is an energetic reset and the very beginning of the zodiac cycle, when the Sun is freshly positioned in the skies of Aries. This is pure and raw fire energy that can be channeled into our ambitions, hopes, and dreams. If you have been feeling your energy depleted, this shift is bound to bring you that boost you have been waiting for!
Although post-full moon weeks are normally calmer, the week ahead looks busy in terms of communication. Mercury, the planet of thought will be forming a lot of connections with other planets, keeping our phones and inboxes quite busy.
On Wednesday, Mercury will catch up to Neptune, the God of the Seas. While it's not ideal for any type of focused work, this merging is bound to flood our minds with inspiration and intuition. So, during the first half of the week, let your mind wander and focus on spiritual and creative pursuits to make the best of this energy.
Then towards the end of the week, Mercury will be meeting with Pluto, the Lord of the Underworld. The connection they have is positive and can allow us to see things that have been previously hidden from view. If something dark or intense comes around this time, we can overcome it. Not an easy task, but it is rewarding for sure.
---
---
Weekly horoscope: what does this week have in store for you?
Aries
It's Aries season so happy birthday, dear Aries! After a month of introspection, you're feeling renewed with the Sun now in your sign, illuminating the way to make some of your biggest dreams. Over the weeks ahead, you will receive many growth opportunities. This week, however, does bring a funky aspect between your ruler Mars and Uranus, so the beginning of the week is not the best time to take risks. If you have a power-move in mind, it's best to save it for next week!
Taurus
What's at the top of your wish list, Taurus? Put it at the forefront of your mind, because Aries season could help you manifest it into reality! Spend some time digging in and taking mental notes, since it is not yet time to act. Intense Mars will be clashing with Uranus in your sign, so it is not a time to take risks or big chances. Do expect surprises—and as much as you can, go with the flow.
Gemini
With your ruler, Mercury, currently swimming in the skies of Pisces, you're probably having trouble focusing on work or mundane tasks. The gifts of this watery sign come in different forms, so over the days ahead, pay attention to the codes and messages within your dreams and your intuition. Mercury does enter Aries at the week's end, lighting up your inner fire. This is when you should be ready to put all those learnings into play!
Cancer
The Aries zodiac sign rules your sector of career, so as the Sun illuminates this area of your life, you're feeling ambitious! Out of the entire year, this is the time to assert yourself in your career, business, or any other endeavor—especially with such lucky stars on your side. Spend some time this week (especially on Wednesday and Thursday) strategizing your next four weeks. It's time to channel that tenacious side, dear Crab!
Leo
If Pisces season had your energy levels down, starting this week, your batteries will begin to fully charge. You love the energy of fire sign Aries, which allows you to expand, think big, and see the world with new eyes. Over the week ahead, Wednesday and Thursday are days to focus on creativity and fun, while the Moon in Sagittarius instigates you to enjoy some of the best things life has to offer. Life is oh, so sweet, dear Lion!
Virgo
For you, Virgo, the beginning of Aries season has an intense start with your ruler Mercury in Pisces and Mars activating your house of work while clashing with Uranus. A project could be derailed this week due to a surprise or unexpected event. You don't have control over everything, so either take this as an opportunity to take a break—or ask for help! Once Mercury enters Aries on Sunday, things will begin to go back to normal.
Libra
A commitment seems to be in the works for you as your ruler Venus gets closer and closer to asteroid Juno. You could be getting ready to seal the deal on a date, personal deal, or business partnership. Since this planetary merging is happening in Aquarius, you must not forget your non-negotiables as well as your sense of individuality, Libra. Otherwise, you could end up regretting not honoring your values. This is especially important since this "deal" or "contract" seems to be of the long-term kind.
Scorpio
Tread with care, Scorpio. Mars in your home sector clashes with Uranus in your sector of relationships on Tuesday. Move slowly as you go through your day, and practice patience, especially in your closest relationships. If things do end up getting intense, the positive connection between Mercury and Pluto at the week's end helps you to get to the bottom of things. Go deep and clear the air, things will get much better the week after.
Sagittarius
You seem to be busy sealing the deal or working on a communication project, which could eventually land you a big amount of money. But because Mars and Uranus could pull a surprise on you, you must get very clear on the boundaries as well as the terms you are signing off on. On a more fun note, Aries season is a time for you to enjoy life, so after this week, you should have more time to enjoy yourself.
Capricorn
Money is calling your name as Venus and asteroid Juno meet your ruler Saturn in your second house of income. This could mean a sweet deal, but because angry Mars is also present in the mix, you should make sure you are reading all the fine print very, ultra-carefully. For you, Aries season is all about home and spending time with your favorite people—so after you seal this deal, expect to have more time to chill and enjoy life with them all.
Aquarius
This is a major week for you as Venus, asteroid Juno, and Saturn in your sign seem to be sealing the deal on a project or deal that speaks to your journey of reinvention and/or transformation. Congratulations, Aquarius, you have earned it! The only thing to keep in mind is Mars clashing with Uranus in your home sector, which could put the decisions you're making at odds with your home or family life. Whenever in doubt, err on the side of freedom.
Pisces
A secret could be revealed, or some big tea could be spilled this week, Pisces. And while this could shock you a little bit, don't let it derail your master plans for big-time manifestation. You know how to go with the flow, as this time might be the right time to do so. On a more tangible note, Aries season is all about working on your finances and knowing your worth. This injection of fiery energy might be just what was missing for you to take advantage of the amazing astrology of 2022!
Cute astrology-themed gifts
Brand
Colour
Price
Refine ☵
Sort By
Athena Antares is a traveling writer, astrologer, and mystic who believes in adding a touch of magic to everyday life. She has written horoscopes for numerous lifestyle publications and has dived deeply into astrological magic and manifestation spell work. In her spare time, Athena enjoys exploring new places, spending time in nature, and reading charts for her worldly clientele.