How to match foundation to your skin online
If you're wondering how to match foundation to your skin online, finding the right shade of foundation just got a lot easier...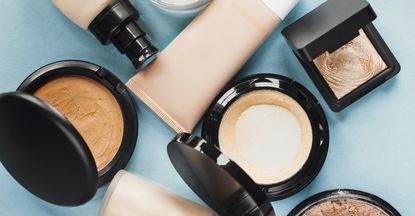 (Image credit: Getty Images)
If you're wondering how to match foundation to your skin online, you can believe us when we say it's easier than ever to find your perfect match in the best foundation for your skin.
With many of us shopping for the best foundation for acne-prone skin or even the best non-comedogenic foundations online during the pandemic, make-up retailers upped their game and became even more innovative by providing color-match services online to help us avoid any beauty mishaps.
Foundation is notorious for being the most stressful beauty product to shop for. Finding a shade that matches your skin tone perfectly can feel near impossible at the best of times—especially for those with darker skin. So how easy can it possibly be to shop the ultimate "try before you buy" product online? Well, surprisingly, the answer is very.
In the early months of the pandemic, Bobbi Brown launched Pro Artist In Your Pocket, an online chat service providing thorough customer assistance. Similarly, E.l.f also launched a virtual try-on feature where customers can use the camera on their smartphone or laptop to color-match products.
Thanks to the growing number of savvy shade-matching services, branching out and experimenting with new foundations—be it the best foundations for combination skin or the best foundations for sensitive skin—without doing a tangible swatch test has changed the way we shop forever. Virtual beauty testing has meant that you no longer have to wait in line in a store or patiently hang around until the other customer is done playing with the latest Fenty drop so you can have your turn. Instead, you can do it all from the comfort of your own home.
Here's how...
How to match foundation to your skin online
One of the best and most popular online shade-matching services is Findation.com. The website, which is created to help customers find their perfect foundation shade online, is loved by make-up artists and beauty editors. It's super easy to use and provides a list of matches for your specific skin type within seconds. All you have to do is enter a few details about the brands and shades you usually use and voila, there's a whole host of product options just for you. The website also provides customer reviews of the foundations and concealers on your match list so you can read more about them before purchasing.
Here's a step-by-step guide on how to use it...
How to use Findation
1. Once you visit the Findation website, the first thing you're asked to do is list the foundation/concealer shades you've used before that are a good match for your skin.
2. The system then calculates your matches based on the product shades you have selected. The more products you select in the first step, the more accurate your match results will be, so make sure you add all the foundation/concealer shades you've found to be a great match for your skin.
3. With your information in mind, Findation then provides a list of products that match your skin. This list is made up of options that range in price and provides a variety of different brands that are suggested for you based on the foundations you recorded in the first step of the process.
4. Once you've picked your favorites, Findation tells you where the products are available and provides a link that redirects you to the relevant websites. What more could you want?
Brands that offer virtual try-on services
A number of beauty brands such as Bobbi Brown are offering virtual appointments with make-up artists, allowing customers to get bespoke advice from a beauty expert. All you have to do is book an available slot on the Bobbi Brown website.
Another brand offering a similar service is By Terry. Simply visit their website to book a 30-minute online consultation with one of the brand's beauty experts in either French or English.
Sagal is a journalist, specialising in lifestyle, pop culture, fashion and beauty. She has written for a number of publications including Vogue, Glamour, Stylist, Evening Standard, Bustle, You Magazine, Dazed and Wonderland to name a few.