Did Beyoncé really meet Selena?
Season two of Netflix's Selena shows the iconic moment of Beyoncé meeting Selena in Houston, Texas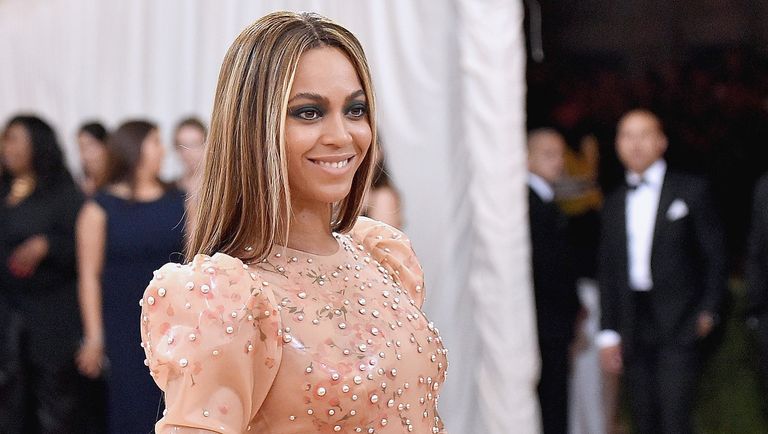 (Image credit: Mike Coppola/Getty Images for People.com)
Beyoncé meeting Selena is like something out of our early-90s daydreams but, yes, it actually happened. The two Texas-born icons really did cross paths in Houston all those years ago. 
It's hard to imagine our favorite stars as normal people, especially the Queen Bee herself. Netflix, though, has given us a brief insight into pre-fame Beyoncé in the latest season of Selena: The Series.
In the sixth episode of the season, we see Selena Quintanilla (played by Christian Serratos) shopping at an outdoor mall with her mother and sister. At the same time that they're going to the mall, a mother and her two daughters are seen exiting a frozen yogurt shop and their paths cross.
In Part 2 of Selena: The Series, the iconic artist meets another legendary talent: Beyoncé — and that interaction 100% happened! "I did actually meet Selena in the Galleria Mall," Beyoncé said in 2007, adding that she listened to Selena "all the time" as a kid. pic.twitter.com/TCY2231fT6May 5, 2021
See more
The eldest daughter is immediately starstruck at the sight of Selena. Who is that eldest daughter? Yes, Beyoncé herself (well, a younger version of Beyoncé played by Giovanna Bush) joined by her mother Tina and younger sister Solange.

In the clip, Tina pushes a dumbfounded Beyoncé to go and talk to the Tejano pop idol, saying: "Beyoncé Knowles, you better learn not to be afraid of people if you ever wanna be famous too." We all know how that worked out!
The Single Ladies singer has previously talked about her real-life encounter with Selena Quintanilla at the Galleria Mall in Houston, TX. (And for eagle-eyed viewers, no, the Netflix show did not film the meet-up at that location, FYI).
In an interview with MTV tr3s, Knowles previously said: "I didn't say much to Selena because I wasn't a celebrity and I just saw her and said 'Hello' and kept it moving. Definitely, growing up in Texas, I heard her on the radio. I think listening to her album, even though I didn't know exactly what she was singing, it helped me in the studio with my pronunciation."

Beyoncé sweetly talked about the impact that Selena had on her as a young singer: "I think she is a legend and I admire her. She was so talented. I'm very happy that [I met her]. Even though she didn't know who I was, I'm still excited that I got that opportunity."
Selena actress Christian Serratos talked to Entertainment Tonight about the historic meet-up between the two musical icons: "I thought it was so cool, I thought it was so cute. And I thought, you know, that's what this story is about, is inspiration, and inspiring young people to follow their dreams, whatever those dreams are."

Serratos continued: "And I did the same thing everyone else did. Like, 'Did that really happen?' I always make jokes...is this going to be my connection to meeting Beyoncé?"
Fans similarly were going crazy for that Beyoncé meeting Selena moment on the show. See just a few of the many fan reactions below... 
pause they wrote miss tina and childhood beyoncé into the selena script 😭 pic.twitter.com/O0Kuo5kthEMay 4, 2021
See more
Adding the moment Beyoncé and Selena crossed paths in the series was cute. A lot of folks don't understand the influence Selena had on us Texans. Spanish speaking or not. We loved her. 😍 #selenanetflix pic.twitter.com/PEVcQLDNQ2May 4, 2021
See more
Like I knew Beyonce been a fan of Selena but that scene ... #SelenaTheSeries pic.twitter.com/ozxri6ouSMMay 4, 2021
See more
I got my life. I love both Selena and Beyoncé. That scene gave me a moment.Alright. Lemme finish the show. #SelenaTheSeries #selenanetflix 🍿🍿🍿 pic.twitter.com/sVGAf1UVsUMay 5, 2021
See more