Did Christine Quinn get fired? Here's what happened with the 'Selling Sunset' realtor
Christine Quinn won't be returning for season 6 of the Netflix reality show—so what actually happened?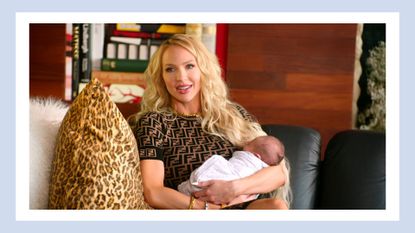 (Image credit: Netflix)
Did Christine Quinn get fired? The former Queen Bee of Selling Sunset will not be returning to the Netflix show for season 6, so did her *ahem* penchant for drama actually land her in trouble?
Selling Sunset season 5 hit Netflix in May 2021, and throughout it all, fans questioned Quinn's eventual fate with the LA realty company, The Oppenheim Group.
In the episodes, we heard Quinn question: "I was wondering why I wasn't getting listings, then I'm like 'Oh yeah. It's cause I'm not f****** my boss," she said, alluding to Chrishell Stause and Jason Oppenheim's romance (RIP). And then, of course, came her seemingly unending feuds with many of the women in the office, from Chrishell to Mary Fitzgerald, and even her former pal, Heather Rae El Moussa.
It has since been confirmed that Christine won't be a part of Selling Sunset going forward, so what happened? Did the blonde bombshell get fired—or is there more to the story? Now that we won't be seeing Christine on Selling Sunset season 6, here's what she has to say...
Did Christine Quinn get fired?
According to Christine, she did not get fired and the decision to leave the Oppenheim Group and Selling Sunset was mutual.
During a podcast recording with Savannah Chrisley, Savannah suggested that it looked as though she was fired from the show. However, Christine responded: "I think Netflix made a statement and said it was a mutual decision...which was true, because I told them and they were very receptive and very polite and respectful. I just told them I can't do this anymore."
Before it was confirmed she was indeed leaving, there were several reasons why fans were majorly suspicious about Quinn's tenure at the Oppenheim Group. Firstly, she confided to season 5 newbie Chelsea Lazkani that she had been having trouble adjusting to office life after her maternity leave. It's a valid point, but when you make dinner reservations in the middle of a meeting, you're not doing yourself any favors.
"I'm constantly up against different bulls**t and I feel like I've just gotten to a point where I just don't want to be in the office, because it gets to a point where the drama is affecting my business and I don't want that," she told Lazkani.
Then there's the fact that Davina Potratz left the Oppenheim Group (she's now back though), something that Quinn admired.
"I'm not desperate for a job. I'm intelligent, I can start my own brokerage. I can be a broker. I mean if Davina can do it, I can do it," she said during the fifth season.
Quinn also offered her opinion on the season's "fake storylines," ahead of the season 5 premiere. During the season, it was alleged that Quinn offered her clients $5,000 not to work with her co-worker Emma Hernan. Quinn wrote on Twitter: "30 minutes till the launch of #SellingSunset enjoy the new season and all of its 5,000 fake storylines!"
Last but not least, Quinn did not take part in the Selling Sunset reunion, so naturally, everyone had questions.
30 minutes till the launch of #SellingSunset 🥰🥰enjoy the new season and all of its 5,000 fake storylines! 💰 💅April 22, 2022
See more
Following the close of the season, it was confirmed in a statement that Christine Quinn would no longer be a part of Selling Sunset, and she is also no longer part of The Oppenheim Group, either.
Does Christine Quinn still work for The Oppenheim Group?
In May 2022, Christine confirmed that she had 'terminated' her contract with The Oppenheim Group, and she is no longer an agent as per their website.
In fact, when asked a year ago whether she would continue to star on the show, Christine revealed that she no longer works for The Oppenheim Group, sharing instead that she has opened her own brokerage.
Speaking to US Weekly prior to the news that she wouldn't be featuring in season 6 of Selling Sunset, Christine suggested that she could star, but that "we just have to get creative now because I don't work for the Oppenheim Group. Maybe it's a battle of the brokerages."
Christine has in fact set up an online brokerage, RealOpen, with her husband Christian Dumontet, a former tech CEO.
Of course, we now know that she won't be in the sixth series of the show—but perhaps she'll have her own Netflix show one day?
Amy Hunt is a lifestyle writer and editor, and was previously Lifestyle Channel Editor at womanandhome.com, having been with the brand since 2015. She is passionate about everything from entertainment to books, to homes, food and wellness. When she isn't editing, researching or writing articles, he's busy burying her nose in a gripping thriller, practising yoga, or buying new homeware.