Love is Blind reunion: Shake comes under fire—and which couples are still together?
The drama-filled Love is Blind reunion season two has just dropped on Netflix—here are all the juicy details...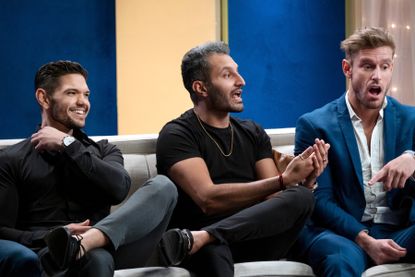 (Image credit: Netflix)
The Love is Blind reunion has dropped and the hour-long special is full of dramatic arguments, cute couple moments and PLENTY of awkward confrontations.
The 11th episode of season two hit Netflix on March 4, after ten episodes detailing the Love is Blind couples' journeys to the altar. During the reunion, the cast chatted with hosts Nick and Vanessa Lachey—and trust us when we say it'll have you gasping and laughing in equal measure...
*Warning: if you've not seen the Love is Blind season two reunion, there are lots of spoilers ahead!*
Love is Blind reunion season two: the best moments
The reunion began with Shayne and Shaina's relationship, and the times they shared together in the famous pods. The first point of discuss was the much-talked about moment when Shaina confessed her feelings for Shayne after getting engaged to Kyle (and after Shayne had committed to Natalie!)
Of the chat, Shaina admitted, "I couldn't move forward unless I was honest with Shane, and again I apologize to Natalie."
The awkward love triangle also addressed the moment when Natalie walked into the pods, only to be greeted by Shayne—who was convinced he was talking to Shaina. He then proceeded to gaslight Natalie into believing she was overreacting. We're cringing just thinking about it...
Of the disastrous moment, Shayne confessed, "That was easily the biggest mistake I've made on this show. I played the victim card, and as a man that's not what you want to do."
---
---
But perhaps the most dramatic moments of the Love is Blind reunion centered around Abhishek 'Shake' Chatterjee. The controversial contestant appeared keen to share his thoughts on each of the couples. At one point, while Shaina and Kyle were discussing their failed engagement, Shake is seen butting in and saying, "Can we just say, the drive to continue on the show was a driving factor?"
His comment prompted eye rolls and gasps of exasperation from the rest of the Love is Blind crew, with Deepti exclaiming, "I think it's okay sometimes just to keep your mouth shut."
Perhaps the most heated moment of the reunion though came when Shake addressed his relationship with Deepti, and his continual confessions that he wasn't attracted to her. Shake was explaining how important physical attraction is to him, when he said, "If I were to marry somebody and there was a big weight discrepancy, it would be very hard for me to get past that."
The rest of the cast were shocked, noting that he'd appeared to miss the point of the experiment (falling for someone without seeing them...), with host Vanessa agreeing. She said, "I think you were on the wrong show."
It quickly got heated between Vanessa and Shake, with the host telling him, "The problem I have Shake is that you sat there and berated these women physically and then went through the process with this beautiful soul (Deepti), all because you wanted someone to f***."
Love is Blind fans revelled in the drama, sharing their reactions to Shake on social media...
Literally everyone when shake talks: #loveisblind #loveisblindreunion pic.twitter.com/2NRg88bLtzMarch 4, 2022
See more
Screaming at how EVERY cast member of Love is Blind hates Shake. Nah, every time he has opened his mouth during this reunion everyone's eyes roll so far to the back of his head 😭😭😭 not Iyanna telling him to keep his mouth shut!!! pic.twitter.com/dE2h2iVPgrMarch 4, 2022
See more
Jarrette and Mallory's conversation during the honeymoon was also brought up, as was Shane and Natalie's shock split at the altar.
And in one dramatic turn of events, Kyle admitted that he wishes he'd proposed to another contestant, Deepti!
Tune in yourself for all the shocking moments...
Which Love is Blind couples are still together?
The Love is Blind reunion made it clear that only those who actually said 'I do' are still together following the experiment. Both Iyanna and Jarrette were happily cozied up during the one-hour episode, sharing that they are still very happy together—and Danielle and Nick still appeared blissfully in love, sharing a sweet home video of their life together.
None of the couples who said no at the altar—Salvador and Mallory, Shane and Natalie, and Deepti and Shake—have reunited, though Shane and Natalie admitted that they did give their relationship another shot after the show ended.
And of course, we're not surprised to see that Shaina and Kyle haven't rekindled their relationship. In fact, Shaina has said she now has a serious boyfriend!
When was the Love is Blind reunion filmed?
Netflix confirmed that the second season of Love is Blind was actually filmed almost a year ago, back in the Spring of 2021.
The whole process takes place over around six weeks only, with 10 days of that spent in the pods. The rest of the time, the couples are on honeymoon, moving in with one another, and preparing for their wedding.
As for the reunion, it's not clear exactly when the episode was filmed. However, the cast had all seen the edited version of the show, so it likely took place fairly recently, as the show only began airing at the beginning of February 2022.
It's currently unclear whether Love is Blind will return for a two-years-later reunion à la season one, but we're keeping our fingers crossed!
Amy Hunt is a lifestyle writer and editor, and was previously Lifestyle Channel Editor at womanandhome.com, having been with the brand since 2015. She is passionate about everything from entertainment to books, to homes, food and wellness. When she isn't editing, researching or writing articles, he's busy burying her nose in a gripping thriller, practising yoga, or buying new homeware.