Here's where to find the entire Love is Blind season 2 cast on Instagram
The Love is Blind season 2 cast have given fans a glimpse at their lives beyond the show on Instagram...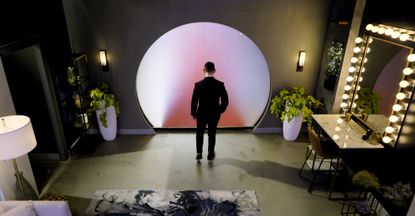 (Image credit: Netflix)
If you haven't already started deep-diving into the Love Is Blind season 2 cast on Instagram to learn more about your favorite stars then can you really call yourself a fan?
The show's second season is based in Chicago, Illinois, and saw the same unique dating method put to the test. Over the space of four weeks, two singletons go from meeting each other to becoming fiancées.
Ever since the first part of Love is Blind season 2 dropped, viewers were left agonizing over how things would play out for the new Love is Blind couples. Now after tension, tears and a few steamy moments, the lovebirds have said their "I dos"—or "I don'ts".
And Love is Blind season 2 part 2 has certainly got us rooting for some couples and terrified that others are making a HUGE mistake. After all, we all know where the Love is Blind couples are now (from season 1, that is) and most didn't get their happy-ever-after.
---
---
But while every Love is Blind fan will have their favorite couples, when it comes to the individual Love is Blind season 2 cast members their Instagram accounts give us a glimpse into their lives outside the show's bubble. Whether or not their lives with be as compatible with their future spouses' remains to be seen...
Meet the 'Love is Blind' season 2 cast on Instagram
1. Nick Thompson: @nthompson513
Fans won't be surprised that Nick's adorable dog Greyson features heavily on the Love is Blind season 2 cast member's Instagram. The star is Vice President of Product Marketing for a computer software company and he's also a self-confessed "neat freak". On the show, he's engaged to marry Danielle, but their fiery relationship has seen many an argument and as the big day dawns, it's definitely not a certainty that they'll say, "I do".
2. Danielle Ruhl: @dnellruhl
Marketing Director Danielle was the first Love is Blind season 2 cast member to accept a proposal on the show and her Instagram shows her relaxed and fun side. She and Nick might have been through a lot on Love is Blind, but their genuine feelings for each other are clear to see. Danielle has also been just as open about mental health and anxiety on social media as she has been on the show.
3. Abhishek 'Shake' Chatterjee: @thepuppydoc
Vet Shake might have a high-stress job looking after other people's beloved pets but he knows how to let loose with his second career as a DJ. After a shaky start for him and his fiancée Deepti on Love is Blind season 2 and despite his fears that he sees her as an "aunt" whilst loving her "emotionally", these two do seem very loved-up in Shake's recent Instagram posts. And his family certainly seems to approve of Shake's choice of future wife, prompting one of the most heart-warming meet-the-parents scenes on the show.
4. Deepti Vempati: @lifewithdeeps
Data analyst Deepti analyzed Shake during their time in the Pods and despite the strangeness of this experimental environment, she deemed him to be the perfect future husband for her. The couple bonded over similar stories and couldn't have been more excited when they finally came face-to-face after all that time. Deepti seems more than ready to embrace a new life with Shake as she spoke of being excited to move into his super stylish Chicago apartment with him. We'll leave it at that to avoid spoilers...
5. Salvador Perez: @salvadior08
We all know Sal loves a bit of music (who could forget his adorable song to Mallory?) and he's not afraid to showcase his passion and musical talents on Instagram. This Love is Blind season 2 cast member can sing, play the ukulele and who knows what else? He and Mallory also have one of the sweetest connections on the show and after one slight hiccup when he was concerned she still had feelings for Jarrette, things have gone relatively smoothly as their big day draws nearer.
6. Mallory Zapata: @malloryzapata
Love is Blind season 2 cast member and Communications Manager Mallory's positivity comes shining through in her Instagram posts. She had a tricky decision to make in the Pods, weighing up her feelings for Jarrette and Sal before she'd ever met the two of them.
7. Natalie Lee: @natalieminalee
Natalie is a Consulting Manager who knows what she wants out of life and what she wants on Love is Blind season 2 is fellow cast member Shayne. On Instagram, Natalie shows her relaxed side with heartfelt posts, many of which are outside in nature. On Love is Blind her kindness and love for her family makes her one of the most-loved stars. But after a sometimes-difficult path with fiancé Shayne, Natalie certainly deserves a happy-ever-after at the end of it.
8. Shayne Jansen: @shaynejansen
Shayne might not have made the best first impression on Love is Blind season 2—on Natalie or the viewers at home. After mixing up Natalie and Shaina when he was getting to know them in the Pods, Natalie was left upset. But they soon put it behind them and he told Shaina in no uncertain terms that Natalie was the one for him. Despite a few arguments here and there, they seem ready and eager to say their vows in the finale episode.
9. Jarrette Jones: @thejjones_05
Jarrette was yet another Love is Blind season 2 cast member whose passion comes out on Instagram—his love of his city. A proud Chicagoan, this is clear for all to see and Jarrette seems to genuinely want to be just as clear about all his feelings on the show. After almost proposing to Mallory, he ended up engaged to Iyanna and his father has even agreed to officiate their wedding.
10. Iyanna McNeely: @iyanna.amor
Iyanna was initially left a little uncertain of exactly where she stood with fellow Love is Blind season 2 cast member Jarrette. After all, he did check what Mallory's thoughts on marrying him were before eventually proposing to Iyanna. But it's clear that she's his number one now they're living together outside the Pods. The Program Coordinator will soon be walking down that aisle as they prepare to spend the rest of their lives together.
11. Kyle Abrams: @kyleabrams10
Kyle appears to be deep in contemplation in one of his recent Instagram posts and the Love is Blind season 2 star was similarly thoughtful when it came to his romance with Shaina on the show. After trying to make things work and even meeting each other's families, eventually Shaina told Kyle she couldn't imagine them becoming husband and wife given their differences. Sadly, this meant Kyle also left the show, though fans will no doubt continue to remember his best Love is Blind moments.
12. Shaina Hurley: @shaina.hurley
Shaina sent shockwaves throughout the majority of Love is Blind season 2 part 2 after it became clear not only that she and Kyle sadly weren't meant to be, but that she still harbored feelings for Shayne. Yes, Natalie's fiancée Shayne. After Shaina called time on her and Kyle's relationship and expressed concern about the differences between his atheist and her Christian beliefs, the hairstylist met up with her fellow stars and told Shayne she wasn't sure about him and Natalie together. He stayed true to his fiancée, though, leaving Shaina still looking for romance.
And if her Instagram is anything to go by, she's one Love is Blind season 2 cast member who's enjoying being back at work doing what they love!
Love Is Blind season 3 begins on October 19. Meet the new Love Is Blind cast—season 3 has 30 newbies entering the pods!
Emma is a Senior Lifestyle Writer with five years experience working in digital publishing, ranging from book publishing to magazines. She currently looks after all things Lifestyle for Woman&Home, GoodToKnow and My Imperfect Life.
Before she joined Future Publishing, Emma graduated from the University of Warwick with a Bachelor of Arts degree in English and Comparative Literary Studies. After leaving education, she started out her publishing career in the world of books, working as a Publisher for an independent digital publisher specializing in back-list and debut commercial fiction novels. With a huge book list and a passion for bringing the best stories to the broadest audience possible, Emma filled her spare time with reading the latest best-sellers and catching up on hit adaptations.
In 2017 she joined TI Media as a fiction writing coordinator on Woman's Weekly and Woman's Weekly Fiction as part of the features team. From here, she used her love of books, working to bring short stories to our dedicated readers and began writing for the books pages of Woman, Woman's Own and Woman&Home, as well as online features ranging from genre round-ups to travel pieces for womanandhome.com.
After honing her skills, Emma branched out online in 2020 when Future gave her the opportunity to focus on digital-first. When she's not writing about the next big lifestyle trend, she enjoys cooking, long walks and watching as many crime dramas as she can!