Everything we learned from Love Island's family reunion episode
It's emotional... the islanders meet their families and get the goss from the outside world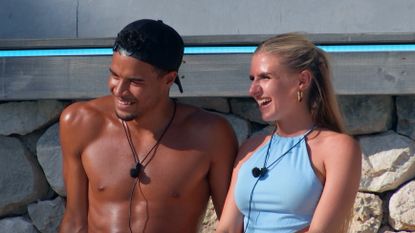 (Image credit: ITV)
You may be a reality star, kicking back on the sun loungers waiting to get out of the villa to your adoring fans, your fast-fashion clothes deal, and your newly boosted Insta account, but there's nothing like your family for bringing you down to earth.
Every season, the family reunion episode is hotly anticipated as the islanders get to see how they (and their partners) are viewed by friends, family and the outside world and it's ALWAYS an emosh experience. 2021 Love Islanders meeting their families was no exception 😎. Here are some of the things we and the rest of LI fans have been talking about.
Toby's sister, Shauna, is the best
Now we all know that Toby's been a handful in the villa, flitting from girl to girl and causing chaos until he finally settled down with Chloe (again)... Toby's little sister—the super cool Shauna Aromolaran—has been watching his antics with impatience like the rest of us. Just a few weeks ago she was using her TikTok channel @shauna_aro to put her brother on blast for his philandering ways—lip-syncing "Why you act like that? You don't see how you act" to a track with a promo poster of Toby in the background and captioned it "my brothers at it again 🙃". Just a few weeks later and how things have changed. Toby's a changed (and loved-up) man and when he burst into tears at the sight of his family coming into the villa, little sister Shauna joined him in a few tears but said "I don't even know why I'm crying, it's not that deep". Aww, we love him too, Shauna.
Brb crying into our phone #LoveIsland pic.twitter.com/gGu42voUAjAugust 22, 2021
See more
Everyone loves the dads
Liam's dad oozed Welsh charm, complimenting everyone on how good-looking they were ("Television doesn't do you enough justice"), saying Millie was gorgeous all while styled in a linen shirt, slacks and Nike trainers. His delight in being there was shared by the viewers.
@emshelx says "Liam's dad: 'television doesn't do you any justice boys, you are so handsome and the girls are so beautiful' 🥺 I CANNOT."
"Petition to get Liam's dad back as a contestant on next year's Love Island.", says @SofieHagen
The official @LoveIsland account is on board "This is a Liam's dad stan account."
Tyler's dad is a straight-talker: told Tyler he'd done wrong, said no one from Casa had anything on Kaz, talked up his BBQ. And, just like that, we are forever in his thrall...
Iain Stirling is a fan "Right my new opening act on tour is Tyler's Dad. He comes out, tells everyone what's good for them then at the interval it's BBQ time!"
"Tyler's dad really just stole the whole season, can we give him the 50k?", says superfan @jasebyjason. Even the fashion stores are in on the love, Boohoo tweeted "petition for Tyler's dad to win the 50K"
The meeting between Teddy's brothers and Faye was...excruciating
Although Faye Winter and Teddy Soares have made up and seem super-happy after the Casa Amor/Mad Movies dramas now, we didn't think Teddy's family would forgive and forget quite so easily. And so it was to be...
When Teddy's brothers, Sidney and Carlos were introduced to Faye the vibe was decidedly icy. Not surprising really, after the screaming tirade she launched at Teddy that triggered over 24,000 viewer complaints to the broadcasting regulator. Faye tried to apologize and laugh it off, Teddy's brothers weren't having it "You were terrible, really terrible, bad is an understatement". Somehow we don't think she'll be invited for a home-cooked dinner anytime soon. Brrr… 🥶
Kaz and her sister are a cute double-act
A high-energy, high decibel pair of siblings. We loved the fact that they spent most of their time talking about: how good Kaz looks and the fact that Kaz is now wearing Crocs (they're still a hard pass from us). Tyler was very much an afterthought...
Kaz and her sister's energy is everything #LoveIsland pic.twitter.com/unvecOlBO6August 22, 2021
See more
Chloe and her identikit family
As a result of the family visit we now know that not only do Chloe, her mum and Chloe's sister look and sound alike but the resemblance clearly runs to a shared personality. Chloe's mum burst into the villa like a whirlwind, shouting "Darling, you have been fantastic. You have been ICONIC!". Similar energy to Chloe's "no waaay"—which is one of our favorite Love Island memes. So now we know where Chloe gets the dramedy from. And it seems Chloe's younger sister Bridie is just as funny, direct and as forthright as Chloe, asking her "How much sex do you actually need to have"?
People are surprised and delighted that Toby's mum is Irish
Now, if you're a super-fan you'll already know this—as Toby's mum made an appearance on Love Island: Aftersun a few weeks back. And, at the time, as a no-nonsense mother from Mayo, Ireland, she had some stern words for her son's bad behavior. This time—now that Toby's completed the switch from Kaz to Chloe, Chloe to Abi, Abi to Mary and back to the Chlo-ster—she was much happier with her boy. Even if she had to switch off for the raunchy Hideaway scenes. And she even invited Chloe over to the house for a roast #smallsteps
"Toby's Mam is Irish???? Irish in the UK, assemble" says @TooManyEmmas
---
---
Louise is Content Director for My Imperfect Life, helping the team to develop and grow our newest lifestyle brand. Louise has worked in content strategy, production, and audience development, for leading film, TV and entertainment companies, including the BFI, ITV and WarnerMedia, for over 15 years.
Always fascinated by the next digital trend, I'm currently obsessed with FilmTok. Otherwise, you can find me extolling the virtues of Smallville, rom-coms, Wong Kar Wei and Monty Don/Gardener's World.