This best selling fragrance is currently on sale—and will win you endless compliments
This is your sign to change up your signature scent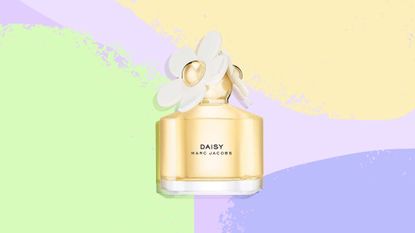 (Image credit: Marc Jacobs)
Our favorite perfumes can say a lot about us, whether you're into sweet, fruity scents or sultry musky notes. Everyone has their preference, but there are some perfumes out there that will always get you compliments. Daisy by Marc Jacobs is one of those very scents and it's included in the best Black Friday perfume deals!
If you haven't had the pleasure of smelling or buying Daisy for yourself, we're about to change your life. Daisy is the best-selling fragrance from Marc Jacobs, adored for its fresh, light, and sophisticated floral scent—not to mention its beautiful bottle.
What does it smell like?
So good, it's actually in our edit of the best perfume for women. Marc Jacobs Daisy has top notes of wild berries, white violet, and hints of jasmine and sandalwood, and is truly a classic scent.
As our resident fragrance expert says, "it opens with sparkling notes of grapefruit and strawberry while florals such as gardenia and jasmine keep things on the right side of sweet."
It's the sort of smell that will float around with you—but not be overpowering. It will make people want to lean just a little bit closer and is definitely a perfume you can wear to bed—yes that's a thing.
It's a compliment bringer for sure, and perfect all year round thanks to the fresh jasmine and warm sandalwood.
Marc Jacobs, Daisy: the need to know
Fragrance Family: Floral, fruity

Top notes: Violet leaf, strawberry, grapefruit
Middle notes: Violet, gardenia, jasmine
Base notes: Musk, vanilla, sandalwood
Best US Black Friday deals on Daisy by Marc Jacobs
Best UK Black Friday deals on Daisy by Marc Jacobs
Another of our all-time favorite scents is included in the Black Friday deals and is known for its incredible, long-lasting scent. Meet YSL's Libre Eau de Parfum Intense.
Trying out a new designer perfume isn't always on the cards for many of us during the year, so go on and treat yourself to these one-time Black Friday deals—you deserve it.