The best vanilla perfumes—whether you prefer sweet or subtle
Enjoy a lasting scent with one of our best vanilla perfumes, which are sweet yet sultry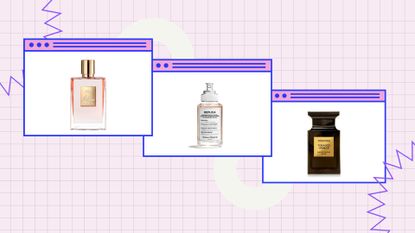 (Image credit: Future)
No fragrance wardrobe is complete without one of the best vanilla perfumes. Creamy and comforting with a splash of sweetness—vanilla is the ultimate crowd pleaser that, in the fragrance field, demands to be noticed. In fact, it's one of the most attractive fragrances around.
"Whether you want to smell sweet or not, we're naturally hardwired to find vanilla addictive," says Roja Dove, British perfumer and founder of his eponymous fragrance line. "It is a psychogenic aphrodisiac—and thus, has an undeniably appealing fragrance to the human nose," he continues. Hence why you'll find notes of vanilla in so many of the best perfumes for women.
"It's one of those notes that sits deep down in the base of a fragrance, meaning it is one of the last to dissipate from the skin," continues Dove, who loves working with this note. "It has a velvety-soft effect on the skin, and a great material for 'calming down' fragrances by making them pillowy-soft. It can also make things quite sensual, in an indulgent rather than carnal way."
Sold on the sweet stuff? Beauty editor Emma Stoddart has tried and tested as many as possible, in order to share her selection of the very best vanilla perfume options around. Whether you prefer a sweeter option or something more subtle, you'll find your vanilla fragrance match from our curated edit below. There are options for every budget, from affordable to luxury—and many would make for fantastic gifts, too.
How to pick the best vanilla perfumes for you
It can be tricky to know which vanilla perfume is right for you, given that you can't smell our edit through the screen! But in order to ascertain which you might prefer, Dove advises, "Consider the way it is used and whether it sounds like it will suit your style,". He has shared his tips below on how to find your signature vanilla scent:
If you like sweet and gourmand—"Consider a scent that features other gourmand notes like tonka bean, cacao, marshmallow and caramel. If reading a scent description like this makes your mouth water, then you're good to go gourmand."
If you prefer a complex scent—"Go for a scent where vanilla is doing more of a job—perhaps it's layered into a spicy fragrance to make it smoother; or maybe, it's paired with jasmine and tuberose to make it more sumptuous."
Whichever feels right for you, we've got a perfume below to match.
Best vanilla perfumes as reviewed by a beauty editor
1. Tom Ford Private Blend Tobacco Vanille Eau de Parfum
Best overall vanilla perfume
Specifications
RRP: $192/£178 for 50ml
Top notes: Tobacco leaf, aromatic spices
Heart notes: Tonka bean, tobacco flower, vanilla, cocoa
Base notes: Fruit accord, wood sap
Longevity: Long-lasting
Reasons to buy
+
Complex and smooth scent
+
Distinctive and unique
+
Impressive staying power
If you're after a masculine vanilla fragrance that's still got some sweetness to it, this could be the perfect perfume for you. On first sniff, we were hit by the creamy vanilla that's mingled with mild smoky tobacco (if you need help deciphering perfume notes, see our full guide). As it dries down, the dried fruits and spices kick in—leaving behind a warm, heady trail that's guaranteed to turn heads. It's complex with several layers, and we found that as the day wore on, we grew to like the fragrance more and more.
"Tobacco Vanille is opulent, warm and iconic. Reminiscent of an English gentleman's club and blended with rich spices, vanilla and tobacco flower, it leaves a powerful impression," says Mr Tom Ford himself—and it's definitely a great description of this scent. A brilliant pick for cool evenings and the winter weather, this vanilla perfume is essentially a cosy, cashmere blanket in fragrance form. For the summer months, we reckon it may be a little too overpowering; but we'll let you be the judge of that.
2. Dior Vanilla Diorama Fragrance
Best luxury vanilla perfume
Specifications
RRP: $125/£110 for 40ml
Top notes: Orange, pink pepper, lemon
Heart notes: Rum, cacao, cardamom
Base notes: Bourbon vanilla, sandalwood, patchouli
Longevity: Long-lasting
Reasons to buy
+
High quality vanilla
+
Very well balanced
+
Addictive scent
If you're into vanilla (we assume you are, if you're reading this best vanilla perfume guide), we strongly advise that you pick up a sample of this scent, pronto. A beautiful well-balanced blend, Vanilla Diorama ticks all our boxes and then some. Contrasting sharp and sweet notes, the scent opens with bright orange and zesty lemon before making way for boozy rum, bitter cacao and spicy cardamom. At the base is where you'll find the vanilla, alongside patchouli and sandalwood, which together ground this scent. Overall, it's warm, decadent, spicy, boozy and sweet—almost edible, which is why we couldn't help but come back for more.
Although we struggled to find fault with this fragrance, it's worth noting that the dry down is very sweet—which may not be for everyone. It's also fairly pricey, but is one of the best long-lasting perfumes and is more affordable than our top pick, so if you want a seriously impressive vanilla fragrance, look no further.
3. Laura Mercier Ambre Vanille Eau de Toilette
Best affordable vanilla perfume
Specifications
RRP: $75/£50 for 50ml
Top notes: Orchid, heliotrope, tangerine
Heart notes: Coconut, almond
Base note: Sandalwood
Longevity: Moderate
Reasons to buy
+
Warm and cozy
+
Not overpowering
+
Nostalgic scent
Reasons to avoid
-
Has a strong synthetic smell
This fragrance transported us right back to our childhood, as it conjures up the smell of freshly baked cookies wafting around the kitchen. It's warm, comforting and cozy, with hints of vanilla and soft amber that become more intense as the scent warms on the skin. While we enjoyed the sense of nostalgia it creates, the lasting scent does smell synthetic when compared to other vanilla fragrances that we've tried though, so if you prefer something super natural, this might not be the right option for you.
With that being said, this fragrance does have several layers, opening with soft, powdery florals (think tangerine, orchid and heliotrope) that are enhanced by almond, brown sugar and coconut. If you're looking for a vanilla fragrance that works well all year round, this is a good, light option that's very affordable. But if you're after a high-quality vanilla scent and don't mind spending a bit more we'd recommend opting for another pick featured in our best vanilla perfume line-up instead.
4. By Kilian Love Don't Be Shy Eau de Parfum
Best sweet vanilla perfume
Specifications
RRP: $200/£185 for 50ml
Top notes: Neroli, bergamot, pink pepper, coriander
Heart notes: Orange blossom, jasmine, honeysuckle, rose, iris
Base notes: Sugar, caramel, vanilla, musk, civet, labdanum
Longevity: Long-lasting
Reasons to buy
+
Distinctive and unique
+
Impressive staying power
+
Beautiful bottle—would look good on a dressing table
Reasons to avoid
-
Sweetness is a little overpowering
Did you know that this is Rihanna's favorite perfume? While we can totally imagine the singer pulling it off, we found that for us, it's a little too much on the sweet side. While this might be fine for some (preferable even), it was marginally too overpowering for our tester. Think fluffy marshmallows and orange blossoms laced with a generous dose of vanilla—and you get the gist. It's warm, sugary, feminine and addictive though, and will appeal to anyone who loves a sweet scent.
Asides from being sweet, this scent also features light, delicate notes—like jasmine and honeysuckle—that create a nice contrast. While we prefer an overall softer concoction, this fragrance has impressive staying power. It lasted on our skin all day and night. Plus, the following day, we could still catch a waft of that thick vanilla and marshmallow combo. For the right person, this has signature scent written all over it.
5. Maison Margiela Replica Coffee Break Eau de Toilette
Best comforting vanilla perfume
Specifications
RRP: $76/£49 for 30ml
Top notes: Pepper, orange blossom, patchouli
Heart notes: Lavender, coffee, milk, tonka bean
Base notes: Vanilla, vetiver, cedar
Longevity: Weak to moderate
Reasons to buy
+
Cozy and comforting
+
Addictive scent
+
Conjures up a café
Reasons to avoid
-
Scent doesn't stick around for long
Calling all coffee lovers, this one's for you. Capturing the cozy ambience of a warm café on a chilly winter's day, this beautiful blend smells both comforting and familiar. As opposed to smelling strongly of espresso, it smells more like a café—with frothy milk, velvety coffee beans and sweet vanilla dusted with lavender, to evoke the smell of freshly baked goods. We can practically taste it.
We can imagine wearing this fragrance all winter long. But even as we tested this during the sunny weather, we still enjoyed the calming aroma and received several "you smell great" compliments on this fragrance. The only downside? It doesn't stick around for long. We found that after a few hours the scent had really mellowed and was almost undetectable by the evening—which likely won't be ideal for many perfume lovers.
6. Jo Malone Vetiver & Golden Vanilla Cologne Intense
Best earthy vanilla perfume
Specifications
RRP: $97/£90 for 50ml
Top notes: Cardamom, grapefruit tea
Heart notes: Vetiver
Base notes: Vanilla bourbon
Longevity: Moderate
Reasons to buy
+
Smooth and sensual
+
Not sickly sweet
+
Good staying power
+
Rich and warm
Reasons to avoid
-
The vanilla may be too subtle for some
This is not your baked cookies, sweet vanilla kind of scent. No, this is far more rugged and 'cool-girl', with a much more nuanced fragrance. Opening with crisp grapefruit tea and a dash of cardamom, this scent starts off fresh and spicy. After a while, the starring note of vetiver shines through, adding an earthiness to the aroma.
Vanilla lies at the base of this scent, and is what gives the earthy, woodsy fragrance a smooth finish. We found that the vanilla is subtle here, adding a softness to the vetiver. So, if you're looking for intense vanilla, this may not be for you. Overall, it's a masculine, rich and warm fragrance that will transport you to Madagascar's vanilla-swept coastline. Note that a couple of spritzes is all you need for this scent to linger on the skin—as with most Jo Malone fragrances and Jo Malone candles, the scent is powerful and will last for ages.
7. Marc Jacobs Daisy Eau de Toilette
Best vanilla perfume for everyday wear
Specifications
RRP: $48/£46 for 30ml
Top notes: Violet leaf, blood grapefruit, strawberry
Heart notes: Violet, gardenia, jasmine
Base notes: Musk, white woods, vanilla
Longevity: Moderate
Reasons to buy
+
Fresh and feminine
+
Not overpowering
+
Great for summer
+
Beautiful bottle
Reasons to avoid
-
A very popular fragrance—so not an overly unique choice
A cult classic, Daisy by Marc Jacobs is the ultimate springtime scent. Perhaps not an obvious vanilla perfume, this fragrance opens with the fruity freshness of blood grapefruit and mouth-watering strawberry. Our first impressions were that this scent is light, breezy and youthful—a great choice for everyday wear, especially during spring and summer.
As the scent evolved on the skin, we started to detect the creamy vanilla and warming woodsy base which left a lasting impression once the freshness subsided. While we preferred the opening to the dry-down, the notes do go together well and create a pretty, joyful scent. Scent aside, we'd likely buy this fragrance for the beautiful bottle alone—it's center-piece worthy and be very welcome as a a gift. For this reason it had to make it to our best vanilla perfume line-up.
8. Roja Parfums Elixir Pour Femme Essence de Parfum
Best floral vanilla perfume
Specifications
RRP: $265/£245 for 100ml
Top notes: Bergamot
Heart notes: Lily of the valley, geranium, rose de mai, Jasmin de Grasse, ylang ylang, heliotrope, violet, raspberry, peach
Base notes: Violet leaves, cinnamon, cedarwood, sandalwood, vanilla, orris, ambrette, musk
Longevity: Moderate
Reasons to buy
+
Sophisticated and elegant
+
Makes an impression
+
Has a floral, powdery scent
Reasons to avoid
-
Expensive, considering longevity
If you're a fan of florals, turn your nose to this sophisticated (but very pricey) scent from Roja Parfums. Powdery and soft, this delicate scent combines fruits and florals (including rose, raspberry, peach and violet) with a musky, vanilla base that's feminine and elegant. We can imagine saving this scent for special occasions like a wedding.
While the first sniff packs a punch, we did find that this fragrance doesn't linger for long. After a few hours, we found that it becomes more of a skin scent—which isn't necessarily a bad thing—but considering the high price point, we were expecting a stronger performance. Overall, this fragrance (while it's detectable) smells expensive and delicious, being powdery, smooth and light with a fresh kick to boot. One of the best vanilla perfume options if you can spare the cash!
What scents smell good with vanilla?
Looking to pair your existing perfumes with vanilla?
Because vanilla is so versatile, it pairs perfectly with many other scents, and is a great note for layering. From fruits and florals to woods and ouds, vanilla can either be the star or the show, or it can add a smoothness to the dry down.
"With sweeter fruits and flowers, vanilla adds a creaminess," says Dove, "while for dryer notes like mosses and herbs, vanilla adds a slightly nectary aspect."
Essentially, it can be used with almost any perfume you have at home already—why not experiment and see which of these best vanilla perfume options work best with your favorite existing scent?
Freelance beauty journalist
Emma is a freelance beauty journalist who has worked in the beauty industry for six years for a number of titles—including Grazia, Stylist and Net-A-Porter. She has a particular interest in skincare, fragrance and makeup staples and has worked on producing editorial shoots with some of the industry's biggest artists—including Val Garland—and interviews with the likes of Patrick Ta, Pat McGrath, and Sam McKnight for all their insider tips and tricks.