The best microfiber hair towels—to dry hair and prevent frizz and breakages
We tested the best microfiber hair towels to help dry hair quickly and keep it healthy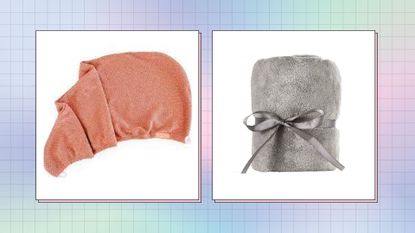 (Image credit: Future)
The best microfiber hair towels (as opposed to regular cotton options) will help speed up drying time, but they're also much kinder to your hair and will improve the overall condition of it.
This is because microfiber is a soft, synthetic material that's hailed for its incredible moisture-absorbing properties, which works by drawing water away without having to aggressively rub, squeeze or wring your hair out. In turn, that means you're less likely to experience unnecessary frizz or breakage. A microfiber towel is also an essential for the curly girl method, to maintain your natural curl pattern.
As with anything, though, there's an overwhelming choice available, and so it can be hard to know which one is best for your particular hair type. Not only do they come in different sizes and lengths, but there are some that are cut to shape and designed to fit around your head, and there are also different materials available too. Here, we run you through the best microfiber hair towels that we've tested to help you find one suited to your hair type, budget, and goals for your haircare. Use alongside one of the best brushes for curly hair, and you're good to go.
The best microfiber hair towels as reviewed by a beauty expert
1. Aquis Coppersure Rapid Dry Hair Wrap
Best microfiber hair towel for all hair types
Specifications
RRP: $35/£30
Material: 73% polyester, 24% nylon, 3% copper
Color: Orange
Size: 10.5" x 29"
Reasons to buy
+
Made with trademarked Copper Sure technology to keep bacteria at bay
+
From a trusted microfiber towel brand
+
Dries hair 50% faster
Reasons to avoid
-
Is on the more expensive side
-
Only available in one shade
Aquis is known, loved and respected for its microfiber towels, and is a firm favorite amongst beauty editors. As well as cutting down hair-drying time and reducing both frizz and breakage, this particular towel harnesses the power of Copper Sure technology.
What exactly does this mean? In short, it means that it features antimicrobial and antibacterial copper that works to repel bacteria, meaning the towel stays fresher for longer, and doesn't need to be washed as often—making it ideal for travelling with.
"I've been using an Aquis hair towel for years to soak up my hair when I wash it," says My Imperfect Life's in-house beauty expert Aleesha Badkar. "I have super thick, coarse, curly, long and naturally frizzy hair and I definitely noticed a huge change in both the length of my hair washing routine and the health of my hair after I started using this it.
"I've tried a lot of hair towels in the past but the microfibre material of this is honestly unmatched—it soaks up hair in a seconds and makes it so much easier to dry. It's left my hair so much smoother, as I don't have to rub the strands at all to dry so I'm not breaking the shafts. I have two different size options—the smaller turban style and the longer open towel style—and both are just as good, as the longer one contains my big mane better but the shorter wraps up nicely with a handy button to secure it."
2. DevaCurl DevaTowel Anti-Frizz Microfibre Towel
Best microfiber towel for natural and textured hair
Specifications
RRP: $22/£18
Material: 80% polyester and 20% polyamide
Color: Gray
Size: 39" x 20"
Reasons to buy
+
Specifically designed to prevent frizzing of curly and wavy hair
+
Big enough to fit around the whole head
Reasons to avoid
-
Some people with particularly long or thick hair say it's too small for them
-
The hanging loop could be stronger
DevaCurl, a US salon brand that's dedicated to all things curls, has been going for 25 years, and this towel is part of its popular range of products. Made from microfiber, it's designed to help reduce frizz and hair damage.
I loved how it gently wrapped around my curls, helping them to dry naturally and keep their shape and definition, while absorbing excess moisture. Experts recommend that those with curly hair actually avoid traditional towels because the texture of them may disrupt your curl pattern—so using a microfiber towel like this one will help enhance your hair's natural shape.
3. Dock & Bay Quick Dry Hair Turban
Best microfiber hair towel for the environmentally conscious
Specifications
RRP: £14 (not available in US)
Materials: 83% polyester and 17% polyamide
Color: Available in multiple colors
Size: 25" x 11"
Reasons to buy
+
Made from 100% recycled post-consumer plastic
+
Packaging is also 100% recyclable
+
Matching box makes it an ideal gift
+
Can be personalized
Reasons to avoid
-
May be difficult to secure in place on shorter hair styles
Available in a wide range of striped colors, from pastel pink to peach, gray and lilac, this hair wrap has thousands of five star reviews—and we can see why. Made from 100% recycled post-consumer plastic, not only is this towel good for the environment, but it also speeds up the drying time of your hair while reducing frizz.
It's light and compact, so you don't need to worry about the neck pain that can sometimes occur from using regular towels. Plus, not only does it come boxed in matching packaging that's fully recyclable, but it can also be personalized with initials if you buy it directly from the brand website, making it a fun and useful gift.
"This is my spare hair towel for taking on holiday," says Aleesha. "It's slightly less effective than the Aquis version, as the material isn't as porous. However, it does still do a great job at soaking up the hair—it just takes a bit longer than the Aquis towel to do the job and may not be as dry.
"That said, there is still no rubbing required with this one and it's easy to use with the smooth wrap and button function. I have a gorgeous pastel orange color but I love all of the designs of this pretty towel—and it even comes with a cute little box, which is great for packing it to travel with."
4. Immaculate Textiles XL Microfibre Hair Drying Towel
Best microfiber towel for extra long hair
Specifications
RRP: £8.95 (not available in US)
Materials: 70% polyester and 30% polyamide
Color: Turquoise, gray and white
Size: 51" x 25"
Reasons to buy
+
Big size makes it great for long or thick hair
+
Comes with a hanging loop, so it can be hung up to dry
+
Available in three different colors
Reasons to avoid
-
Isn't cut to shape, so might be harder to wrap around hair
-
No button to keep it in place, so may come undone if it's not secured tight enough
While many microfiber towels come in similar shapes and sizes, this is the biggest one we've found. Available on Amazon, it has large dimensions, so if you're somebody who struggles with finding towels that work for your hair length or thickness, this might be the solution you're looking for.
Available in three colors, it's also got slightly more polyamide, which is the material that gives it its cozy softness—so it'll feel more luxurious than some other towels. The only downside is that it's a rectangular shape, so it'll need to be twisted and secured like a traditional towel rather than being shaped to fit the head.
5. Only Curls Microfibre Hair Towel
Best microfiber towel for curly hair
Specifications
RRP: £17 (not available in US)
Material: 80% polyester and 20% polyamide
Color: Gray, silver and pink
Size: 37" x 23"
Reasons to buy
+
It's designed for all types of curly hair
+
Scrunch drying encourages bounce and enhances curl pattern
Reasons to avoid
-
Best suited to curly hair, so not one for those with naturally straight hair
Created especially for all curls, this towel drastically reduces drying time. Only Curls, as a brand, is hailed for its caring and gentle approach to all types of curly hairstyles, and alongside its cleansing and styling products sits this microfiber hair towel. Available in three different color options—gray, silver or pink—this thick, fluffy towel not only speeds up the drying time of hair while reducing flyaways, it's also great for scrunching hair dry.
One of our best curly hair tips: when you get out the shower, wrap it around your hair and instead of securing it in place with the button, tip your head upside down and scrunch upwards. This will work to help enhance your natural curl pattern while encouraging added bounce.
Lucy Partington has been a beauty journalist for eight years, writing for titles including Stylist and Cosmopolitan. She's a true skincare nerd who's on a lifelong quest for a glowing complexion and loves nothing more than learning about new ingredients and products. She's obsessed with having perfect eyebrows and collecting eyeshadow palettes she'll probably never use.