These are 2020's top trending beauty questions on Google - answered
We had a lot of questions about hair.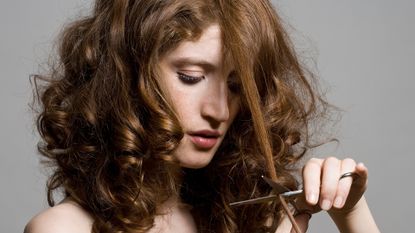 (Image credit: Ragnar Schmuck/getty Images/93192272)
It's fair to say that the beauty landscape has shifted significantly during Covid-19 and the top trending beauty questions on Google reflect that.
With hair and beauty salons closed due to Covid-19 safety concerns, it came as no surprise that most of the top trending beauty searches revolved around at-home beauty treatments as we took matters into our hands.
We're racked up a fair few hours watching skincare tutorials but the results show that we also had A LOT of questions about how to style, cut, colour and care for our hair. Curly hair tips were an especially hot topic.
Ahead are your most burning beauty questions - answered...
"How to cut men's hair at home"
At home haircuts were obviously a recurring theme this year. Chris Appleton, hairstylist to Kim Kardashian, lends a helping hand with this tutorial.
"How to wash your hands"
Government guidelines were clear: the best line of defence against Covid-19 is to wash your hands. Do so with warm water and soap or antibacterial hand wash for 20 seconds (or as long as it takes to sing 'Happy Birthday' in your head).
If you don't have access to a sink, use a hand sanitiser containing alcohol, which should be at a threshold of 60 per cent or higher.
"How to trim your own hair"
According to celebrity hair stylist Zoe Irwin, her 'invisible haircut' is a simplified version of 'hair dusting', where only damaged parts of the hair strand are culled.
"I use this technique on models before a shoot to get their hair looking its best without a dramatic cut," Irwin explains. "When hair is dry, take large sections and twist them with one hand. With the other, run your finger up the section of hair to fluff up any split ends. Using a sharp pair of scissors, snip off any hairs are split in two. You only need to take a millimetre off.'
"What order to do skincare"
The way in which you apply you skincare affects how well it works. The first step in your morning and night routine is always cleansing as this lifts away any actives applied overnight or daily grime at the end of the day. Use a toner to sweep away excess cleanser residue.
Apply the rule 'thinnest to thickest'; always apply serum underneath moisturizer to aid absorption and to lock in actives.
During the day use an antioxidant serum to protect against the ageing effects of UV and pollution. After moisturizing apply SPF30+ to ramp up that free radical protection.
Overnight is when you should apply your best retinol serums to boost collagen production and improve cell turnover. Use a richer night cream and scan the ingredients list for skin soothers such as niacinamide, chamomile extract and ceramides to counteract redness or dryness from the retinol.
"How to plop hair"
If you were blessed with curls, the curly-hair method of plopping will ensure you don't lose curl definition to frizz.
Put simply, plopping is a technique to use after you've applied your styling products but before you start to dry your hair.
Using a T-shirt or microfibre towel, flip your head forward so that all your hair is in the centre then wrap it into a turban on top of your head. The T-shirt or microfibre towel will soak up moisture without roughing up the cuticles like a terry cloth towel would.
By drying your hair on top of your head you also get extra root lift. Genius.
"How to colour your hair at home"
We still recommend leaving hair colour to the pros but desperate times call for desperate measures.
New York hairstylist Brad Mondo shared a helpful YouTube video with tips and tricks for colouring hair at home. Our favourite: "Don't wash your hair for several days if you're bleaching as that way you'll have a good amount of oil secretion to protect your scalp."
"How to style curtain bangs"
First up, what are curtain bangs? Think face-framing bangs that are shorter in the center and longer on the sides and parted down the middle. A good round brush and hairdryer are musts. First rough dry your hair then use a round brush to give your bangs extra body. If you want a more defined flick, use a flat iron and twist out and away from your face.
"How to do knotless braids"
Knotless box braids were one of the biggest braid trends of the summer. It seems we are up for trying to do them on our own so this tutorial will come in handy.
Fiona Embleton is a multi-award-winning beauty editor who has tested over 10,000 products in her 10 years + of writing and shooting beauty stories. For the past four years, she was the Senior Beauty Editor at Marie Claire, having previously worked in the role of Beauty Editor at both Stylist and Cosmopolitan. She has recently gone freelance and alongside My Imperfect Life, she has written for titles including ELLE UK, ELLE Canada, Buro 247, Harper's Bazaar Arabia, Vogue Scandinavia, and ES Magazine. Beauty journalism allowed her to marry up her first-class degree in English Literature and Language (she's a stickler for grammar and a self-confessed ingredients geek) with a passion for make-up and skincare, photography, and catwalk trends. She loves jumping on the latest internet-breaking beauty news, dissecting the best red carpet looks, and having the crème de la crème of dermatologists, make-up artists, and hairstylists on speed dial so she can tap them for the best advice. She's a discerning beauty shopper and knows it can be confusing trying to navigate what's hype and what really works. So if she really likes something, you can trust that she has reached that opinion by vetting it against everything else she's ever tried. Her career highs? Interviewing Cate Blanchett and winning a Jasmine Award for the deeply personal feature Cancer Stole My Mother's Scent.