Kiehl's Ultra Light Daily UV Defense Aqua Gel SPF50 review—why we love this strong but lightweight hero
Our Kiehl's Ultra Light Daily UV Defense Aqua Gel SPF50 review shines light on this lightweight hero that packs in the protection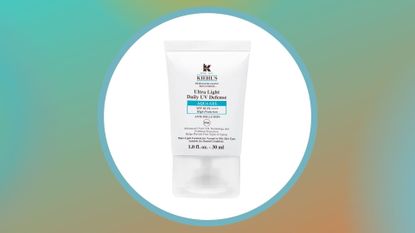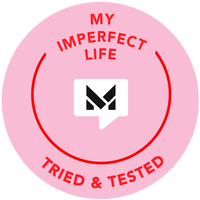 (Image credit: Future/Kiehl's)
My Imperfect Life Verdict
A powerhouse daily facial sunscreen that protects against harmful UVA and UVB rays while also having added antioxidant and blue light protection.
Reasons to buy
+

Contains SPF50—the highest level of UVB protection

+

Has a UVA rating of PA++++ which is considered extremely high

+

Non-comedogenic so won't clog pores

+

Lightweight formula that's invisible on skin

+

Non-greasy

+

Available in two sizes—30ml and 60ml
Reasons to avoid
-

Contains alcohol denat that can be drying

-

On the expensive side (but a worthy investment)

-

More of a white cream formula than a traditional gel—despite the name
Our Kiehl's Ultra Light Daily UV Defense Aqua Gel SPF50 review delivers everything you need to know about this best-selling sunscreen and explains why this is one of our favourite sunscreens.
It's no secret that SPF is a product that is recommended to be worn every single day—we've constantly got one of the best sunscreens for face in our bag. 90% of skin ageing is caused by the harmful UV rays that are emitted by the sun and wearing sunscreen every day of the year not only reduces the damage but also helps protect against things like skin cancer too.
While there was a time that SPF was pore-clogging, greasy, and generally extremely unpleasant to wear, formulas and technology have come a long way and it's now a much easier product to slip into your daily routine. This product is the best example of combining an aesthetically pleasing product with hardworking, protective ingredients.
Kiehl's Ultra Light Daily UV Defense Aqua Gel SPF50: the need to know
The Ultra Light Daily UV Defense Aqua Gel SPF50 is part of a fairly extensive sun protection range from Kiehl's and it prides itself on being suitable for all skin types, including those who have sensitive or reactive skin. It's a non-comedogenic formula which means it won't clog pores and it's also fragrance-free and has an extremely lightweight texture. It has a sun protection factor (SPF) of 50, which is highly recommended to wear every single day by dermatologists and skin experts. It also provides high protection against UVA rays (PA++++)—which are the ones that cause premature ageing in the skin and that are also able to pass through clouds and windows, and are the reason you should ensure you're wearing sunscreen every day of the year, even if it's not sunny outside.
In addition to the UVA and UVB protection, it also has the added bonus of antioxidants that will work to defend skin against pollution and other environmental aggressors that can damage the skin.
Pricing:
Kiehl's Ultra Light Daily UV Defense Aqua Gel SPF50 is currently priced around $40/£30 for a 30ml bottle and $50/£40 for 60ml—so if it's value for money that you're looking for then it's better to pay a little bit extra to get double the amount of product. It's available to buy from a number of retailers, including kiehls.co.uk as well as websites like FeelUnique and LookFantastic where it is sometimes available to purchase using a discount code. Or, if you'd rather buy in-store, it's also stocked in shops including SpaceNK, Selfridges, and Harvey Nichols.
The packaging:
The bottle takes the form of a rectangular-shaped tube. It's easy to use and the product squeezes out nicely, which makes it a good format for ensuring you're able to quickly apply the right amount (which experts say should be around one shot glass full for your face and neck, or one whole tablespoon). The flexible plastic also means that, if necessary, you can cut the tube in half when it's almost empty in order to make sure you use up every last drop. Both the 30ml and the 60ml sizes are relatively small, too, meaning they're easy to travel with and are suitable sizes to go into your hand luggage if necessary.
What's inside counts
The formula:
First and foremost, this product is a sun protection cream. It boasts an SPF of 50, which is the highest UVB rating possible in this country, and it also has a 5-star UVA rating (PA++++ is the equivalent of 'extremely high') so it ticks both of those boxes nicely. In addition to both UVA and UVA protection, it has added vitamin E which works as an antioxidant and protects skin against environmental damage caused by things such as pollution, as well as working to help keep skin hydrated. It'd also fragrance-free and non-comedogenic, which makes it a good choice for those with sensitive or acne-prone skin.
The texture:
As mentioned previously in this article, despite the fact this product has 'gel' in its name, it's actually more of a cream texture but don't let that put you off. The product comes out as a fairly lightweight, moisturizer-esque lotion that absorbs into the skin quickly and easily. It blends out really nicely, doesn't pill and it also looks and feels invisible on the skin, too, which is a far cry from the sun lotions of yesteryear which were the complete opposite of this one.
The best way to use this SPF
As mentioned, this lotion is really lightweight and feels virtually invisible once applied. It's really easy to use either in your bathroom or while you're on the go, doesn't leave any sticky or oily residue behind, and instead will make you wonder why you didn't start wearing SPF sooner. Like all sunscreens, it's best applied as part of your morning skincare routine; it should be the last product you apply before makeup (ideally you would cleanse, use an antioxidant—like vitamin C—then if your skin needs it, a moisturizer before finally applying SPF). It's worth waiting a few minutes to allow each layer to properly absorb which helps them work to their full potential so they're as effective as can be.
Kiehl's Ultra Light Daily UV Defense Aqua Gel SPF50 review: the summary
In summary, Kiehl's Ultra Light Daily UV Defense Aqua Gel SPF50 is a bestselling, much-loved product for very good reason. It ticks every box in terms of having a high level of both UVA and UVB protection, plus it has the added benefit of anti-pollution and antioxidant ingredients which help make it a good choice for city dwellers. It's an incredibly lightweight formula that applies beautifully onto the skin, it's virtually invisible once applied and it also makes for the perfect base for makeup if you wanted to apply it on top.
The choice of two different sized bottles—one 30ml and one 60ml—is good, too, as it means you can either try a smaller version without committing or you can invest in a larger size which works out quite a bit cheaper. It's worth noting that Kiehl's is a well-respected, popular brand that has been creating effective and hardworking skincare since 1851. All in all, this SPF is an excellent choice for anybody who's yet to build sunscreen into their daily routine, or for somebody who is on the lookout for a new product to try.
Lucy Partington has been a beauty journalist for eight years, writing for titles including Stylist and Cosmopolitan. She's a true skincare nerd who's on a lifelong quest for a glowing complexion and loves nothing more than learning about new ingredients and products. She's obsessed with having perfect eyebrows and collecting eyeshadow palettes she'll probably never use.