Supergoop's Glowscreen Golden Hour shade is bronzed holiday skin in a tube
One beauty editor says the Supergoop Glowscreen Golden Hour shade is perfect for those who don't want the original's pale pearl finish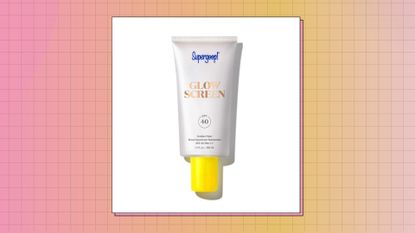 (Image credit: Future/Supergoop)
My Imperfect Life Verdict
A flexible golden bronze shade with just a hint of coverage, it's perfect for no makeup days—but oilier skin types need to take caution
Reasons to buy
+

Universal for most skin tones

+

Gentle, "lit-from-within" glow

+

Layers well under makeup

+

A healthy dose of SPF compared to other tinted moisturizers
Reasons to avoid
-

Can exaggerate shine in oily skin types

-

Not transfer-proof
If there's one beauty brand that makes sun protection fun, it's Supergoop. With its punchy yellow packaging and truly innovative formulas, it's a must for any SPF devotee or those just starting to get into it.
One of the best sunscreen for face buys, Unseen Sunscreen is probably Supergoop's most raved about offering—a clear, mattifying gel that's been a savior for those with deeper skin tones struggling to find an SPF that won't make them ashy. For hot and sweaty days at the beach, the Play SPF 50 range has a lotion (that also comes in a big half-liter bottle) and an easy-to-reapply aerosol spray and mousse. That's not to forget the setting powder in multiple shades, face mist, glossy lip balms, eyeshadows, and eye creams—all with at least SPF 40 and above.
And for an added hit of radiance, Glow Screen is a firm no-makeup favorite thanks to its pearlescent sheen that adds a little bit of coverage—similar to one of the best BB creams, CC creams, or tinted moisturizer, but with SPF 30. It's beautiful, but definitely for a limited range of light to paler olive skin tones. With the recent addition of its Golden Hour shade for lighter brown or dark olive tones, more people can now jump on the Glow Screen hype.
Meet the tester
Meet the tester
Meet the tester
Ava Welsing-Kitcher
My skin can feel tight after cleansing but will get shiny as the day progresses, especially along the T-zone. That being said, the best way to describe it is combination: sometimes dehydrated, sometimes oily, and often dry, but never with patches. I don't struggle with dull skin as mine responds quite well to consistent vitamin C usage and milder AHAs like lactic or mandelic acid.
I'm not necessarily after more glow as, luckily, my skin is quite radiant after using just moisturizer, but the new Golden Hour shade definitely drew me in because of its light coverage. I'm a tinted moisturizer fiend who rarely wears foundation anymore, but I do have some redness around my nostrils and slightly dark under-eyes, so I'm always on the hunt for hybrid skincare and makeup products to gently cover both day to day. As much as I love the finish of the original Glow Screen Sunrise shade, it's too pale and pearlescent for my skin tone and doesn't offer coverage on my skin at all. I use it to highlight my face and body sometimes but I find it's not worth the extra step, and it rubs off easily if only used in small quantities.
A beauty editor's honest review of Supergoop Glowscreen Golden Hour
Ingredients—what's in the Supergoop Glowscreen Golden Hour
The SPF40 formula has hyaluronic acid to hydrate, sea lavender, niacinamide to even out skin tone and control oil, vitamin B5 to plump and condition, and cocoa peptides to protect.
The finish is light and sheer, with a natural dose of bronze shimmer to illuminate the skin.
Application—How to apply the Supergoop Glow Screen Golden Hour
The recommended amount of sunscreen to use for the face is a teaspoon's worth, or two finger lengths. I blended it into my skin and onto my neck, using my fingers to warm the formula up—not that this was needed thanks to its light texture.
It can be topped up during the day if you're going to be in direct sunlight for more than a couple of hours, and blended fine over the original application.
The verdict—Is the Supergoop Glow Screen Golden Hour worth it?
The formula of Golden Hour feels exactly the same as the original Sunrise shade—the only difference is the slightly deeper, more bronze hue. It instantly added a subtle veil of coverage across my red areas and darker under-eyes without looking like makeup. My usual favorite skin/makeup hybrid products are By Terry's CC Serum in Sunny Flash, Victoria Beckham Beauty's Priming Moisturiser in Golden, and Drunk Elephant's D-Bronzi Drops, all of which are quite similar to Golden Hour in finish, but each with different lasting powers as the day goes on.
Golden Hour wore well for maybe three or four hours before the glow really started to intensify as my natural oiliness kicked in. My skin looked really healthy and luminous from a distance or on camera at this point, but up close or zoomed in, the added luminosity seemed to accentuate any uneven texture and had settled into some very fine lines and my eyelid creases. On one occasion I applied makeup on top and, despite everything blending perfectly and not pilling, the shininess of my face looked a bit garish alongside blusher and eyeshadow towards the end of the day.
The color itself matched my skin tone well and, once blended out, was surprisingly sheer. However, I had a suspicion that after a few days on the beach, my face would have tanned too much to be such a good match with Golden Hour, and anyone with deeper skin than mine might have the same issues that I have with the Sunrise shade. To test this, I tried it out on friends whose skin tones vary from medium brown to deep, and it actually had such a sheer finish that it didn't look too pale or ashy on them at all. It gave such a lovely luminosity across all their skin tones but didn't alter or deepen the tone—like it would on someone with paler skin who might rely on fake tan to bronze.
Ava Welsing-Kitcher is a freelance beauty journalist who's earned her stripes at InStyle, Stylist, and The Sunday Times STYLE. Though she can write about anything beauty and wellness, her main passion is hair - especially curly and afro textures. You can find her trawling through ingredients lists and product samples to really get to the bottom of what makes an excellent beauty buy.