Supergoop! is so comfortable for an SPF that I almost forget I'm wearing it—a beauty editor's review
If you're yet to try these famous sunscreens, our Supergoop! review is here to break down the top buys from the brand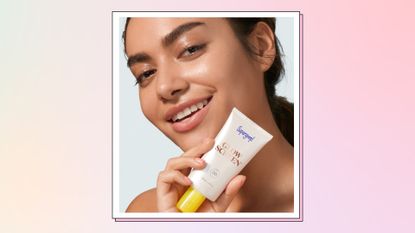 (Image credit: Supergoop!/Future)
My Imperfect Life Verdict
With a goal to get everybody wearing sunscreen 365 days a year—a mission we wholeheartedly support—it's easy to see why Supergoop!'s effective and comfortable formulas are so well-loved. We would like to see more formulas with an SPF 50+ rating, but overall these products make sunscreen application an easy and almost enjoyable hobby.
Reasons to buy
+

Range of finishes to suit different skin types

+

Mid-range price points

+

Every formula we tried is easy to apply

+

Great packaging
Reasons to avoid
-

Only one facial SPF is 50+
Supergoop! is one of those brands that, to our knowledge, everybody with an ounce of interest in skincare seems to love. That's why one of our contributing beauty experts has compiled a detailed Supergoop! sunscreen review, putting some of the key formulas through their paces.
Makers of some of the best face sunscreen buys on the market for over 15 years, the brand is recognized for its sunny yellow packaging and leading sun-shielding formulas. It's also a brand that does a lot of good, through its free postal recycling program and another that donates sunscreen to schools.
If you're yet to purchase anything from the brand and want to learn more about whether it's any good before parting with cash, our Supergoop! review ahead will equip you with everything you need to know.
The need to know
Skin types: All
Price range: from $12
USP: SPF products that work for every skin type and lifestyle, including unique formats such as eyeshadow
Formulas: Mineral and chemical formulas
Do products leave a white cast: None that we tried
Supergoop! sunscreen review by a beauty editor
What's in the Supergoop! sunscreen range?
Supergoop! came to be after founder Holly Thaggard made it her mission to learn more about the sun's damaging effects following a friend's skin cancer diagnosis. The brand was born as part of her mission to get more people wearing sunscreen every day, all year round, by creating formulas that are the opposite of what you might call the "traditional" notion of sunscreen—thick, greasy, and uncomfortable to wear. It's an SPF-only brand, so you know they're committed to the cause.
You may be wondering, is Supergoop! non-comedogenic? There's a list on the brand's website confirming that a lot of the products are, yes, including most of the facial sunscreen options. Deciding "is Supergoop safe" for you will depend on whether there are specific sunscreen ingredients you hope to avoid on each product's ingredient list, but the brand has a lengthy "No List" on its website breaking down every ingredient they formulate without.
The 40+ product range is far more extensive in the brand's US home than in other territories (I'm based in the UK), covering body sunscreens supersize editions, more makeup-skincare hybrids, and products that are suitable for babies and children, but the core facial range includes the following—though do note that some of the SPF ratings differ between territories.
Play Everyday Lotion SPF 50: an all-rounder traditional sunscreen
Unseen Sunscreen SPF 40: a clear gel primer-sunscreen hybrid
Mineral Mattescreen SPF 40: a whipped matte primer-sunscreen hybrid
Mineral Sheerscreen SPF 30: a mineral sunscreen promising a "featherlight" feel
Glowscreen SPF 40: a glowy primer-sunscreen hybrid
(Re)setting 100% Mineral Powder SPF 35: a powder sunscreen
Packaging is recyclable and made from post-consumer recycled materials—and you can return your empties through the free TerraCycle partner program. Very handily, particularly for those unfamiliar with industry symbols, each product's expiration date is also printed on the bottom of its cardboard carton.
Supergoop! sunscreen ingredients: what's in the formulas?
The word "clean" is very subjective as a beauty industry term, so I tend to avoid using it where possible—but, as mentioned, at the heart of Supergoop! is a considerable list of ingredients they don't feature in their sunscreen formulas. This includes oxybenzone and octinoxate, which have some of the biggest reputations for reef damage, as well as anatase titanium dioxide and para-aminobenzoic acid (PABA).
Key active ingredients that do feature on some of the INCI lists include avobenzone, octocrylene, octisalate, homosalate, titanium dioxide, and zinc oxide. There are both mineral and chemical sunscreen options on offer, as well as options to cater to all skin types—Unseen Sunscreen is oil-free, for example.
Is Supergoop! sunscreen good?
On first impressions alone, yes. Starting on a looks and functionality note, the packaging looks chic with its super cheerful color scheme while maintaining an easy-to-use feel; I had no issues dispensing any of the products I've tried from the range—I break down more detailed reviews ahead—and each one yielded fuss-free application.
One small bit of criticism: both Mattescreen and Unseen Sunscreen only come at an SPF of 30 in the UK, (higher at 40 in the US), and I like to use Factor 50 where possible. This is a non-negotiable in the summer months, so in my ideal world, these would be higher. That said, I do think it's positive that every product has an SPF rating of at least 30, which in my experience is the minimum that many dermatologists recommend wearing, and am aware that lots of the formulas carry SPF 40 in the US.
How it holds up: Is Supergoop! sunscreen worth it?
Few brands can rival Supergoop!'s extensive sunscreen product range, which ticks off just about every possible SPF iteration, from lip balms to eyeshadow. Branding-wise Ultra Violette and Hello Sunday are two that spring to mind that also make sunscreen feel "cool", though neither has as many products as you'll find on Supergoop!'s website. Those with very sensitive skin might prefer to put their trust in brands that put skin science at the forefront, such as La Roche-Posay or Avène.
I'd put Supergoop! in the mid-range price bracket, but I think it's more affordable than you'd judge from a glance. Sure, there are drugstore sunscreens that can be bought for less than Play Everyday Lotion's $22 or £20 price tag for 2.4fl oz or 71ml of product—slightly larger than a standard 1.7fl oz/50ml. But compare this with affordable favorite Garnier's Ambre Solaire Ultra-Light Sensitive Face Fluid SPF 50, £12 for 40ml in the UK, for example, and Supergoop! Play is actually marginally cheaper ml for ml.
Which Supergoop! sunscreen is the best?
Although I couldn't test every single Supergoop! product for this review—partly because the range is more limited in the UK—I selected three of the best sellers to put through their paces, breaking down my thoughts on each.
Supergoop! Play Everyday Lotion SPF 50 with Sunflower Extract
I'd describe this as the crowd-pleasing all-rounder of Supergoop!'s formulas. It offers a very high level of protection, rubbed in easily, left no white cast, was comfortable to wear and worked brilliantly both as the last step in my skincare routine and with makeup. As I've already touched on, I also think it's quite reasonably priced in terms of cost per wear.
My skin sits at the oilier end of the spectrum, and while this formula doesn't mattify your skin (nor does it claim to), my skin didn't become greasy with wear. I do think the formula feels hydrating and nourishing enough that it would play well with drier skin, too. However, if your skin is excessively dry, oily, or acne-prone, you may get on better with a more specially-formulated sunscreen. The same goes for very sensitive skin, particularly as the formula contains some natural fragrance. For me personally, though, it's the best Supergoop! sunscreen.
For
Blends in easily
High level of protection
Works on broad range of skin types and tones
Not too greasy
Smells great
Against
Does contain natural fragrance
Supergoop! Unseen Sunscreen SPF 30
One of the things that Supergoop! is famous for is sunscreens that play well with makeup, particularly those that are designed to feel like a makeup primer. Unseen Sunscreen is exactly that with a thick gel consistency and it's completely clear, so is designed to suit all skin tones. The texture doesn't feel like you're applying sunscreen, and while it does feel a little greasy when rubbing it in—don't panic, it is oil-free—this soon dries down. Just give it a few minutes to settle before starting your makeup.
I'd also recommend leaving time between the last step of your skincare routine and applying this over the top, but it does play well with makeup thanks to its primer texture. However, as with Mineral Mattescreen, if you're relying on it as your sole form of SPF you have to apply more than you might a makeup primer to ensure you're getting the "two fingers" of protection.
For
Primer-sunscreen hybrid
Gel texture
Invisible; works on all skin tones
Against
Only available in SPF 30 (40 in the US)
Supergoop! Mineral Mattescreen SPF 30
This is another of the brand's primer-style sunscreens. The texture is a bit like a mousse or whipped foundation, which being totally honest I didn't love the feel of, though it was very easy to apply using my fingers. The matte finish is undeniable, and it kept shine and grease at bay all day. Do note that it will also mattify whichever foundation you lay over the top—I found it dulled the sheeny finish of Giorgio Armani Luminous Silk—so bear this in mind if you aren't pairing it with one of the best foundations for oily skin that's also on the matte side.
Because it was so mattifying and is tinted, I thought it worked well when worn alone as a base product—though it's important to note that, to get adequate protection, you can't scrimp on application if you're relying on it as your sole form of SPF. This tint is to offset any white cast from its mineral formula and the brand notes: "[This] allows it to blend across a broader range of skin tones, however it does not work for all skin tones". It wasn't the best match for my pale skin, but not so off that I couldn't get away with it. However, it's still not as universal as some of the brand's other facial sunscreens.
For
Primer-sunscreen hybrid
Very matte finish
Can be worn alone or under makeup
Against
Only available in SPF 30 (40 in the US)
Tint is unlikely to suit every skin tone
Overall, my first impressions of Supergoop! are that it's an excellent brand—I'm keen to get my hands on more of the range during my next trip to the US! While I'd love to see more SPF 50 formulas available, there truly seems to be a product that ticks off almost every skin need, so check each product against your individual requirements and I'm confident you'll find a new sun protection fave here.
Lucy is a beauty journalist who has written for titles including Marie Claire, Cosmopolitan, OK!, woman&home and Women's Health, as well as regularly contributing to My Imperfect Life. Her work covers everything from skin and haircare tips to trying and testing the latest beauty launches, and interviewing celebrities and experts. A certified dog person, her other interests include mental wellbeing, books, piña coladas and not getting caught in the rain.