Eleiko dumbbells review: are these weights the best home workout accessory?
We tried and tested the Eleiko dumbbells—here's our verdict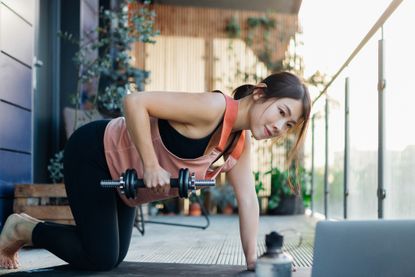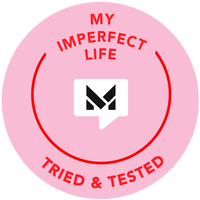 (Image credit: Getty)
My Imperfect Life Verdict
Serious, high-quality gym equipment for every level of fitness at a decent price. You can't say fairer than that!
Reasons to buy
+

Available in a range of weights so you can progress or work a range of different muscles

+

Ergonomic grip and anti-roll ends

+

Good eco-conscious credentials

+

Comparatively good value
Reasons to avoid
-

Having to buy singular weights can add up financially

-

These are quite bulky

-

Perhaps a little too "serious" looking for total beginners

-

Don't come with a storage unit—although the ends make them stackable
Wondering whether to invest in a pair of Eleiko dumbbells? Home workouts have become more and popular recently and a good pair of dumbbells is one of the most essential pieces to add to your fitness arsenal.
You may not have room for a whole gym in your home but there's certainly enough space for a few pairs of the best dumbbells for women and the best yoga mats you've got.
The key to getting yourself set up is to have a good range of weights for different muscles and progressions. There's no point in just having a set of 4KG weights if you can bicep curl 8KG on each side. You want to feel challenged, which means having something to work with now and something to move onto later. You want a pair that is easy to grip, safe to drop, and manageable to lift—and that's where Eleiko comes in.
Eleiko's XF dumbbells are exactly like the ones you'll find in any smart gym. In fact, they're similar to Technogym's free weights, except for the fact that Technogym's start from $100 (£75) for one 5KG dumbbell, while Eleiko's start at only $15 (£12) for 1KG or $27 (£21) for 5KG. They're clean, user-friendly, stackable, anti-roll, and—crucially—available in a wide range of weights.
Eleiko dumbbells: everything to know
When you're working out at home, you want three things from your weights:
Anti-slip handles (no one wants to drop a weight on their foot because their hands were sweating)

Protective endings (so that you won't damage your floor if you do drop them)

A decent weight range (because you still want to make gains, even if you're not at the gym!)
With Eleiko's XF offerings, you don't have to compromise on gym-quality just because you're at home, and that's important. For those of us who are used to working out and want to carry on getting stronger from the safety or convenience of our bedrooms, we don't want to compromise on smaller weights. We want to lift heavy while secure in the knowledge that our kit is as modern and safe as it can be.
I've got a pair of 5KGs and 15KGs. I've been using my 5KGs for bicep curls, shoulder presses, and renegade rows, while I tend to squat one 15KG dumbbell or do a short set of deadlifts using both. They're heavy but the grip is so good on these bad boys that I'm yet to lose control.
If you're looking to do more complicated moves like dumbbell push-ups, renegade rows, and dumbbell floor presses, the hexagonal endings are a blessing. They're much more stable, allowing you to really focus on form rather than balance, and for those floor presses, there's no pesky bouncing when you bring them to meet each other at the top of the move. Sure, the better your core strength, the less you might care about super solid dumbbells but for most of us, we could use all the support we can get!
One thing you may have experienced when you're lifting or working with weights is sore wrists. Wrist pain tends to come from improper wrist positioning, overloading, or overuse—so if you start to experience a dull ache, it's probably time to take a break. However, you may find that weights with a good grip can help release some of that tension (so you're not having to hang on for dear life), as well as looking to strengthen your back and core muscles.

Rather than using two weights, think about using one medium-sized dumbbell for Russian twists, sit-ups into an overhead press, and lighter weights for flies, targeting that hard to reach back area. Again, Eleiko's XR dumbbells come in such a wide range that even if you just have one lighter pair and one or two heavier weights, you can do this sort of strength and conditioning work easily.
Why choose Eleiko dumbbells over others?
Well, it's got to be down to the range of weights available and their price. Compared to lots of dumbbells geared at women, the Eleiko dumbbells are more expensive, less colorful and altogether more "serious" looking—but that's no bad thing. Many women are serious about getting stronger and Eleiko's range offers us the opportunity to do so.

As previously mentioned, they're cheaper than other gym-standard weights and they range from 1KG to 40KG—way heavier than most people can lift. That means that you could target even the smallest muscles or start as an absolute beginner and slowly work your way up.
If you can only afford one pair, grab a pair of 5KGs and use them to work the bigger muscle groups via squats, walking lunges, and shoulder presses (even if you only lift one weight with both hands).
Are Eleiko dumbbells eco-friendly?
Aesthetics and utility aside, a key part of Eleiko's appeal is its commitment to sustainability. The fitness industry is slowly waking up to its carbon responsibilities, with brands offering sustainable activewear and activewear accessories, and Eleiko is actively working with the Swedish government on "The Generational Goal"—an initiative to "leave the environment in a better state for the next generation."
That's why Eleiko launched its own "A Stronger World" focus back in 2017, committing to identifying opportunities in its processes, product development, and supply chain for greater protection and contributions to a healthy environment and to promote sustainable practices. You can read the brand's sustainability policy as well as its 2019 annual report. In 2021, can we really afford to continue buying fitness fodder from companies that don't have any environmental or social commitments? We don't think so!
If you want a pair of weights that are reliable, heavy, and sustainable, Eleiko dumbbells are the ones for you.
Miranda is a fitness, wellness and sustainability journalist with almost a decade's worth of experience writing and editing articles on everything from ultramarathon training to sports hypnosis. A qualified level 3 PT and three-time marathoner, you'll probably find her clocking up the miles on the Regent's Canal, racing around town on her Tokyo Bike in the pursuit of the perfect vegan croissant, or trying out the latest gym class.