The best pore cleansing tools for fresh and clear skin
These best pore cleansing tools will help you clear your pores from the comfort of your own home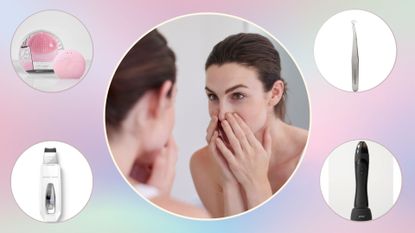 (Image credit: Future)
The best pore cleansing tools can help you unclog your pores from home to keep blackheads, whiteheads, and other forms of acne at bay. But it's important to choose the correct tool for your needs and routine so that you're more encourage to fit the ritual into your skincare routine—whether you choose to use it daily, weekly or monthly.
"Oilier skin types are certainly more prone to clogged pores, and it's also more common to get blocked pores with age as our skin loses elasticity. This leads to looser pores that are more prone to holding onto plugs," explains expert Dr Sophie Shotter. "Another big risk is the use of comedogenic skincare ingredients, which can be found both in skincare and in make-up."
Your pores act as an opening to a canal called a follicle. Each follicle contains hair and oil glands, but can also get clogged up with dead skin cells, dirt, make-up and excess oil—leading to spotty skin in all its forms, regardless of which side of the non-comedogenic vs oil-free foundation debate you fall on.
A big fan of those small metal loops (aka comedone extractors), Shotter believes they are an excellent tool to extract gunk from the pores and "minimise the risk of trauma to the pore as you extract." But there are a range of pore cleansing tool options, from ultrasonic wave cleansing devices to pore suctioning vacuum-like apparatus that clear out the pores, so we put them to the test.
Meet the experts on pore cleansing tools
The best pore cleansing tools as tested by a beauty editor
1. Nurse Jamie Dermascrape Ultrasonic Skin Scrubbing & Skincare Enhancing Tool 
Reasons to buy
+
Ultrasonic technology
+
Multi-use
Reasons to avoid
-
Pricey
-
Extraction mode is tricky to use
Understanding that pore clearing takes a multi-pronged approach Jamie Sherrill, or Nurse Jamie as she's known in the beauty world, created the Dermascrape to aid in every step of your pore cleansing regime. The ergonomic device with a metal spatula head is designed to be used weekly in three ways—when cleansing, extracting and on application of your skincare serums.
The ultrasonic soundwaves create vibrations that help loosen dead skin, and debris in the pores, and when using the gadget while cleansing the waves help push your cleanser deeper into the pores to help clear them out. While during extraction mode it gently pulses, visibly pushing gunk out of the skin. However, on hard blackheads we found extraction wasn't as effective (make sure you know the difference between sebaceous filaments vs blackheads!), and it took some time to get the hang of the extraction method.
The last mode is meant to be used when applying your skincare as it is said to promote better penetration of your products resulting in better looking skin. Used weekly, if you can get the hang of using it, you should notice less congestion, and brighter healthier looking skin.
Boots Blackhead Remover (UK only)
Reasons to buy
+
Well priced
+
Sturdy
+
Double-ended
Reasons to avoid
-
You can cause damage to the skin if you use it incorrectly
This pore cleansing tool is pretty old school, but that doesn't mean it isn't incredibly effective. In fact, it has two loops that are designed to safely remove blackheads and whiteheads without damaging the skin (if you ensure you're not too heavy handed and you prep the skin first, perhaps with your best face moisturizer).
The flat loop is designed to gently press out blackheads and the angled loop is used to push out anything blocking the pore. It's super easy to use, as in there is no plugging in or charging that needs to be done with this pore cleansing tool. But it should be cleaned before use, and it is important to know exactly where to place the loops to clear out pores and when you to use it or when to wait or see a professional.
3. Tweezerman Blackhead Extractor
Reasons to buy
+
It's designed for blackheads
+
Its shape protects the skin from damage
Reasons to avoid
-
It should only be used on mature black heads
This double hook stainless steel pore cleansing tool looks a little scary at first if you're looking for how to unclog pores at home. Are the hooks meant to dig into the skin? No, it actually mimics what you would naturally do to extract your blackheads if you had no tools at all. You'd use a finger from each hand and squeeze out anything that's clogging your pores—but this does the squeezing for you.
Its unique upward curved shape allows you to gently and safely squeeze visible blackheads from pores, then roll the tool forward and clasp onto the blackhead to pull the rest of it out. The curve shape makes this action seamless, and it protects the skin from breaking to ensure scarring isn't an issue. If you do experience any redness, try a roseacea skin care routine to soothe.
PMD Personal Microderm Elite Pro
Reasons to buy
+
Multitasking
+
Exfoliating
+
Boosts collagen
One of the most important elements of a good pore cleansing tool is exfoliation (which is also vital if you're looking for how to remove dark circles), as removing dead skin cells regularly to stop them mixing with oil, and dirt will undoubtedly leave you with clearer pores. This device is designed to be used weekly and offers professional microdermabrasion at home, and more. Patented discs available for a range of skin types—even the most sensitive—are embedded with aluminium oxide crystals that exfoliate away dead, dull cells from the surface of the skin by spinning at three different speeds of your choice. While the suction function can be used with different caps.
Generally speaking, the suction element increases circulation and triggers the skin's natural healing process which boosts collagen and elastin leaving pores less susceptible to clogging, ready for the best hyaluronic acid serums. But, the suction function can also be used in conjunction with the blackhead cap to help dislodge the contents of the pores—though we found we needed to use another tool to extract our blackheads once the suction had loosened up the inside of our pores.
Foreo Luna Play Smart 2
Reasons to buy
+
It's personalised
+
Multifunctional
+
Made with a bacteria resistant material
Small but mighty, this pore cleansing tool is powered by 8,000 sonic wave pulsations per minute that offer deep and effective cleanse that removes 99.5% of dirt, oil, sweat and makeup residue. Made with quick-drying and non-porous silicone that prevents bacteria build-up 35x better than nylon bristles—this glides softly across the face without pulling or stretching the skin.
As for the brush head, it has two zones: thinner, more gentle touch points to deeply yet delicately cleanse normal and sensitive skin areas, plus thicker touch points to provide a deeper cleanse for problematic congested areas like the T-zone. Made with 24K gold-plated sensors, this high-tech pore cleansing tool is also able to analyse moisture levels of the skin (so best to figure out how to apply moisturizer properly!) in order to provide a customised cleansing setting that can be performed daily to help keep pores well cleansed around the clock.
Amerley is an award-winning beauty & lifestyle journalist who has been writing for the UK's most well-known glossies, websites and newspapers for over a decade. Known for her ability to predict the next big trend, there is really very little she won't try for a story. From microblading and injectables, to10 step skincare plans and breathing her way to better skin, Amerley loves to share her experiences and write relatable, informative and trend-led copy for beauty novices and junkies alike.