8 of the best summer perfumes that'll leave you smelling fresh and beachy
Find your vacation scent in our beauty expert's in-depth guide to the best summer perfumes for 2023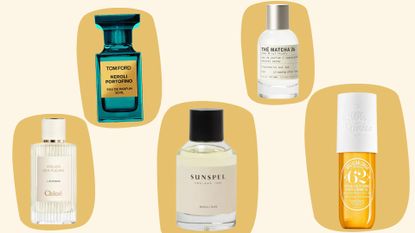 (Image credit: Future)
Scent doesn't have to be seasonal. Often the best summer perfumes work just as well in spring, autumn and winter. But a little like updating your wardrobe for summer—it can be nice to have a fragrance refresh too. Typically, winter calls for warm, cocooning scents that combine spices and woods with musks. While in summer, consumer research shows that many of us lean towards lighter concoctions.
Delicate florals, zesty fruits and aromatic herbs are all popular perfume notes come summer. Something that, according to the experts, isn't too surprising as crisp citrus and green notes work well in warmer climates. And interestingly, more concentrated and potent perfumes that are generally associated with winter can become overwhelming when temperatures rise. So, there is in fact science to switching up your scent for summer.
To help you find your new season scent, here our contributing beauty expert has reviewed the best perfumes for women that are light, bright, and breezy—and very summer appropriate. From petal soft florals to warm gourmand scents, there's a sunny fragrance to suit every taste (and budget).
The best summer perfumes, as reviewed by a beauty expert
1. Sunspel Neroli Sun Eau de Parfum
Best summer perfume overall
Specifications
RRP : $121 for 100ml
Longevity : Moderate
Top notes : Citrus fruits
Heart notes: Rosemary, lavender and angelica
Base notes : Vetiver, patchouli and sea moss
Reasons to buy
+
Sunny, uplifting scent
+
Not too complex
+
Crisp and refreshing
Reasons to avoid
-
Expensive considering longevity
-
Not widely available in the US
Addicted at first sniff, this uplifting fragrance is everything we want in a summer scent and more. It's crisp, fresh and oh so moreish. Designed to capture the carefree essence of a sun-dappled English summer, London-based perfumer Lyn Harris chose to combine citrus fruits—including neroli and bitter orange—and aromatic herbs (think rosemary and lavender) with a beachy sea moss base.
Not an overpowering or overly complex scent, we believe the beauty of this fragrance lies in its simplicity. But if you do prefer a bold, "look at me" fragrance, we'd suggest turning your attention elsewhere (for instance, one of the best oud perfumes may be more up your street). For the fresh fragrance fans, consider this breezy perfume an everyday staple—a little like that white cotton Sunspel T-shirt. And like that white cotton tee, you'll want to wear this fragrance with everything.
2. Nivea Sun Eau de Toilette
Best budget summer perfume
Specifications
RRP : $39.50 for 30ml
Longevity : Weak
Top notes : Citrus and florals
Heart notes : Spices
Base notes : Woods and powdery notes
Reasons to buy
+
Nostalgic scent
+
Mood-boosting
+
Light and fresh
+
Fairly affordable
After a purse-friendly fragrance that conjures the scent of summer? This pick from Nivea is the one for you. Based on the scent of the brand's SPF, this fragrance is instantly recognisable. It smells exactly like sun cream (in the best way possible). So much so that our minds were instantly transported to a white beach, skin warmed by the sun, after spritzing this on.
According to the brand, that sun cream scent is thanks to fresh florals, warm spices and woods. A beautiful blend, we'd describe the fragrance as fresh, sunny and a little bit powdery as it develops on the skin. Our only gripe is that it doesn't stick around for long—after four hours, we struggled to detect any of its sun cream scent at all. With that said, it is very reasonable, and we'd happily buy this in bulk so we could top it up throughout the day.
3. Louis Vuitton On The Beach Eau de Parfum
Best luxury summer perfume
Specifications
RRP : $245 for 100ml
Longevity : Moderate
Top notes : Yuzu and neroli
Heart notes : Rosemary, sand, thyme, cloves and pink pepper
Base notes : Cypress
Reasons to buy
+
Fresh and uplifting
+
Captures the essence of summer
+
Not overpowering
Reasons to avoid
-
Expensive considering longevity
We're easily won over by pretty packaging, and this pink and blue sunset-inspired bottle from Louis Vuitton caught our eye immediately. Seriously striking, this luxurious fragrance has major shelf appeal. Looks aside, it smells great too. Inspired by the beach (hence the name), this fragrance pairs fresh Yuzu—a rare citrus from Japan—with warm cypress and a handful of herbs including thyme and rosemary to create an uplifting, sunny scent that reminds us of hot, sun-baked sand.
While it's expensive, this fragrance truly smells incredible on skin and will have people asking, "what perfume are you wearing?" Our advice? Keep this scent to yourself. On first sniff, we detected that strong citrus kick before sweet spices, aromatic herbs and musks made an appearance. The lasting impression is warm and musky but, as we found, doesn't last for that long. Considering the price point, we were a little disappointed with the longevity (expect 6–8 hours max). However, it is a beautiful blend that shouts summer. We're hooked.
4. Chloe Atelier Des Fleurs Lavanda Eau de Parfum
Best floral summer perfume
Specifications
RRP : $124 for 50ml
Longevity : Moderate
Top notes : Lavender
Heart notes: Aromatic notes
Base notes : Solar notes
Reasons to buy
+
Light and fresh fragrance
+
Calming and comfortable
+
Beautiful bottle
Reasons to avoid
-
May be too soapy for some
Floral fans, this one's for you. Laced with lavender from Provence, this beautiful blend from Chloé is hands down one of the best floral perfumes around – and we've tested quite a few (hazard of the job). Soft, soothing and refreshingly light, this fragrance is the perfect summer choice for warm balmy evenings, dining al fresco with friends.
If you've been put off by strong lavender scents in the past, know that this one is different. While lavender is indeed the star of the show, it's not too heavy. Here, it gives the fragrance a clean, slightly soapy aroma. Alongside lavender, we noticed warming woods and fresh herbs. Overall, this fragrance is pretty and delicate – capturing the perfumer's vision of his mother walking through the heat of the garden with lavender in her arms.
5. Le Labo Thé Matcha 26 Eau de Parfum
Best unique summer perfume
Specifications
RRP : $220 for 50ml
Longevity : Moderate
Top notes : Matcha tea
Heart notes : Fig and bitter orange
Base notes : Moderate
Reasons to buy
+
Unique scent
+
Calming and earthy
+
Not overpowering
Reasons to avoid
-
May need to reapply throughout the day
Step aside Santal 33, as this summer we're spritzing on another fragrance from Le Labo. Meet Thé Matcha 26. Although this fragrance isn't new (it launched back in 2021), we only recently discovered it—but we're so pleased that we did. Earthy and green, this unique concoction combines matcha tea with creamy fig, bitter orange, soft vetiver and cedar woods. It's comforting, calming and smells familiar. Honestly, we cannot get enough of this stuff.
If you like a soft, earthy fragrance that's more of a skin scent—you will fall head over heels for this perfume. If, however, subtle isn't your thing and you want your fragrance to be noticed, consider something punchier. For the skin scent enthusiasts, expect to be greeted with bright zesty orange before sweet fig and smooth cedar wood steal the show. As for the matcha, it's super subtle and lingers in the background. To dial up the intensity, you can always reapply this fragrance throughout the day.
6. Tom Ford Neroli Portofino Eau de Parfum
Best citrus summer perfume
Specifications
RRP : $180 for 30ml
Longevity : Moderate
Top notes : Bergamot, mandarin orange, lemon, bitter orange, lavender, rosemary and myrtle
Heart notes : African orange flower, neroli, jasmine and pitosporum
Base notes : Amber, ambrette and angelica
Reasons to buy
+
Refreshing and clean scent
+
Perfect for hot weather
+
Sweet warmth lingers
Reasons to avoid
-
Expensive considering longevity
This iconic fragrance from Tom Ford has become somewhat of a scent sensation. And after wearing it ourselves, we can totally understand why. Bright and zesty, Neroli Portofino is designed to capture the cool breezes, sparkling clear water and lush foliage of the Italian Riviera. Sounds dreamy, right? After spritzing this on, we can confirm that we were instantly transported to sunnier climes. It's the sort of scent that will get you excited for your next trip—whether that's to the actual Riviera or elsewhere.
Not only does this fragrance smell amazing, with its blend of bergamot, lemon, lavender, neroli and amber, but it also looks amazing. Housed in a beautiful emerald bottle with a gold embossed logo, this fragrance looks luxurious—and the colour alone has us dreaming of Mediterranean seas. As for the scent, it's fresh, clean and uplifting with a warm and slightly sweet dry down. The longevity is good (expect eight hours, plus), but it is expensive, so we'd recommend testing it on your skin first before making a purchase.
7. Jo Loves Ebony & Cassis Eau de Parfum
Best long-lasting summer perfume
Specifications
RRP : $155 for 100ml
Longevity : Strong
Top notes : Blackcurrant, strawberry, and blackberry
Heart notes : Myrrh, nutmeg and dates
Base notes : Patchouli and cedarwood
Reasons to buy
+
Impressive staying power
+
Good silage
+
Rich and warming
+
Also available in Eau de Toilette (more affordable and lighter)
Reasons to avoid
-
May be too strong for some
If you're after a summer fragrance that packs a punch, turn your attention to this new concoction from Jo Loves. Inspired by Jo's recent travels to the Middle East, this fragrance pays homage to the colours and scents of Oman. At its base, myrrh, patchouli and cedarwood envelope the skin in a rich warmth that lingers long after spritzing. To cut through this richness, blackcurrant and blackberry add a tangy freshness.
Heady and intoxicating, this fragrance leans towards evening wear and is the perfect choice for anyone who likes to make a statement with their summer scent. While we weren't sure at first (our scent preference is fresh and aquatic), we grew to love this scent as it developed on the skin. The dry down is utterly addictive—warm, woodsy and ever so slightly sweet. After eight hours, the scent still lingered and the following day, we could still detect it on a sweater. Impressive!
8. Sol de Janeiro Brazilian Crush Cheirosa 62 Perfume Mist
Best gourmand summer perfume
Specifications
RRP : $40 for 90ml
Longevity : Weak
Top notes: Pistachio and almond
Heart notes : Caramel
Base notes: Vanilla
Reasons to buy
+
Sweet and addictive
+
Smells like holiday
+
Affordable
Love Sol de Janeiro's iconic Bum Bum cream? Then you'll already be familiar with this fragrance that smells exactly like the brand's cult-favourite cream. A great choice for anyone who adores gourmand fragrances (like the best vanilla perfumes), this mist opens with a warm aroma of pistachio and almond laced with floral jasmine petals. After a while, rich sandalwood and salted caramel come to the fore before creamy vanilla makes an appearance.
Soft, sweet and a little bit salty—this distinctive fragrance conjures up a hot summer's day on the luscious coast of Rio. And while it's not the most potent perfume, we'd recommend spritzing this onto hair as well as body for longer-lasting freshness. You can also layer this scent on top of the infamous Bum Bum cream to really step up the intensity.
Freelance beauty journalist
Emma is a freelance beauty journalist who has worked in the beauty industry for six years for a number of titles—including Grazia, Stylist and Net-A-Porter. She has a particular interest in skincare, fragrance and makeup staples and has worked on producing editorial shoots with some of the industry's biggest artists—including Val Garland—and interviews with the likes of Patrick Ta, Pat McGrath, and Sam McKnight for all their insider tips and tricks.